Create a postcard design that stands out
Even in our digital world, research shows that postcards work—and MyCreativeShop makes them work harder! Save the money you'd spend on a freelance designer (or the time you'd spend battling Photoshop), and use our postcard maker instead. No significant learning curve, no slow software to download, and no design experience needed.
Through an incredibly user-friendly online editor, you can make a postcard in a matter of minutes. We've curated a collection of 1,000+ fantastic templates to spark your inspiration, and we offer unlimited customization options to make your postcard yours.
Upload images, write text, change colors, add borders... You can spend as much or as little time designing as you want, and you can always save your design and come back any time. Once your postcard design is done, you can immediately download the file, generate a link to share, or order prints through us.
"Creative" or not, "computer-savvy" or not - anyone can make postcards with MyCreativeShop. We supply the templates, the design tools, and even the paper if you order prints from us! All you need is a few minutes to spare and a message to share with the world.
How to create a postcard in 5 easy steps
Choose your postcard template

With tons of variety across thousands of templates, you'll never run out of ideas for your next postcard. We've organized our template library by print size and industry so that you can find inspiration fast—whether you're looking to promote an event, new products or simply need to get information out quickly about your business. Find your postcard now. Find your postcard now.

Upload your own graphics, logos & images

Given the limited space available on a standard-sized postcard, pictures are especially important to a memorable design. Upload high-quality photos that reflect your unique message and branding, or feel free to choose from thousands of professional stock photos directly from our gallery.

Add text to your custom postcards

The right words on a postcard can mean the difference between a marketing slam dunk...and a slam dunk straight into the trash bin. Use our well-placed text boxes to draw attention to your content and share all relevant details. Rely on our pre-set fonts and colors, or customize them to match your brand!

Customize your colors, shapes, and more

Unlike many other marketing materials, postcards have to compete against everything else in a recipient's mailbox. That's why we let you fully customize your postcard design so that it will truly stand out! Change up the colors, resize sections, upload icons or shapes, and more.

Download, share, or print posters with us

Once you've finished your design, you can immediately put your postcard to work. No need to wait around or mess with complicated print settings! With just a few clicks, download a web-ready image or print-ready PDF, get a link to share on social media, or order prints conveniently through us.
Features
Features that make it easy to create postcards
Our postcard creator was made by design pros who understand exactly what you need from concept to print. Breeze through the creative process with expert-level features that are still amazingly easy to navigate!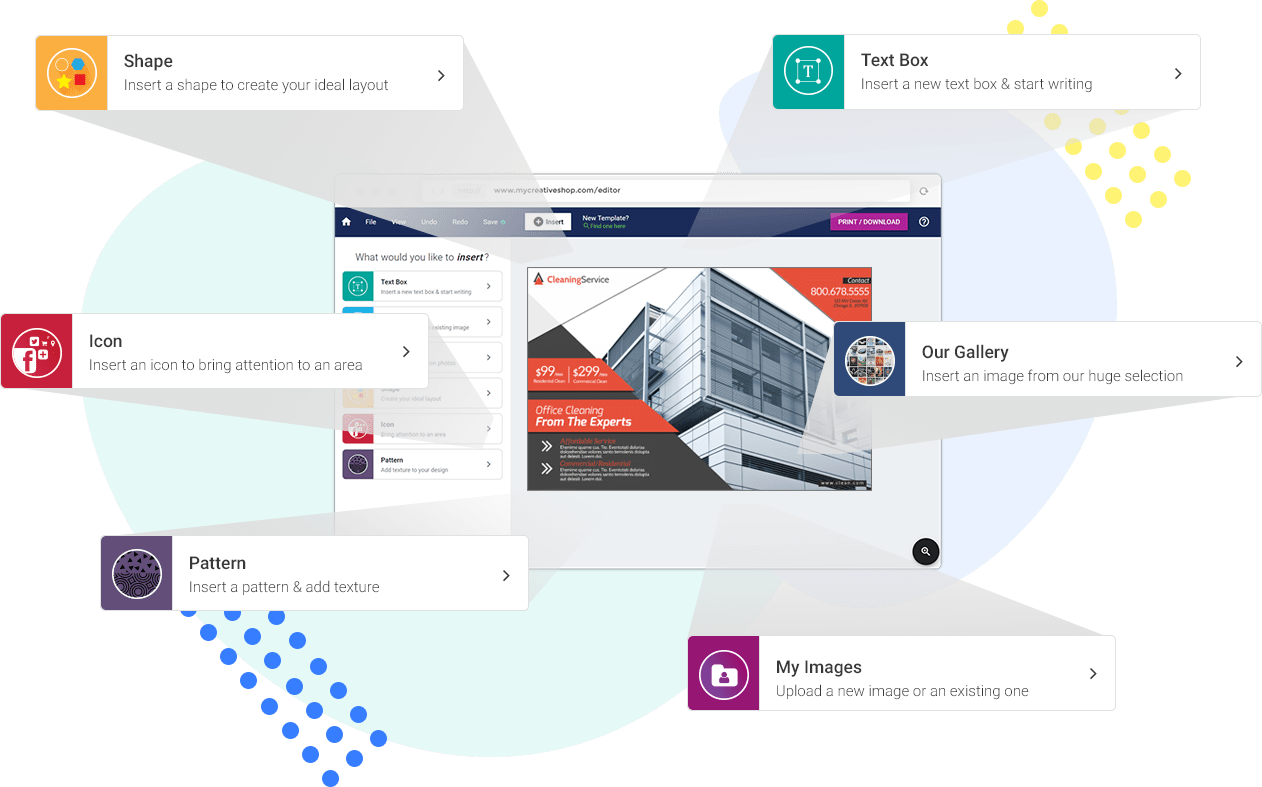 The perfect quick-start template to create your own postcard
MyCreativeShop is like having a professional designer right in your pocket. You don't need any design experience to create postcards online because our beautiful templates and user-friendly tools do all the heavy lifting for you.
From time-crunched solopreneurs to hobbyists, volunteers, and "jacks of all trades," we make it easy for anyone, anywhere, to design, download, and print professional postcards. Customers love how we save them tons of money while still being incredibly easy to use.
In the time it takes to type out an email, you can make your own postcard design. Browse thousands of postcard templates and design yours now!
What you can do witn your postcard design
We have options for you
Download and print anywhere
Although we offer prints, the decision is yours! We make it easy for you to download a PDF and print your postcards anywhere, even in your own home or office.
Order prints with us
Popular
Skip the additional step of finding a local print shop, and order from us instead. Just a few clicks and your new postcards will be at your doorstep — fast. View our postcard printing options here.
Share Online
Download a web-optimized image of your postcard or generate a live link to share with anyone. Perfect for web display, sending in an email, or sharing on social media!
Come back and edit any time
Once you save your postcard, it'll remain in your private project library. Log in any time to easily make edits, duplicate the design, or order a fresh batch.