Wow your followers with on-trend social media graphics
Whether you're an online-only retailer or a local brick-and-mortar, your customers are on the internet day and night⁠—and to stay competitive, you need to meet them wherever they are! Facebook, Instagram, Twitter, LinkedIn...your followers expect fresh content across multiple social media platforms, multiple times a day.
If you're struggling to keep up, try MyCreativeShop! Our user-friendly online editor has a huge collection of professionally designed templates for social media graphics. You won't have to remember the size of a Facebook cover or the vibe of an Instagram story; all you'll need to do is choose a pre-sized template and spend a few minutes customizing it!
MyCreativeShop was made for busy people who aren't professional designers, so our interface is straightforward and easy to figure out. Beyond our incredible template variety, we offer user-friendly tools to customize colors, text, layout, borders, icons, and more.
Even with no design experience, you'll be able to create an eye-catching, on-brand graphic for your favorite social media platform. There's no software to download, no significant learning curve, and no need to hire pricey graphic designers! We give you what you need to design and share faster than ever.
5 fast steps to custom post images, covers, banners & more
Choose your social media graphic template

If it seems like social media graphics are constantly changing...it's because they are! Fortunately, we've got perfectly proportioned templates for all the latest trends on Facebook, Instagram, LinkedIn, Twitter, and more. Just click the template style you need, and you won't have to worry about height, width, or layout! Find your social media graphic now.

Upload your images

Pictures are what stop the endless scroll and get your followers to really look at your graphic. Upload a unique image with striking visuals, vivid colors, or an interesting composition to make sure your social media graphic stands out. If you need an extra boost, choose a photo from our convenient in-editor library.

Add your text

It's no secret that social media encourages shortened attention spans, so make sure that your text is clear, powerful, and concise. With our pre-set content placeholders and well-chosen fonts, you only need to write in the details! Stick to strong action words with as few characters as possible.

Customize your colors, shapes, and more

Social media is all about building community, and well-branded graphics are one of the best ways to do that. No matter which template you choose, our intuitive editing tools make it easy to customize color, layout, shapes, and other graphic elements for a strong, instantly recognizable brand identity.

Download, share, or print

We offer two simple options to share your social media graphics instantly. As soon as you've saved your design, you can download a web-optimized image to upload to any social media platform, or you can generate a link directly through MyCreativeShop. Links are perfect for easily sharing your design with anyone that has web access!
Features
Foolproof features

make social media graphics fun

For social media graphics, half the battle is figuring out the latest formatting requirements. Since we've done that for you, you can just have fun with the creative process! Our customization tools are easy to understand and truly unlimited.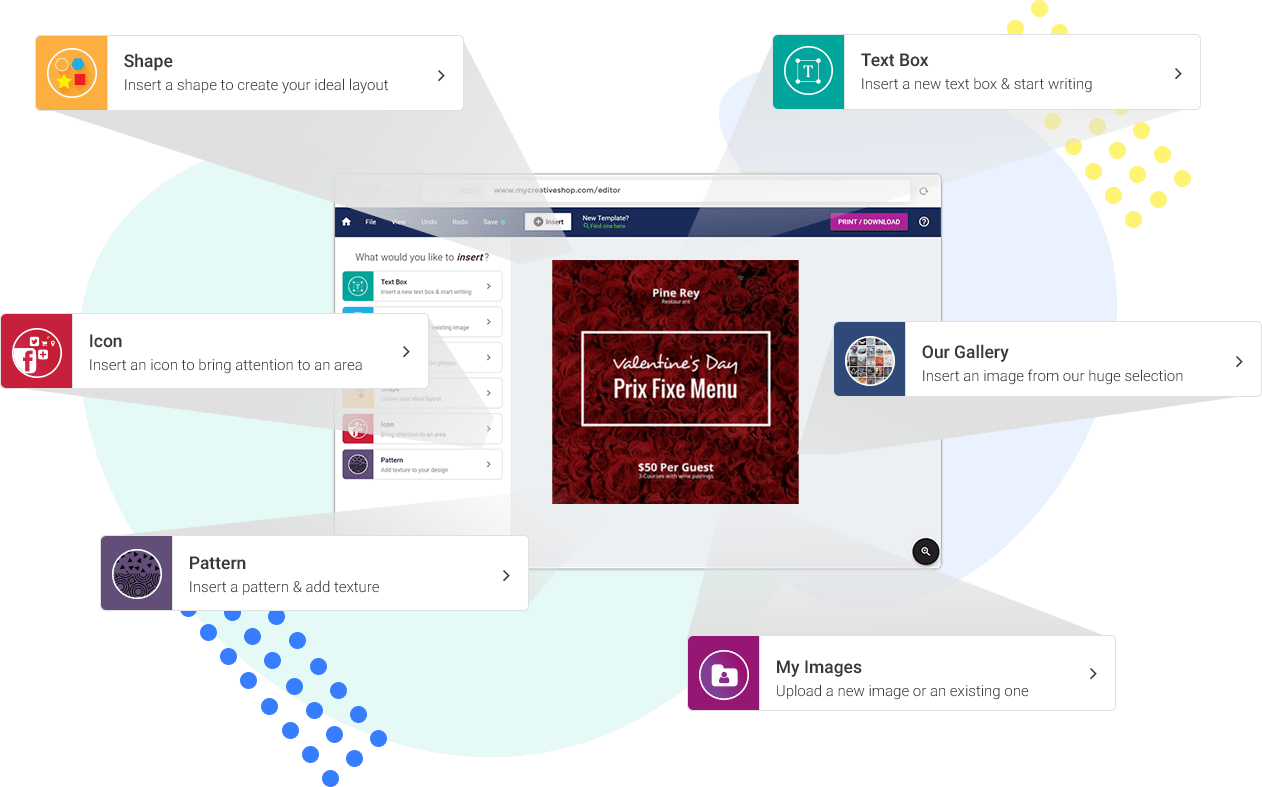 Design & share online like a pro (even with no creative skills!)
Social media moves fast, and you deserve graphic design that's equally speedy. Skip the slow, budget-busting designers without looking like an amateur by trying MyCreativeShop today.
From large businesses to local community organizations to full-time workers with independent side hustles, anyone can take advantage of our online editor to create quick and affordable social media graphics. No design background or big-ticket budget necessary. Give your followers what they want while saving yourself time, money, and hassle. Choose a template now and share your perfectly branded social media graphic in minutes!
What can I do with my social media graphic ?
We have options for you
Download & upload
Get a web-ready image file of your social media graphic, which you can then upload to Facebook, Instagram, Pinterest, or any other platform of your choice.
Share Online
To make your design accessible to everyone, you can create a shareable link which will generate a web page that you can easily share online.
Come back and edit any time
Hosting an ongoing social media series? Just log in to find your previous design, make any changes you'd like, and download or share again. It's that easy.
Connect with your audience
By creating your own social media graphics and sharing them online, you can create a special connection with your audience through your designs