The fastest, easiest way to make a poster online
Well-designed posters stop people in their tracks, providing a precious few moments of undivided attention. Whether you're raising awareness, building brand identity, or advertising a major sale, MyCreativeShop will help make sure that your message is heard.
Instead of busting your budget on expensive designers or troubleshooting your way through impossible-to-use software, design your own posters with us! Through an intuitive online editor, we make the creative process so much easier than those other sites you've tried.
Our online editor works completely in the browser and we offer a huge selection of amazing templates to choose from. Find your favorite poster template and feel free to spend as much time as you'd like changing, tweaking, and polishing the final design. Upload images, add text, swap colors...if you can think of it, you can do it.
Once your custom poster has been perfected, you can instantly get it out into the world. Download a web-ready image or print-ready PDF, share a live link online, or print posters directly from us. Anyone can fly from concept to print in just minutes—even if you have no design background and no time to spare!
How to make a show-stopping poster in 5 quick steps
Choose your poster template

MyCreativeShop has one of the largest selections of poster templates, all of which are incredibly easy to follow, edit, and personalize. Quickly sort our library by industry or poster size (including popular dimensions like 18"x24"), or leisurely browse through thousands of templates until you find one that speaks to you. Find your poster now.

Upload your own graphics, logos & images

Posters offer plenty of white space for attention-grabbing imagery, so take full advantage of it! Upload colorful, high-resolution images so that viewers can immediately get a sense of what you're offering. If you don't already have images in mind, choose from our built-in library of free professional stock photos.

Add text to your custom poster

With beautiful template designs all ready to pick, we make it easy for you to focus on the content. Since we've already chosen fonts and colors that look great together, all you have to do is fill in our text placeholders with a unique headline and information-rich details!

Customize your colors, shapes, and more

Whether you're advertising a music festival or political campaign, your poster has to connect with the right people for your event. That's why our poster templates are completely flexible and customizable! Change fonts, adjust backgrounds, add icons, resize text...whatever it takes to speak to your target audience.

Download, share, or print posters with us

Once you're finished designing, you can immediately download a file to print on your own, get a live link to share via email or social media, or order up to 50,000 printed posters from us. It's your poster, and we let you do what you want with it!
Features
Create custom posters with no design experience
Professional-looking posters are no longer limited to the pros! Our poster creator gives anyone the power to make a poster, even with no design experience.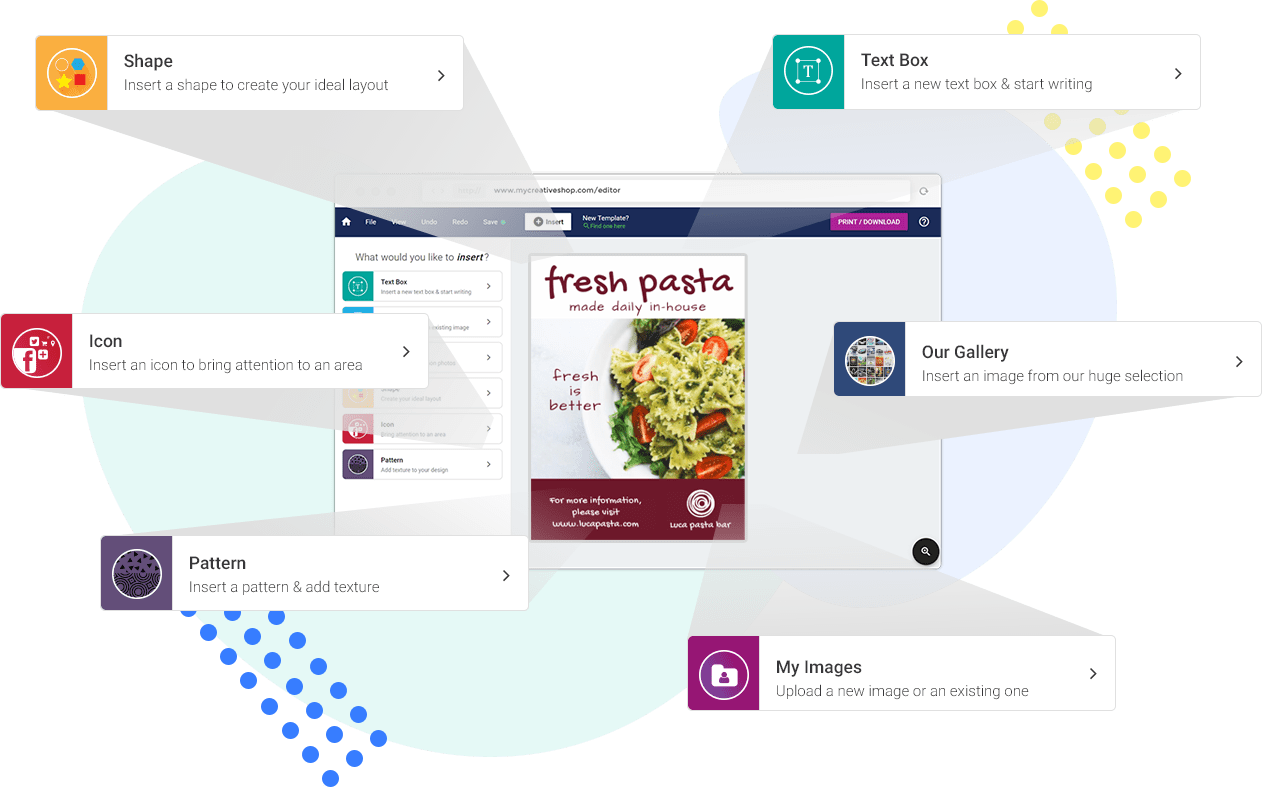 Easy, hassle-free poster designs for everyone
MyCreativeShop is so easy to navigate that anyone can sit down, select a template, and customize a five-star poster in minutes. No time wasted finding designers, no gasp-worthy invoices, and no learning curve to conquer. You'll be armed with all the tools you need to create posters in minutes!
Even if you wouldn't call yourself "creative," MyCreativeShop is for you! From digital-savvy students to weekend entrepreneurs to full-time business owners, all of our users love how straightforward our templates are and how professional their print creations look.
All it takes to design, download, share, and print the perfect poster is an internet connection and a few minutes of your time. Make something even better than you expected by browsing 2,200+ templates now!
What you can do with your poster design
We have options for you
Download and print anywhere
With just a few clicks, you can download a print-ready PDF and have your custom posters printed anywhere - even at home or in your own office.
Order prints with us
Popular
For super-fast shipping, place an order directly with us! Thousands of customers rave about our professional-quality prints and great pricing. View our poster printing options here.
Share Online
Why not make your print marketing work harder by also showing it off online? Get a link to share with your followers via email or social media.
Come back and edit any time
You'll never have to waste time recreating your design! Your poster will be saved to your project library for easy access any time.
Templates
Popular Poster
Ideas
View our huge collection of poster templates & ideas