Master the art of postcard design with MyCreativeShop's Postcard Creator.
Are you ready to unleash your creative potential with postcards?
Look no further! I'm here to introduce you to MyCreativeShop's Postcard Creator, the ultimate tool that'll help you design stunning postcards for your business or personal use. Let's explore its amazing features together and learn how it can elevate your marketing game.
Perfecting Your Postcard's Backside
What makes our postcard creator stand out is its comprehensive design functionality, including the necessary mailing labels. Whether you're creating EDDM (Every Door Direct Mail) postcards or classic mail, we've got your back (of the postcard, that is!). Our postcard creator ensures your design looks great on both sides while taking care of the crucial mailing details.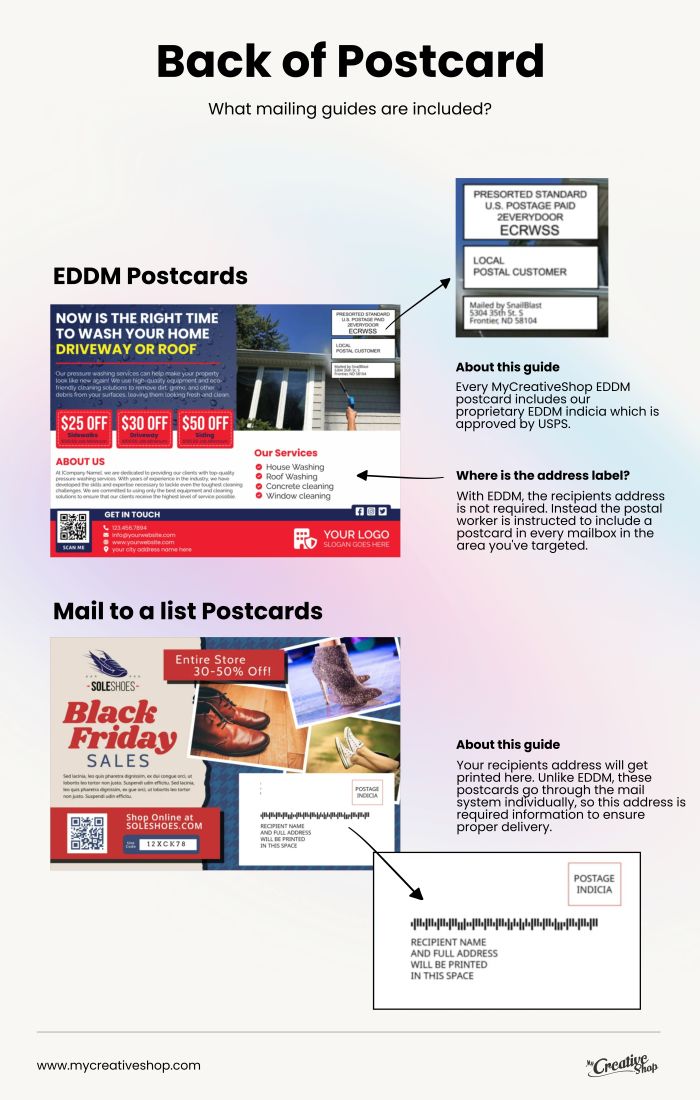 We surveyed over 182 individuals regarding their postcard journey and 89% communicated that they were "not sure" when asked what to include for the mailing guide/label on the backside of the postcard. This is a huge barrier for people when they are evaluating designing their own postcards. When you design a postcard online with us, you'll never have to worry about whether or not you have the right mailing label.
Power Up Your Campaigns with SnailBlast
Our postcard creator isn't just about design; it's also about seamless integration with our powerful and easy-to-use direct mail solution, SnailBlast. After all, postcards are meant to be mailed!
Building your own direct mail campaigns has never been this simple! SnailBlast brings a new level of convenience and power to your marketing efforts, unmatched by any other solution available online.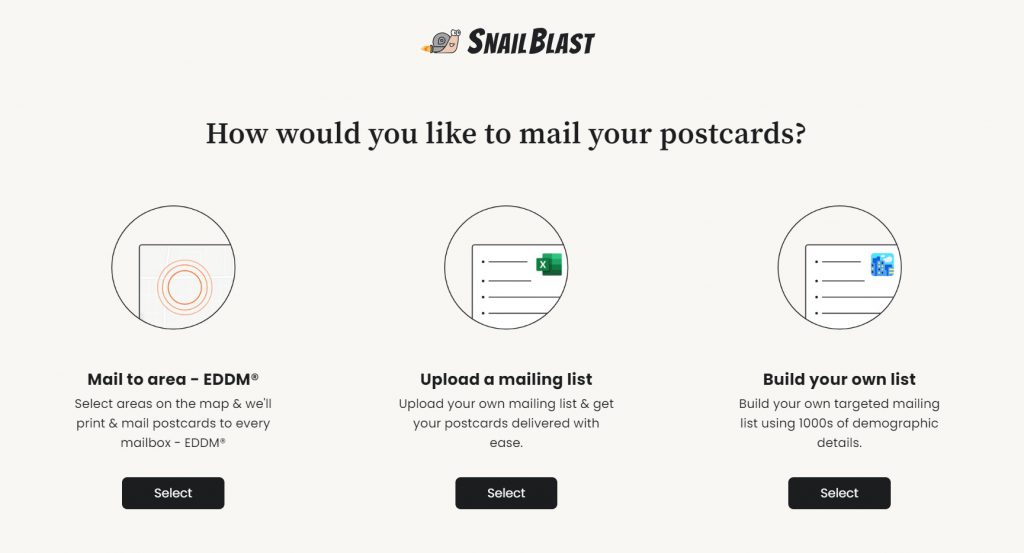 Take advantage of our postcard creator's unique capabilities, and watch your direct mail campaigns soar to new heights with SnailBlast.
Speed Up Your Design Process with Snippets
Inside our postcard creator, you'll find Snippets, a collection of pre-built visual assets designed to make your life easier. With Snippets, you can quickly add elements like text, QR codes, images, and more to your postcards. Need a clear call to action? Use one of our CTA snippets to drive engagement and get results.
To access Snippets, just look for the feature in the insert panel of our postcard creator. With a wide variety of options available, you'll find the perfect elements to enhance your design and speed up your creative process.
Connect Instantly with QR Codes
Our postcard creator goes above and beyond with its built-in QR code generator. By adding a QR code to your postcard, you'll make it easy for your audience to access your website, landing page, or any other digital destination you desire. These codes are especially convenient for longer URLs that might be difficult to type in manually. Plus, QR codes can be tracked, providing valuable insights into your postcard's engagement.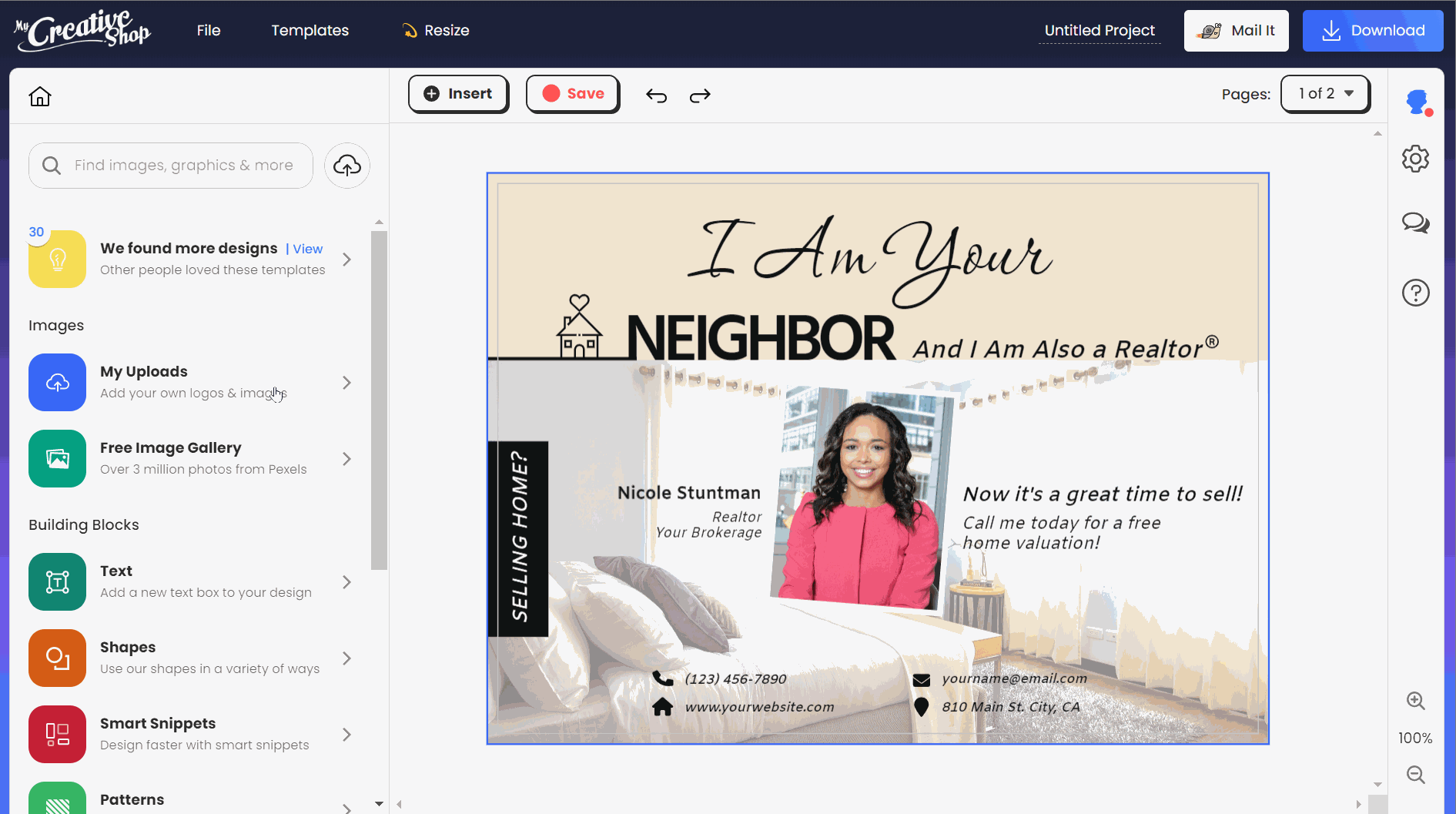 With the QR code generator, you'll bridge the gap between physical and digital worlds, enhancing the effectiveness of your postcard campaigns.
Thousands of Templates at Your Fingertips
Need inspiration? We've got you covered with thousands of postcard templates to spark your creativity. Customize these templates to suit your needs, with options for every industry. No matter what you're looking for, you'll find the perfect starting point for your postcard designs.
Explore our extensive template library, and let your imagination run wild as you create unique, eye-catching postcards that truly represent your brand or message.
Choose the Right Size for Maximum Impact
We offer multiple postcard sizes to fit your needs. If you're looking for EDDM postcards, you'll be happy to know that all of our EDDM postcards meet USPS requirements. The most popular size for EDDM is our 6.5" x 9" postcards, while the most popular size for classic mail-to-a-list campaigns is 6" x 9".
Remember, size matters! Don't sacrifice postcard size just to save a few bucks. A smaller 6" x 4" postcard may cost less, but it can also receive less attention in the mail, particularly if it gets covered by other mail pieces. Choose a size that ensures your design stands out and grabs your audience's attention.
Effortless Resizing for Ultimate Flexibility
Our postcard creator comes with a handy resize feature, allowing you to quickly change your postcard size or category with just one click. This saves you time and money, as you won't have to manually create a new version of your design each time you need a different size or format.
With the resize feature, you can focus on creating captivating designs and leave the technical details to us, knowing that your postcard will always look great and be ready for any occasion.
Express Yourself with Thousands of Fonts
Typography plays a crucial role in design, and our postcard creator includes thousands of Google Fonts to help your text stand out. But remember, keep your design simple and focused, so your audience knows exactly what to do when they see your postcard. Avoid over-communicating, as it can distract from your primary call to action. Instead, refer people to your website or social pages for more information about your business, service, or message.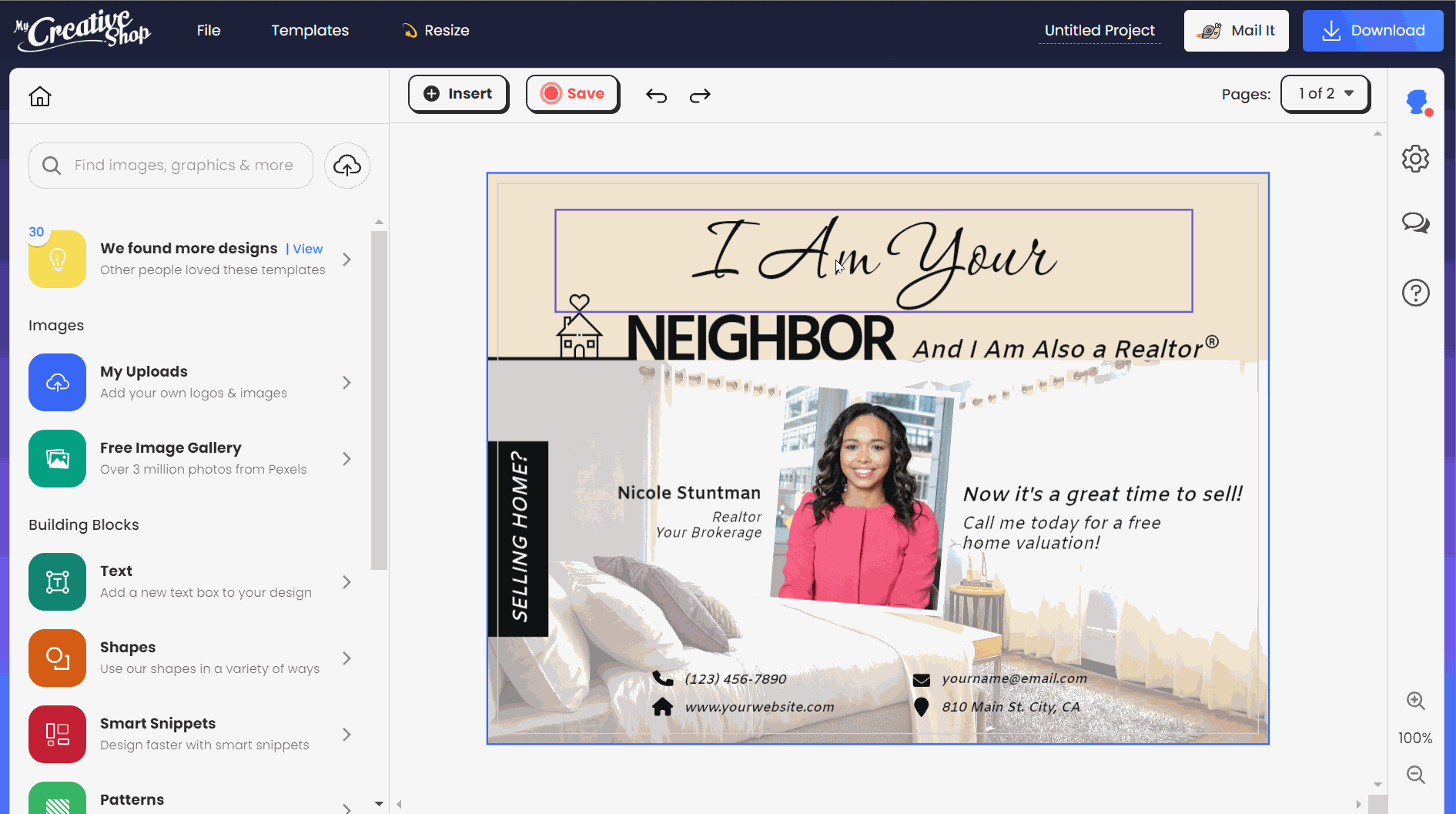 With our vast selection of fonts, you can find the perfect typeface to complement your design and convey your message in a visually appealing way.
Unleash Your Creativity with Millions of Design Assets
When you dive into our postcard creator, you'll never have to look elsewhere for design assets to personalize your creations. With millions of stock photos, graphic icons, and more, you'll never run out of inspiration. And the best part? Every asset is free for you to use!
Explore our extensive library of design assets and elevate your postcard designs to new heights, ensuring they truly resonate with your audience and make a lasting impression.