EDDM Postcards so quick & easy, anyone can make them
The USPS Every Door Direct Mail (EDDM®) program makes targeted marketing easier—and MyCreativeShop takes it one step further! Use our incredibly simple online editor, and you'll save time, money, and hassle while still getting a polished, USPS-compliant postcard design complete with indicia.
Right from your internet browser, you'll have everything you need for an expert-level EDDM postcard. Gorgeous templates, a built-in library of icons and photos, and truly limitless customizations give you total control over the creative process. You'll run out of ideas before you run out of options!
Select your favorite EDDM postcard template, upload text and images, and tweak the design until it's even better than you imagined. As soon as you hit "save", you can immediately bring your postcard to life by downloading a print anywhere PDF or ordering beautiful prints from us with premium ink and fine cardstock.
No expensive designers, no bulky software to download, and no "big ideas" required. We've leveled the playing field so that anyone, anywhere, can design and print direct mail advertisements on a budget.
Choose your postcard template

An effective postcard needs a captivating headline, eye-catching imagery, and space for all the relevant details. And that's exactly what our postcard templates offer! Whichever of our beautiful templates you choose, you can feel confident that it has been purposefully designed and meets USPS EDDM regulations. Find your postcard now.

Upload your images

Our EDDM postcard templates come pre-set with colorful images in a variety of industries: real estate, lawn care, event planning, health care, and more. Stick with the gorgeous imagery already included with your template of choice, or upload your own for a more personalized touch.

Add your text

To keep your postcard from being immediately tossed aside as junk mail, be sure to write an attention-grabbing header and clear, concise text. Remember that the right words can turn casual direct mail browsers into your next clients, real estate buyers, yoga students, or brand enthusiasts.

Customize your colors, shapes, and more

With MyCreativeShop, there's always more customizations available. Change colors to match your brand identity, add icons to attract followers on social media, or resize/add/delete/move sections to your heart's content. Finish your design in five minutes or five hours—it's all up to you!

Print & easily distribute

Whenever you feel that your EDDM postcard design is done, we make it easy for you to print your postcard with us or anywhere you want. The only thing left to do is take your printed postcards to the post office to select your preferred mailing routes and get them distributed.
Features
Brilliant design features

keep it simple
MyCreativeShop gives you the flexibility of professional design software without being clunky, slow, or impossible to navigate. Users call our online editor "easy to use" and "the best they've found yet!"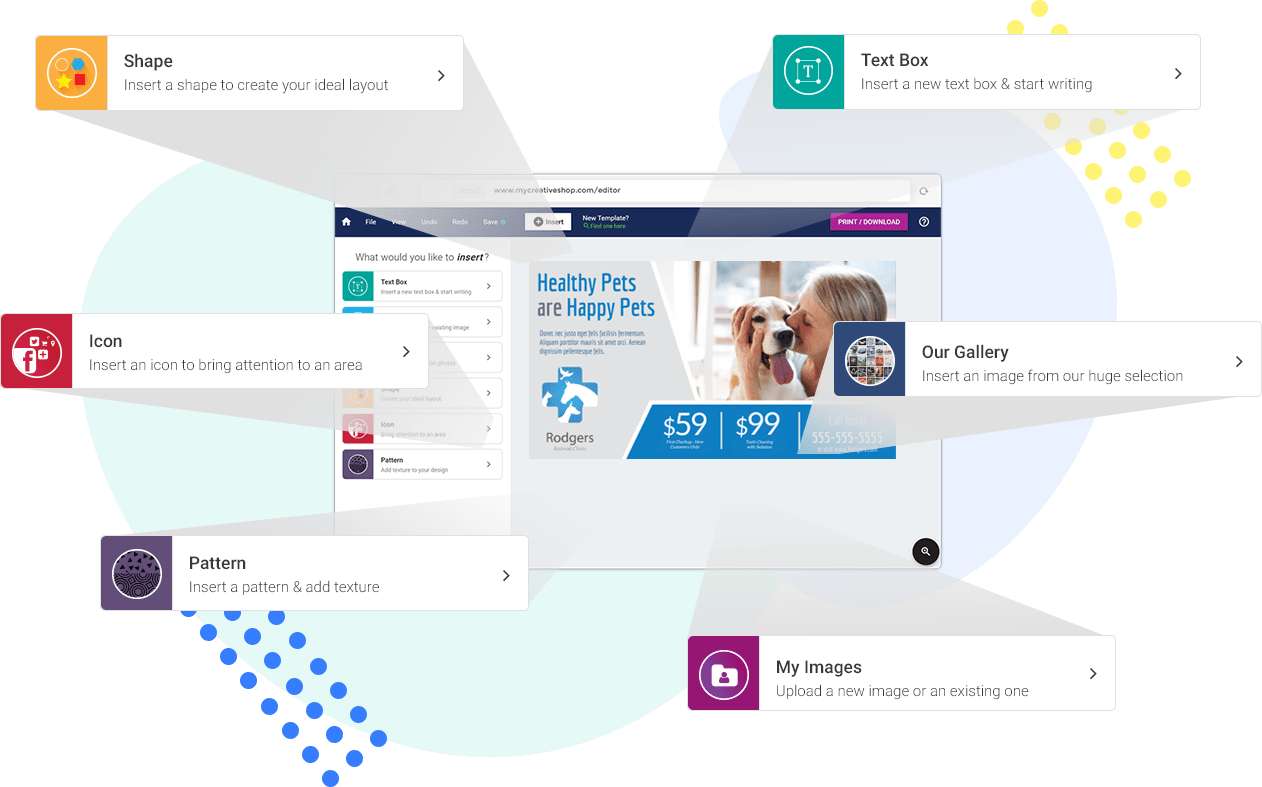 Exactly what you need for any EDDM postcard
Even as the world goes digital, studies show that direct mail still provides a solid ROI. Especially when you can skip the high-priced design firms and master the creative process yourself!
Our online editor is so user-friendly that anyone can use it, from overworked business owners to computer-savvy interns. And with such great pricing, even cost-conscious volunteers, weekend hobbyists, and bootstrapping entrepreneurs love how much time and money they save.
MyCreativeShop gives you exactly what you need to design, download, and print a professional EDDM postcard—all in the time it takes to grab a bite to eat. Browse our huge collection of gorgeous templates and start designing now!
What you can do when you're done designing
We have options for you
Download and print anywhere
We'll never lock you into ordering from us. You're completely free to download a high-quality PDF and print your EDDM postcards anywhere.
Order prints with us
Popular
If you do want premium prints within just a few clicks, you can place an order as soon as you save your design. Fast, on-time shipping guaranteed! View our postcard printing options here.
Mail It
The real value in EDDM is being able to get your postcard distributed without having a mailing list. Head to your post office & select your mailing routes.
Come back and edit any time
We love giving our clients exactly what they need, when they need it. Log in any time to edit your EDDM postcard or quickly place a new order.