Our door hanger templates make design easy for everyone
Until now, the only way to make professional-looking door hangers has been, well, to bring in the professionals. But finding a talented designer can take weeks—and that's before the real work even begins! If you'd rather spend your limited time and money on more important things, then MyCreativeShop is for you.
Our intuitive online editor is jam-packed with design capabilities, yet it's easy enough for anyone to master. Start by choosing from our incredible selection of templates, and then take advantage of our user-friendly interface to customize your ideal door hanger design.
In the time it would take to hunt down a freelance designer, you can complete your project yourself—from any internet browser, anywhere. Zoom through the design process if you're in a hurry, or take your time making hundreds of pixel-perfect adjustments. It's your design, and we give you full control over it from concept to print!
For the final step, take your door hanger off the screen and get it out into the world. Save, share, download, print...with us, it's easy to do exactly what you need to do. Even with no design experience, MyCreativeShop will make you look like a pro.
How to design a door hanger in 5 simple steps
Choose your door hanger template

No need to wait for a "big idea" to strike. Simply browse or sort through thousands of door hanger templates to find one that gets your creative juices flowing. We've got so many options, you'll feel like a kid in a candy store! Find your door hanger now.

Upload your images

Once you've chosen a template you love, start the design process by uploading your own images. Captivate your target audience with powerful, high-res imagery: a panorama of your latest home for sale, action shots of your most popular fitness class, or beaming close-ups of your many happy customers.

Add your text

While images set the scene, it's words that do the work! To eliminate the guesswork, we've added pre-set text boxes so you can easily fill in your headline, message, and contact information. Attractive font pairings, eye-catching colors, and legible sizes come standard with our door hanger templates.

Customize your colors, shapes, and more

Our easy-to-navigate design tools give you the power to make unlimited edits. Rotate text, set borders, swap colors, add icons...it takes just a few clicks to do anything you want.

Download, share, or print

The second you hit "save," you're ready to take the next step: download a web-ready image, save a print-ready PDF, or share your design online—great for both customer-facing and internal uses! You can even add prints to your MyCreativeShop cart and check out instantly.
Features
Straightforward features for creative,
pro-level designs
MyCreativeShop offers simple door hanger maker with sophisticated results. Users who have explored other design sites call our foolproof, feature-rich online editor the best by far.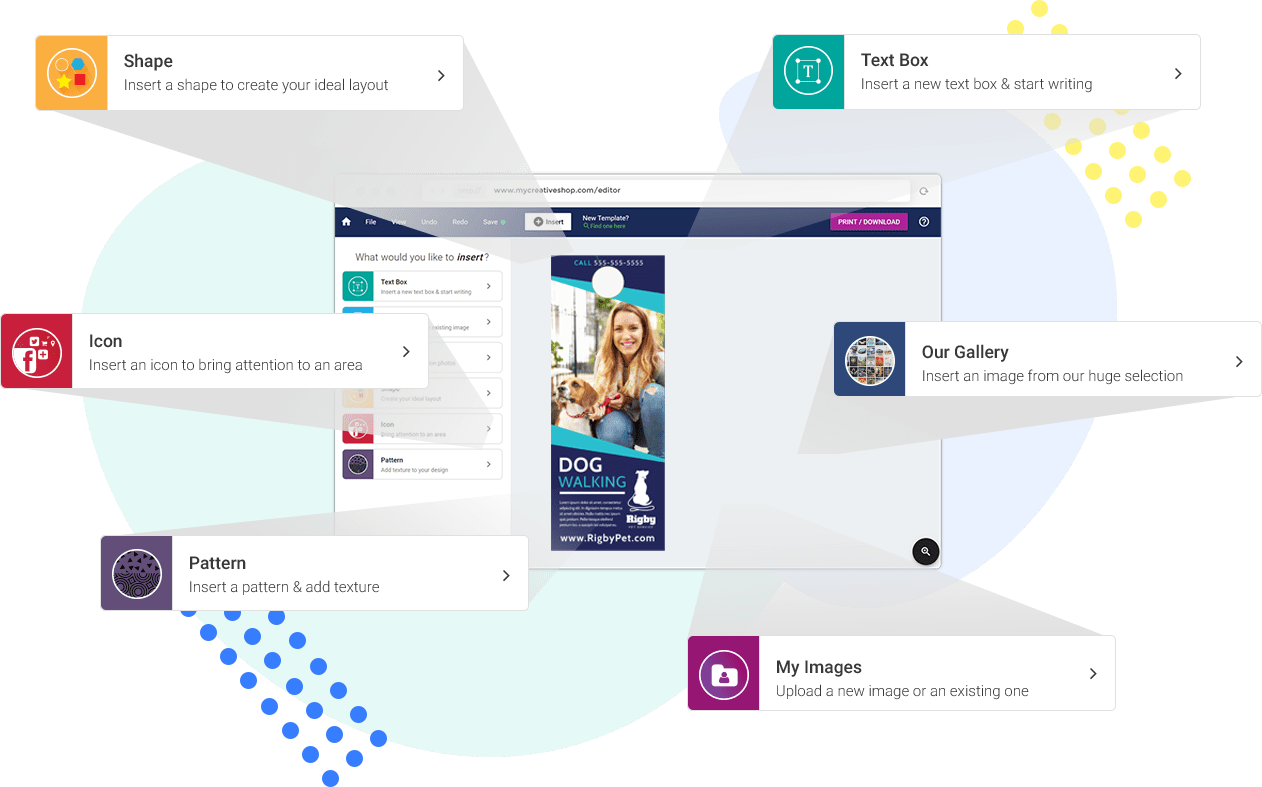 Door hangers for everyone: no design experience, no problem!
Door hangers may seem old-school, but we prefer the term "tried-and-true" — which is exactly how you could describe our online editor, too! From freelance marketers and second-shift entrepreneurs to dedicated volunteers, professional multitaskers, and busy owner-operators, thousands of people rely on MyCreativeShop each day for all their design and marketing needs.
With no confusing software to download, no significant learning curve, and no locked-in contracts, we make expert-level design easy enough for anyone. Regardless of your age, job title, or computer savvy, you can craft a stunning, cost-effective door hanger in no time at all.
Start today, finish today! Discover our door hanger templates and get designing now.
What you can do when you're done designing
We have options for you
Download and print anywhere
Other design platforms may force you to order prints from them—but we don't! You can download your door hanger and have it printed anywhere.
Order prints with us
Popular
Want to hang your door hangers faster than ever? Our convenient printing options come with premium ink, high-quality paper, and super-fast shipping! View our door hanger printing options here.
Share Online
Double your ROI by putting your print marketing online, too. Generate a link to your door hanger to share via email, chat, or social media.
Come back and edit any time
Your design is yours, and it'll stay that way! Find your customized door hanger saved to your project library for easy editing or reordering any time.x
Templates
Popular Door Hanger
Ideas
View our huge collection of door hanger templates & ideas