Create a flyer, even with no design experience
MyCreativeShop created an online flyer maker that anyone can master in a matter of minutes! Through a design editor that's super easy to navigate, you'll have everything you need to create, customize, and print your one-of-a-kind flyer.
With thousands of stunning flyer templates and even more customization options, you can get your flyer designs out into the world fast. No need to hire a designer or waste time patching together an amateurish design. It's so quick and easy that you can create flyers over your lunch break!
Whether you're advertising a sale, inviting guests to an open house, or raising awareness for an upcoming party event, you'll be able to share your message in no time. Choose a flyer template, add your own images and text, and make any design tweaks you want: resize, re-color, rotate, and more.
You can fly through the entire creative process right from your browser! Once your flyer design is complete, it takes just a few clicks to download a print-ready PDF, share your flyer online, or order premium prints with us. Your flyer will be conveniently saved to your project library for hassle-free access anytime, anywhere.
How to design a beautiful flyer in just 5 quick steps
Choose your flyer template

Our flyer templates cover a wide range of industries, from real estate to churches and community organizations. Browse by industry, category, or flyer size to find the perfect starting point for your creative vision. Each template is formatted to make it incredibly easy to follow, edit, and personalize using our flyer creator. Find your flyer now.

Upload your own graphics, logos & images

Highlight the most important features of your flyer ads with high-quality images of your staff, customers, products, or services. If you don't have images of your own, you can easily choose from thousands of free professional images within our online editor. (Trust us, they don't look like stock photos!)

Add text to your custom flyer

An effective flyer will tell your readers exactly what they need to know and what you want them to do. Use text to promote special offers or call to actions you have! Our text boxes come with pre-set sizes, fonts, and colors so that you'll only have to think about the right words to use—not how to display them.

Customize your colors, shapes, and more

All of the elements within our flyer templates are designed for easy customization by you. Resize objects, customize backgrounds, add borders, swap icons, rotate images, upload text...if you can think of it, our flyer generator can help you do it! We've got so many customization tools that you'll run out of ideas before you run out of options.

Download, share, or print posters with us

After the finishing touches are done, save your flyer to your project library so that you'll always have online access. You can also immediately download a print-ready PDF or digital image, generate a link to share on social media, or order prints with us.
Features
Fly through

the creative process
MyCreativeShop's online flyer maker is jam-packed with design tools that make it easy for anyone to customize flyers. Take advantage of professional features with absolutely no learning curve.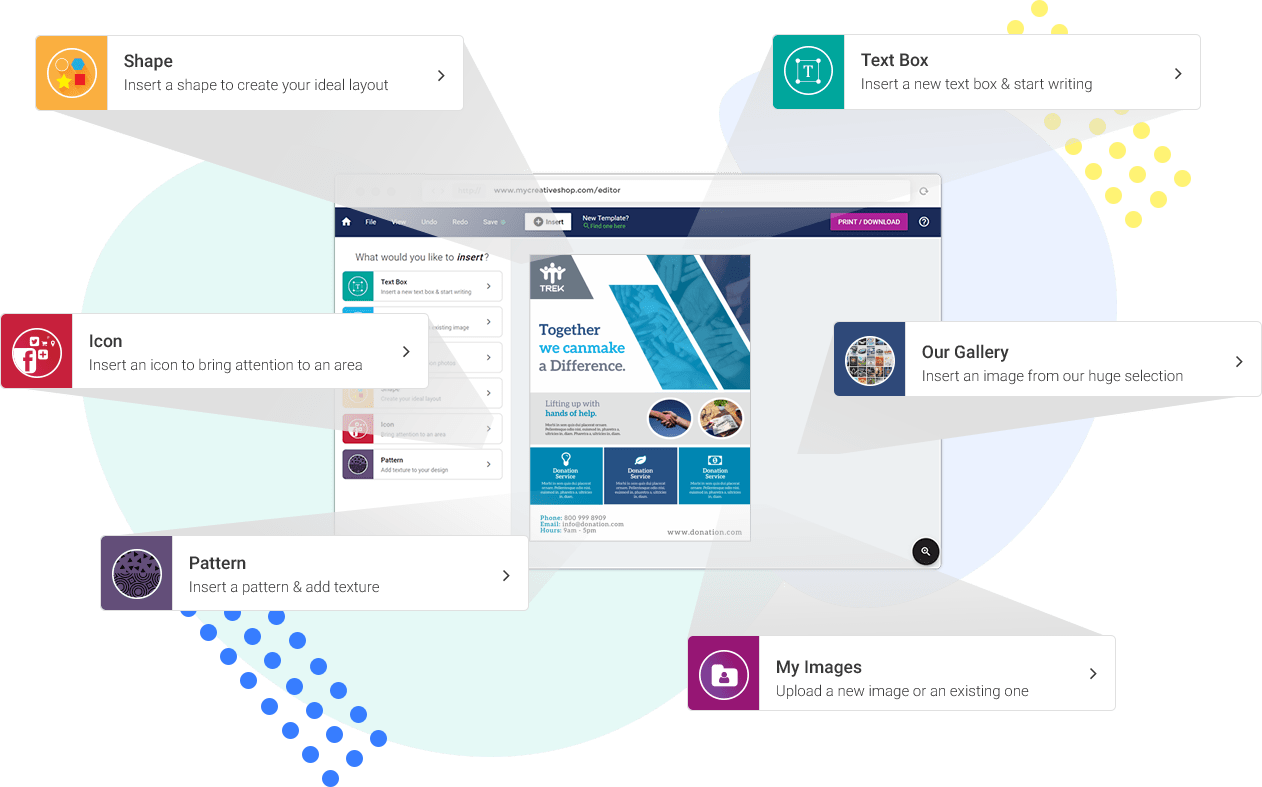 The easiest platform to create and print flyers for your business
Whether you're an entrepreneur looking to bootstrap marketing materials, a community volunteer searching for an affordable alternative to Photoshop, or a busy executive with no time to vet a design firm, MyCreativeShop is the tool for you.
Our customers have explored a variety of programs and call ours the best by far—a game-changer for crafting professional designs, printing high-quality flyers, and making life easier all around. Even customers who call themselves "technologically challenged" and "not super computer savvy" love how fast and easy it is to make flyers.
ou can choose a template, customize your design, and finish your flyer design all in one sitting. Start creating your design today!
What you can do with your flyer flyer design
We have options for you
Download and print anywhere
We may guide you through the creative process, but your flyer is yours! Download a PDF for easy printing at home, in the office, or at your favorite print shop.
Order prints with us
Popular
With just a few clicks, you can order as few as 50 or up to 50,000 flyers directly through us. We offer fast shipping and 100% satisfaction guaranteed! View our flyer printing options here.
Share Online
Download a web-ready image or receive a custom URL for your new flyer. Easily upload your image to social media or share the link anywhere!
Come back and edit any time
Need more flyers? Log in any time to instantly find your flyer in your saved project library. Make changes before placing an order, or easily reorder the same design.