Custom pamphlets designed by anyone & printed anywhere
Pamphlets have been used for marketing since the printing press was invented hundreds of years ago. But sticking to those old-school methods of design and print can leave all but the largest businesses stretched beyond their budget. That's where MyCreativeShop comes in!
We've taken this tried-and-true form of print marketing and adapted it to the modern world. Now organizations of all sizes, industries, and locations—even mom-and-pop shops with practically no marketing budget—can make their own professional-looking pamphlets online. No more overpriced designers and no more inescapable contracts.
MyCreativeShop makes pamphlet design so easy that anyone can master it. As long as you have internet and a few minutes to spare, you can dash through the creative process! Our editor works completely in browser and gives you exactly what you need to start, finish, share, and print your original pamphlet design.
Just browse our template library, click on a pamphlet template you love, and then use our intuitive tools to customize it in any way. We give you total freedom to create something awesome and then share it or print it anywhere. No design experience necessary!
How to make the perfect pamphlet in 5 fast steps
Choose your pamphlet template

We know that pamphlets are used in many industries and for many different purposes, which is why our template library is so well-stocked. From insurance providers to vet clinics to churches, our diverse users narrow in on the same adjectives for our templates: outstanding, beautiful, and amazing! Find your pamphlet now.

Upload your images

Images set the stage for a visually appealing pamphlet, and we make it easy to upload, position, and crop vibrant, on-brand images. Upload a photo from your device, snag one straight from your Facebook or Instagram page, or select an image from our built-in stock photo library.

Add your text

Whether it's a product, service, or event you're advertising, your pamphlet has to sell readers—and the right words matter! Fill in our well-placed text boxes with all the necessary information, such as contact info, specific offer details, pricing tables, and quote-worthy testimonials.

Customize your colors, shapes, and more

After your images and text boxes are all set, finish off your pamphlet by customizing its appearance to reflect your brand. Our user-friendly tools give you unlimited options in terms of color, transparency, borders, and layout. Even non-designers have tons of fun tinkering with our intuitive features!

Download, share, or print

The minute you're happy with your pamphlet, it's ready to be mailed out, handed out, or otherwise shared however you want. Download a PDF to print anywhere, generate a live link to share directly online, or order top-quality prints from us. All of these options are equally easy and affordable.
Features
Creative design tools that are
fun to use
Because MyCreativeShop was made for people who aren't professional designers, our editor features are straightforward, clear, and easy to figure out. And you'll never have to worry about making a mistake, as our edits are hassle-free to undo, too!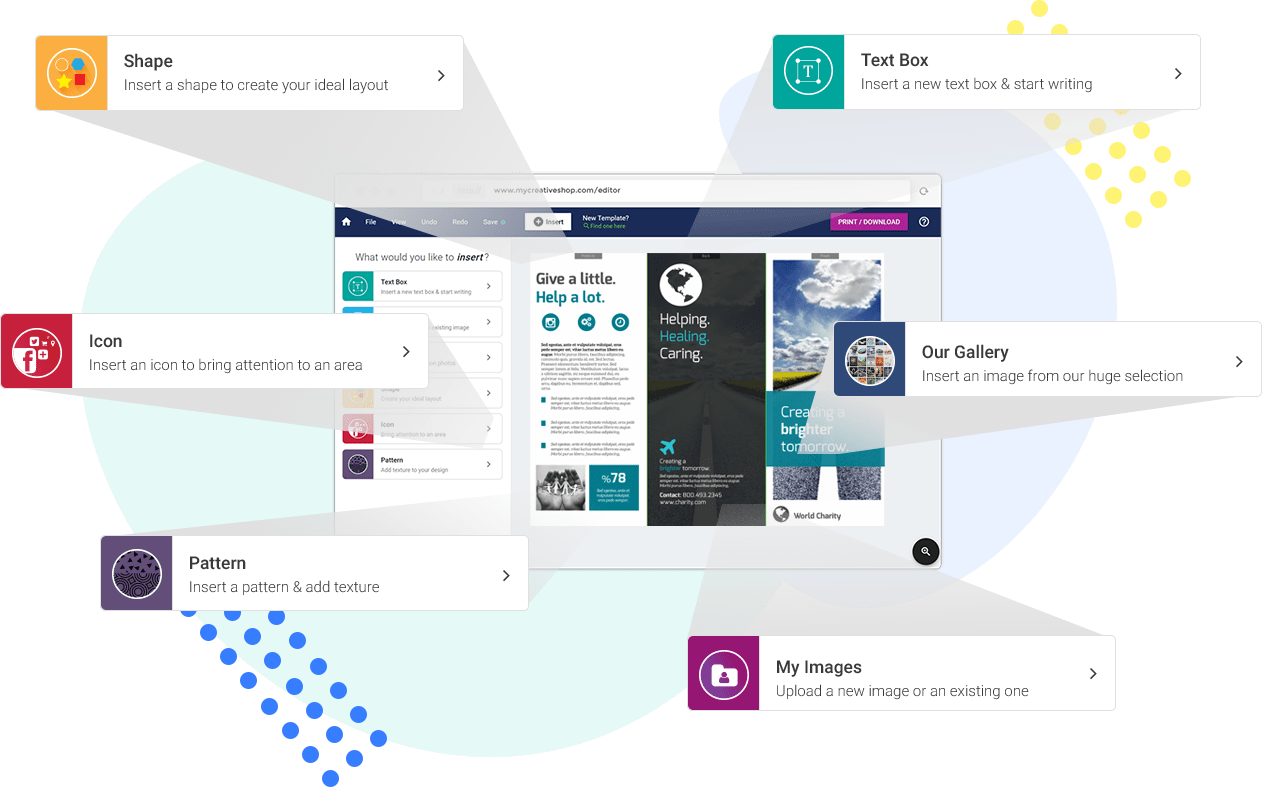 Easy to design & easy to order, even with no creative skills!
MyCreativeShop is a feature-rich, easy-to-use pamphlet maker for anyone, anywhere—even with no creative experience. We're so simple to use that we've powered more than 2 million designs to date!
From stretched-thin entrepreneurs to low-budget small businesses to busy community volunteers, our clients love how fast, easy, and affordable we make the creative process. We don't just provide a blank canvas; we give you everything you need to design, share, and print the perfect pamphlet from your own computer.
Choose your template now, and impress yourself with a professional-looking pamphlet in minutes!
What can I do with my pamphlet?
We have options for you
Download and print anywhere
Your design is yours, and you can print it wherever you like. Download a PDF of your pamphlets to print at home, in the office, or with your favorite local printer.
Order prints with us
Popular
Even though we make design easy to DIY, our prints are anything but amateur! Order your pamphlets from us for premium paper, fast shipping, and great pricing. View our pamphlet printing options here.
Share Online
Make your pamphlet multi-use by sharing it online. Generate a link for internal feedback or distribute your pamphlet even faster by skipping the printing altogether.
Come back and edit any time
We'll keep your pamphlet saved to your personal project library, which makes any future edits and reprints totally hassle-free.