Save time & money while rewarding your customers
Does anyone say no to free money? We didn't think so! That's why gift certificates are such an important part of any marketing, business development, or customer retention strategy. And with MyCreativeShop, your gift certificates won't just be effective—they'll be quick, easy, and cost-effective too!
Instead of breaking the bank on professional designers, create your own gift certificates through our intuitive online editor. Log in from any computer, and you'll have everything you need to create fantastic gift certificates: tons of template variety, customization tools that are easy to understand, and the freedom to save, share, or print anywhere.
With MyCreativeShop, you don't even need any creative inspiration to begin! Just peruse our appealing templates, choose one you love, and take advantage of our rich online editor to finalize your design. Even if you've never created anything before, you'll actually have fun designing your gift certificates.
While you reward your customers, we'll reward you with the most user-friendly creative process out there. We make it easy to design and print awesome gift certificates within your budget, at your own pace, and with no significant learning curve.
5 quick steps to a gift certificate your customers won't forget
Choose your gift certificate template

Retail shops, local diners, beauty salons...we've got a wide selection of templates for any kind of gift voucher or certificate. Filter our extensive library by industry to view recommended templates for you, or simply scroll until a particular gift certificate grabs your attention. Find your gift certificate now.

Upload your images

Don't let your customers forget about their gift certificates! Add vibrant pictures so that your voucher stands out in jam-packed purses and overstuffed wallets. Whether you upload your own images or choose from our stock library, you'll be able to easily crop, resize, and place them anywhere.

Add your text

Tell your customers how to claim their gift vouchers along with any relevant terms or conditions. We've already set readable fonts in well-placed content placeholders so that all you'll have to worry about is filling in your unique text. You can also insert new text boxes wherever you want!

Customize your colors, shapes, and more

Beyond driving sales and foot traffic, gift certificates can also raise brand awareness. To reflect your company's brand identity and set the right tone, take advantage of our many customization tools: change colors, set transparencies, rearrange sections, add borders, and more.

Download, share, or print

As soon as you're done, you can download a PDF to print locally, share your design with clients or colleagues online, or order high-quality prints through MyCreativeShop. Clients love that they can print anywhere, including super-fast shipping directly from us!
Features
Easy-to-use

features for professional-looking designs

We've powered more than 2 million designs to date, thanks to a powerful interface that's easy for anyone to understand. You don't need any creative experience or computer know-how to master our straightforward design tools!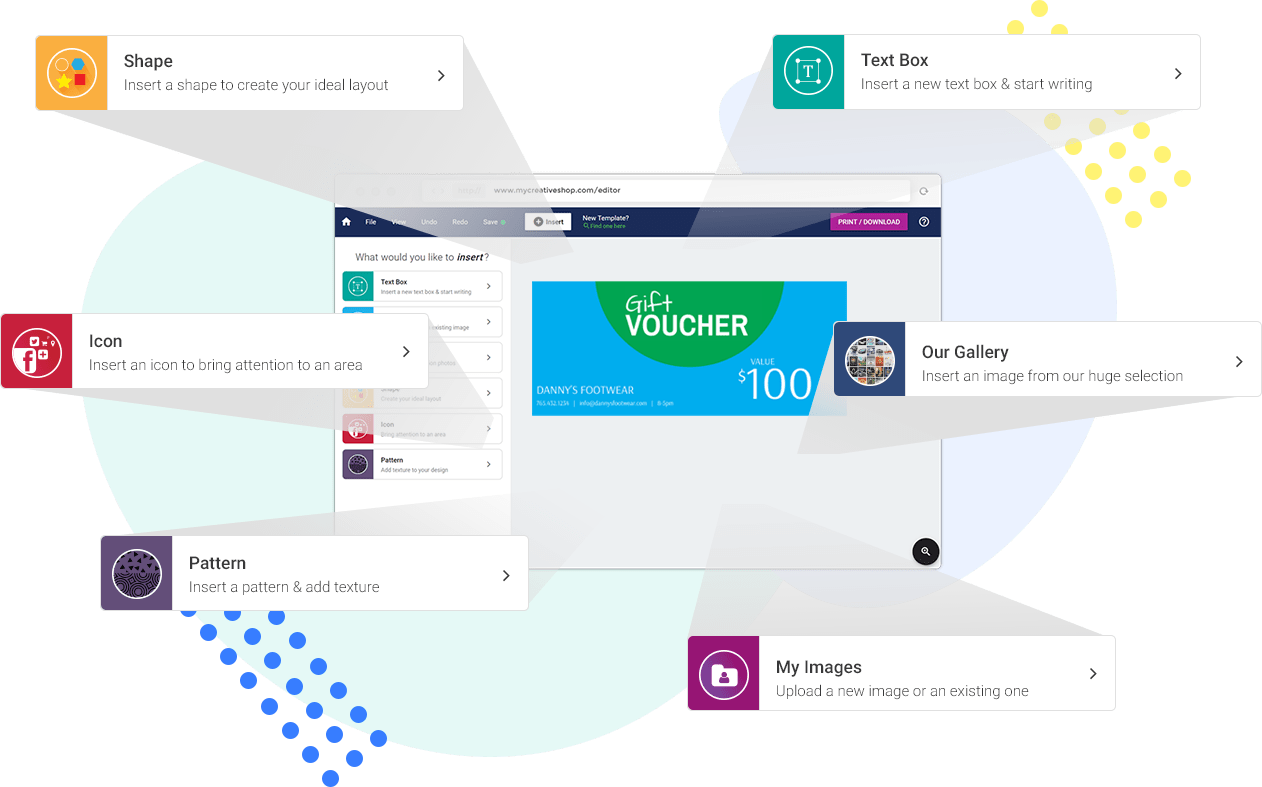 Exactly what you need to design & print your own gift certificates
MyCreativeShop was made for business owners, marketers, entrepreneurs, volunteers, students...all kinds of busy people who aren't professional designers. We saw how frustrating and cost-prohibitive graphic design usually is, and we made it easier, faster, and more affordable.
Thousands of happy users call us "the best design website by far" and "the easiest way to make affordable marketing materials online". You'll love just how user-friendly our online editor is and how much time and money you'll save!
Give your customers a reason to return with well-branded gift certificates from MyCreativeShop. You can design with us, finish in minutes, and print anywhere—just choose a template to start now!
What you can do when you're done designing
We have options for you
Download and print anywhere
Get a PDF for immediate download and then print your gift certificates at your favorite local print shop or in your own home/office. Your design, your printing preference!
Order prints with us
Popular
If you do want quality prints at a great price, put them in your MyCreativeShop cart and check out instantly. We ship quickly and will tell you exactly when to expect your order. View our gift certificate printing options here.
Share Online
Want feedback from colleagues before printing your gift certificates? We can generate a live link to your design that's automatically updated any time you make changes.
Come back and edit any time
Your gift certificate will be saved to your personal project library for simple editing and reprinting. Just log in from any computer, anywhere, any time!