The easiest website to design & print custom coasters
Whether you own a coffee shop, a craft brewpub, or a late-night food truck, you don't need us to tell you that profit margins in the restaurant biz are razor-thin. So why let your precious marketing dollars go down the drain?
For print marketing that's faster and more affordable, check out MyCreativeShop. Our online editor is super easy to figure out, works from any internet browser, and offers awesome coaster templates with unlimited customizations. No computer savvy, design experience, or creativity required!
MyCreativeShop gives you exactly what you need to create one-of-a-kind coasters for your business. Play around with colors, insert text boxes, upload images, add icons...and more! Once you're done having fun with the design, you can save your coasters, download a printable PDF, or instantly order professional prints from us.
It takes just a few minutes to create on-brand coasters your guests will love—and you'll have the freedom to print them anywhere you want. Our online editor is so easy to navigate that you can log in after the lunch rush and have print-ready coasters before the first dinner party walks through the door!
5 quick steps for coasters that will delight your customers
Choose your coaster template

Coasters serve many different purposes: highlighting high-margin menu items, listing new beverages on tap, advertising weekly events, and more. That's why we offer tons of variety to choose from! Sort our excellent templates by size or browse by hand until you find the perfect coaster for you. Find your coaster now.

Upload your images

Entice diners by displaying a high-res shot of your best-selling appetizer, a teaser image of an upcoming new location, or a simple and sleek logo or wordmark. Many people snag coasters as collectable keepsakes, so the more eye-catching and on-brand your images are, the better!

Add your text

Not sure what to say? Just tell guests exactly what you want them to know! Include dates and times for upcoming events, list out the key ingredients of your seasonal craft brews, or encourage responsible drinking by providing taxi contact information. Short and sweet is best.

Customize your colors, shapes, and more

The right colors and fonts can turn a forgettable coaster into something that's unmistakably yours—so make your coasters memorable with our easy-to-use design tools! Tweak background colors, add borders, upload your logo, insert social media icons, and more.

Download, share, or print

After you've made as many (or as few) design customizations as you'd like, take the next step and put your print marketing to use! Download a print-ready PDF, generate a live link to share online, or order quickly shipped coasters from MyCreativeShop.
Features
Coast through the creative process
in no time
We don't just make design simple; we make it fun! Even if you don't consider yourself creative, you'll love how easy it is to create beautiful marketing materials. Our design tools are sophisticated yet have no significant learning curve.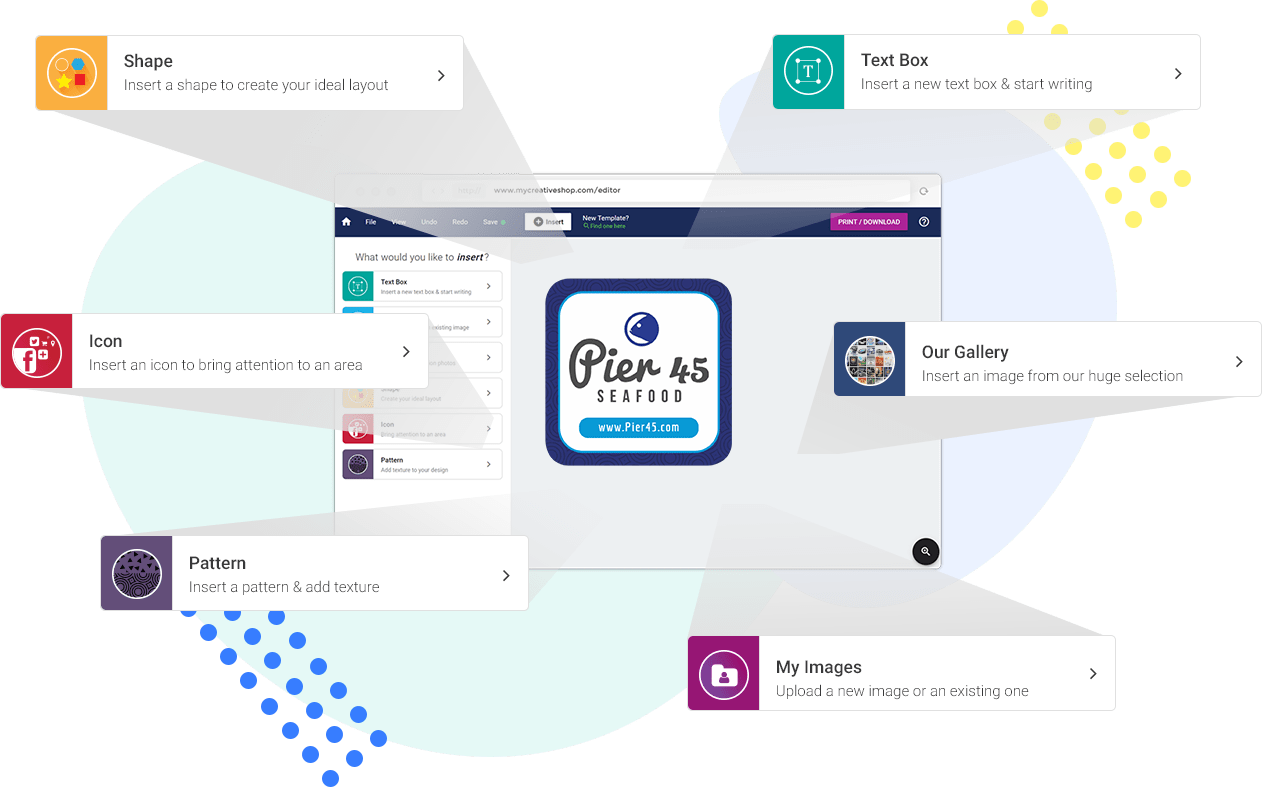 Coasters that work for you (with way less work for you!)
When designed well, coasters can delight guests, drive sales, and increase brand awareness. So if your coasters are doing nothing more than soaking up condensation, it's time to make them work harder - without working harder yourself!
With 2 million+ designs made, MyCreativeShop is the best website out there for DIY coaster designs that look anything but homemade. Owners of diners, bakeries, fine dining establishments, coffee shops, bars, food trucks...all of them love how just much time, money, and effort we save them.
Skip the pricey designers, close the chaotic design software, and get memorable, well-branded coasters, even with no creative skills. Try MyCreativeShop now!
What you can do when you're done designing
We have options for you
Download and print anywhere
With MyCreativeShop, your design is, well, your design! You can take your custom coasters, download a high-quality PDF, and have them printed anywhere you want.
Order prints with us
Popular
Paper thickness is especially important for coasters, and our heavy-duty blotter stock is just what you need. Fast shipping and great pricing guaranteed! View our coaster printing options here.
Share Online
You can't use a coaster online…but you can share your coaster design before going to print! Generate a live link to send to your boss or colleagues for feedback.
Come back and edit any time
When business is booming, you'll need extra coasters to keep up. Because we save your designs to your project library, you can return to edit and/or reprint at any time!
Templates
Popular Coaster
Ideas
View our huge collection of coaster templates & ideas