Design a brochure & have fun doing it!
For most people, making an effective brochure has meant spending big money on a professional designer or devoting hours to mind-boggling, maze-like design software. But MyCreativeShop brochure maker changes that—making it easy for anyone, anywhere, to create professional, print-ready brochures in minutes.
Our brochure creator gives you all the tools you need to make your own brochure with no design experience. Choose from an amazing variety of template examples, icons, patterns, and fonts, and then further customize your design by uploading your own imagery and text. You'll be able to add, delete, move, rotate, resize, reshape...all right from your browser.
As soon as you're happy with your brochure design, it's ready to be shown to the world! Share your digital brochure online, save a PDF to print anywhere, or order high-quality prints directly through us.
Making your own brochure online in 5 quick steps
Choose your brochure template

Using our online gallery, you can conveniently search thousands bi fold & tri fold brochures by category or topic, or browse on your own until inspiration strikes. For those with design experience, we also offer blank brochure templates in several popular sizes and layouts. Find your brochure now.

Upload your images

Our templates come with high-quality photos relevant to a variety of industries: real estate, hospitality, travel, marketing and more. Keep these pre-set images, replace them with another from our varied selection, or upload a photo of your smiling staff directly from Facebook, Instagram, or your device.

Customize the text on your brochure design

Complement your eye-catching imagery with details about your product, service, or special offer. Write an attention-grabbing header and fill in all the content information your readers need to take immediate action. Because we have placeholder text boxes ready to go, it's easy to choose stylish and legible text.

Customize your colors, shapes, and more

Our brochure templates have been designed for visual appeal and clarity, but they're also made for easy customization. All it takes is a few clicks to change the background color or pattern, rearrange or delete sections, add new icons and shapes, and more.

Download, share, or print your brochure

As soon as you're done designing in our brochure maker, you're free to print with us or anywhere else! That means you can immediately download a PDF file, share your brochure on social media, or order premium prints from us to show off to your customers.
Features
Brochure design features you can easily master
Creating a unique brochure couldn't be easier. From brochure size and fold to images, fonts, and icons, our online editor puts you in control—with just as much guidance as you need.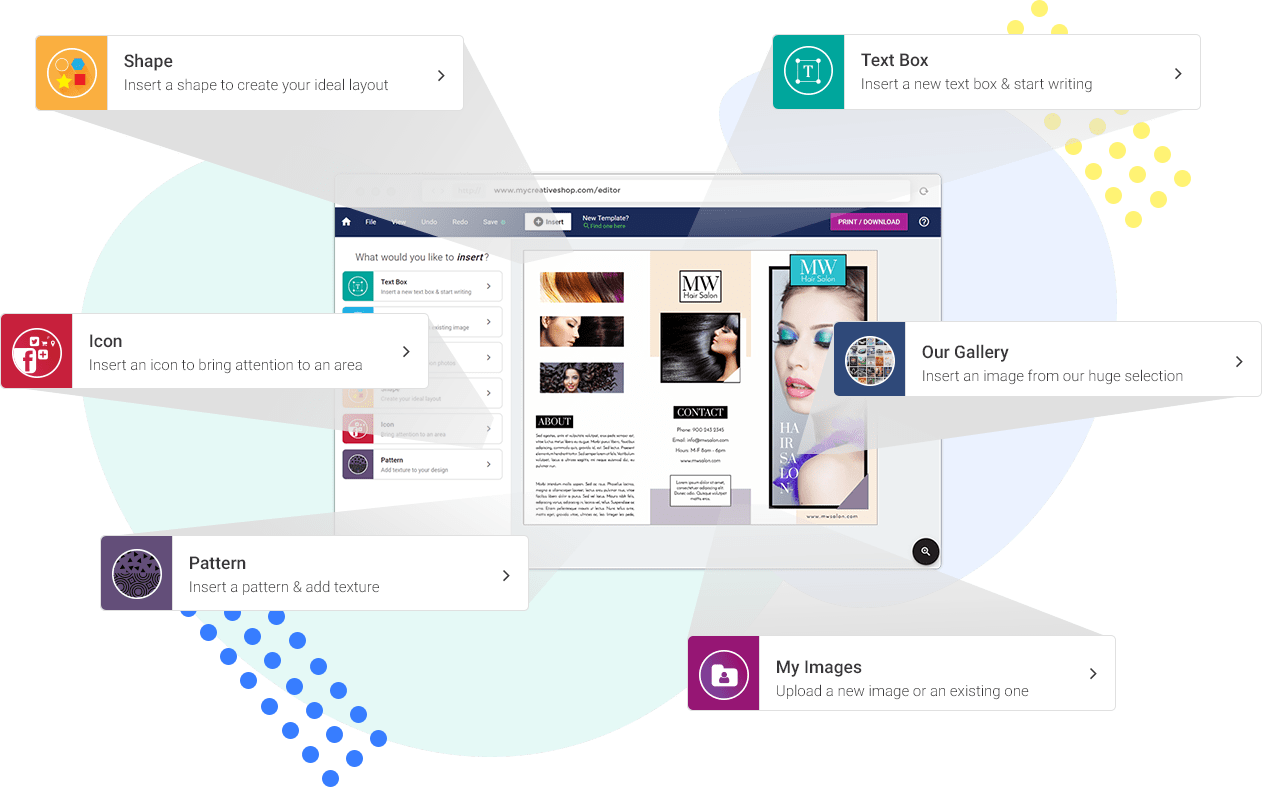 The best website to create brochures on your own
From business owners to volunteers, MyCreativeShop is made for busy people who wear many hats. You may not be a large company with a big budget, or have tons of time & design experience, but you can still get the high-quality, professional brochure you deserve.
Through our user-friendly pamphlet maker, anyone, anywhere, can create a pamphlet (also known as a brochure) in next to no time. We let you build exactly what you need at your own pace. No learning curve, no software to download, and no design experience necessary.
Discover why so many people who have tried other websites call MyCreativeShop the best website to create a brochure. Start designing now!
What can I do with my brochure?
We have options for you
Download and print anywhere
Receive your brochure as a PDF file to print in your own office or at your favorite local print shop.
Share Online
Get a web-ready image or custom url of your brochure and easily share your design on any social network or website. It's fast and easy to show off your brochure.
Come back and edit any time
Your brochure will be saved to your project library, making it painless to make changes in the future. Log in to make design tweaks, or reorder the same print with just a few clicks.