Design in minutes, share instantly & print anywhere
Table tents are inexpensive to print, quick to set up, and hassle-free to change up as your marketing needs evolve. And with MyCreativeShop, designing one-of-a-kind table tents is just as easy as putting them to use!
Through a feature-rich yet user-friendly online editor, we've cut out the design middlemen and made it easy for anyone to create their own professional marketing materials. Our interface is so intuitive that even people who consider themselves "bad with computers" find it easy to create their own table tents
Browse through plenty of table tent templates, find the one you love, and then make limitless customizations with just a few easy clicks. Once you're done perfecting your design, you can do whatever you need to: save it, share it, download it, or order speedy prints directly from us.
You don't need to wrestle with confusing design software or hire a pricey designer. You don't even need a "big idea" or any design experience! We supply the creative inspiration, the customization tools, and the power to get your table tents out into the world—fast.
5 quick steps to an eye-catching table tent
Choose your table tent template

From happy hour wine lists and "table reserved" signs to front desk membership details and upcoming event advertising, we have a great selection of beautiful templates for any marketing or informational purpose. Browse our templates manually, filter by size, or sort by industry to find a table tent you love. Find your table tent now.

Upload your images

Because our templates come with high-resolution images already chosen, you're free to keep these images or select your own. Uploading your own imagery will add a personal touch to your table tent and help captivate your target audience—whether that's diners, open house attendees, or committee execs.

Add your text

Whichever table tent template you choose, you'll have conveniently pre-set text boxes for all the important details. Engage viewers with a bold headline and answer all their questions in the text boxes below. Our fonts, colors, and sizes have been thoughtfully chosen for both easy reading and visual appeal.

Customize your colors, shapes, and more

If your template's default design doesn't quite speak to you, change it! You can edit any design element: colors, fonts, images, icons, shapes, and more. With truly unlimited customizations, you'll run out of ideas before you run out of creative things to do with your table tent!

Download, share, or print

One of the best things about MyCreativeShop? We give you the freedom to use your design with no strings attached. In just a few clicks, you can save your table tent to your project library, download it (and print anywhere), share it online, or order prints from us.
Features
User-friendly features keep it
simple, speedy & sophisticated
Our intuitive interface can turn anyone into a design pro. With quick-save to track progress and undo to reverse any "Oopsies!", designing your table tent will be just as fun as it is easy.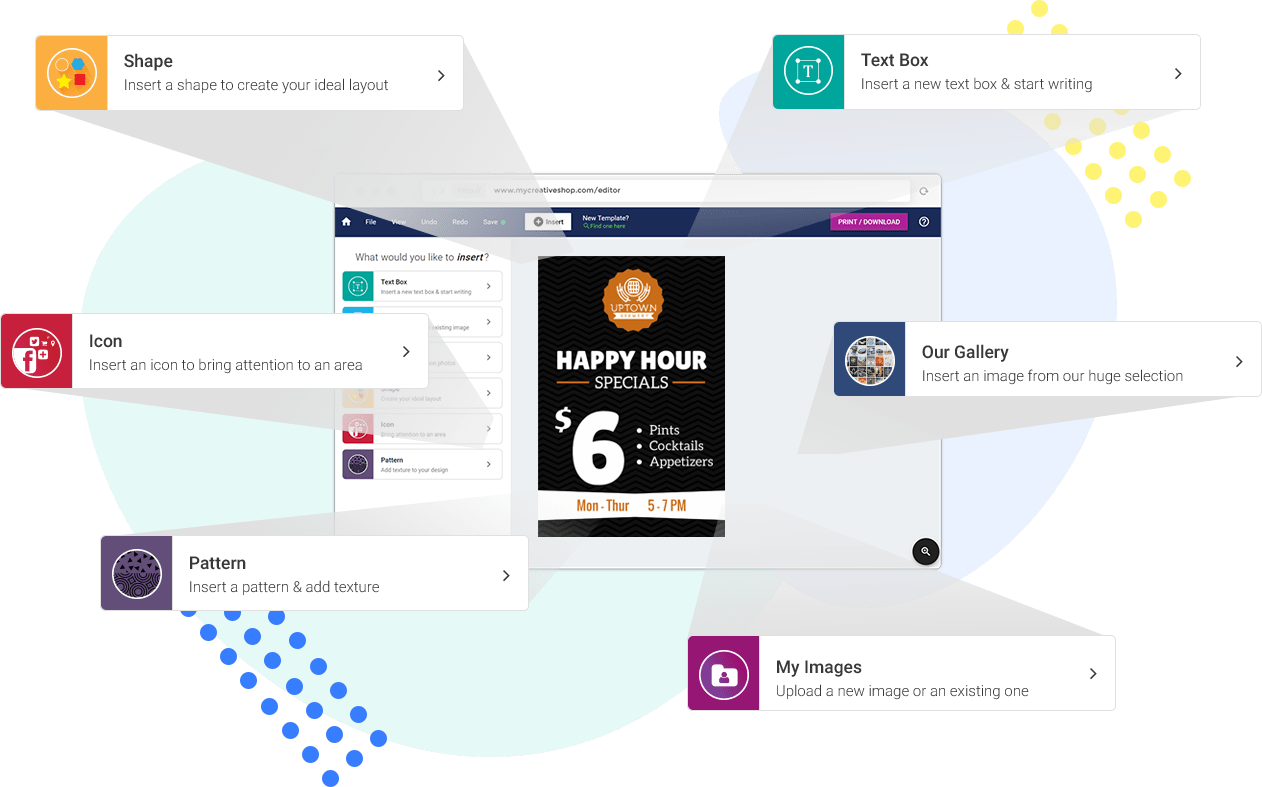 Amazing table tents designed by you (even with no experience!)
Affordable, portable, quick to set up, easy to change...we're talking about table tents, but we could just as easily be describing MyCreativeShop's online editor! Unlike so many other design websites out there, we give you everything you need to create fantastic table tents right from your internet browser—even with no design experience.
We've powered more than 2 million unique designs and counting, and we make the entire process fast and easy. You can start right now, finish in minutes, and have premium prints at your doorstep in days.
Browse our awesome collection of templates and finish your table tent now!
What you can do when you're done designing
We have options for you
Download and print anywhere
We won't lock you into printing with us. You can just as easily download a PDF to print at home, in the office, or at your local print shop. Your design, your choice!
Order prints with us
Popular
If you do want fast shipping on high-quality paper, you can check out as soon as you've hit "save." We'll even tell you exactly when your table tents will arrive. View our table tent printing options here.
Share Online
Want to show off your new table tent on social media? Need to get final approval from the boss before printing? Instantly generate a link to share anywhere online.
Come back and edit any time
When you need more table tents, you can find your design saved to your project library. Easily make edits or reorder the exact same batch for quick shipping!
Templates
Popular Table Tent
Ideas
View our huge collection of table tent templates & ideas