Beautiful, on-brand letterhead designed here & printed anywhere
As a business, every communication you put your name on—whether with customers, colleagues, or suppliers—must look polished and professional. And MyCreativeShop gives you pro-level graphic design that you can actually do yourself!
Our online editor is so easy to navigate that you won't need any design experience to use it. Simply choose one of our many eye-catching letterhead templates and then use our powerful design tools to customize it to your heart's content. You'll love how fast and foolproof we make the entire creative process.
With MyCreativeShop, it's easy to set the right tone for your business with attractive letterhead that matches your brand. You won't need to hire freelance designers, train your staff on complicated design software, or allocate your entire marketing budget! You can create your letterhead online with us and then print it anywhere.
In a world of email, team chats, and text messages, you can make your business stand out with custom letterhead on premium paper. Try out MyCreativeShop for business communications that are dressed to impress - without the sky-high costs.
How to create polished & professional letterhead in 5 steps
Choose your letterhead template

Our happy customers love our template variety and how we make each one so easy to modify and customize. From real estate agents and property managers to hotels, churches, and healthcare professionals, anyone can find a letterhead template that fits their unique organization. Find your letterhead now.

Upload your images

Since letterhead really just sets the stage for the main show (i.e. the body message you're trying to convey), you shouldn't have too many design elements competing for attention. For maximum impact, stick with a subtle image or simple logo at the top or bottom of the page.

Add your text

Just like your images, any text on your letterhead should be kept as short and sweet as possible. Provide only the most need-to-know information like your business name, physical location/mailing address, email address, and social media profiles.

Customize your colors, shapes, and more

Letterhead lends an air of professionalism and gives recipients confidence that your letters aren't just spam. To make sure your readers have no doubt when they tear open the envelope, use our straightforward design tools to choose colors, icons, and shapes that accurately reflect your brand.

Download, share, or print

After you've played around with your letterhead design and are ready to print, next steps are simple. Just click "save" and instantly choose how you'd like to move forward! You can download a PDF to print anywhere, share a link with colleagues online, or order super-fast prints from us.
Features
User-friendly design tools with
a great interface/span>
MyCreativeShop was made for business owners, entrepreneurs, volunteers, and anyone else who needs fast and affordable graphic design. Our online editor is so easy to figure out that it takes only a few clicks to customize your letterhead to perfection!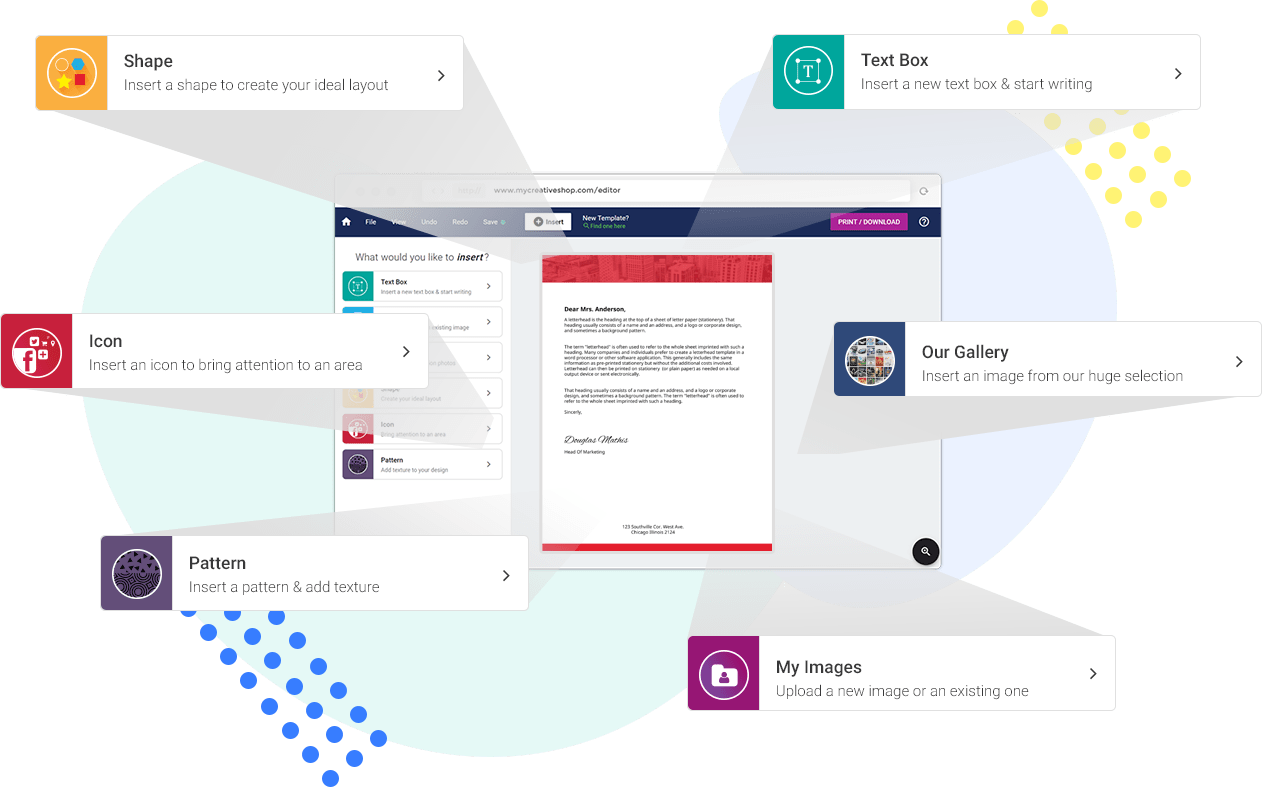 Letterhead design made easy, fast & convenient for you
If you think of letterhead as the frame around your business communications, MyCreativeShop is like having a master frame artisan on staff and ready to work from anywhere. The only difference is that the master is you!
Through our surprisingly simple online editor, you'll have exactly what you need to create your own letterhead design—one that looks so well-branded and professional that no one will realize you created it over your lunch break from your own computer.
See for yourself why thousands of people with tight budgets and no creative background call us the "best design program there is!" Choose a letterhead template now, finish designing in minutes, and print anywhere!
What you can do when you're done designing
We have options for you
Download and print anywhere
You won't be locked into any kind of commitment. You can just as easily download a PDF to print at home, the office, or your preferred print shop.
Order prints with us
Popular
Although the choice of where to print is yours, many clients keep coming back to print with us! We provide fast shipping, premium ink and paper, and great pricing. View our letterhead printing options here.
Share Online
Want to share your design with supervisors or colleagues? Get a link to your letterhead that automatically displays your latest edits. It's perfect for in-progress feedback!
Come back and edit any time
When you start to run short on letterhead, log in to MyCreativeShop, find your saved design, and quickly reorder prints! It's also easy to make edits before printing.