Master the art of sending postcards with these 8 easy steps.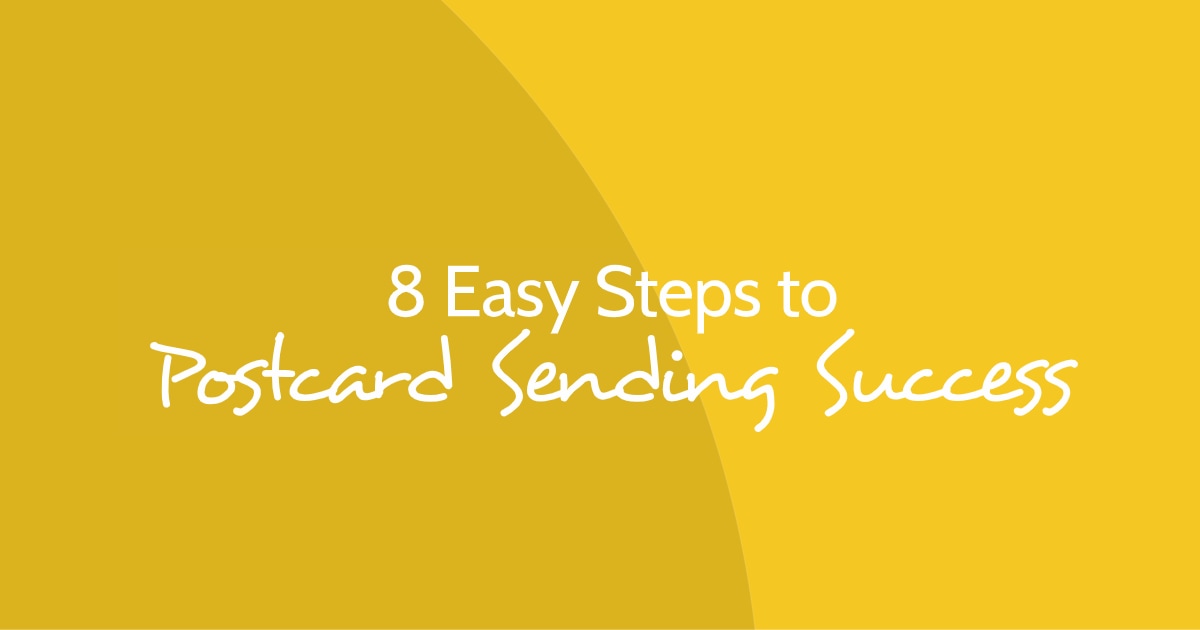 In today s age of email, texting, and other digital messaging platforms, sending an IRL postcard may seem outdated. However, there is something both tangible and interactive about a physical postcard that will likely never be replaced by what you can send or receive on a screen.
In addition to being a fantastic way to let Grandma know how much fun you re having at summer camp, postcards can be that personal touch to your marketing plan that sets your company apart from your competitors. In this article, we ll go through the basics of how to send a postcard. We ll answer common questions, including:
Do postcards need stamps?
Where does the stamp go on a postcard?
How much is it to send a postcard?
Before we begin, consider checking out these other postcard-related articles in our library:
By the time we re through, you ll have mastered how to mail a postcard and will be equipped to do it successfully!
Step 1: Make a Plan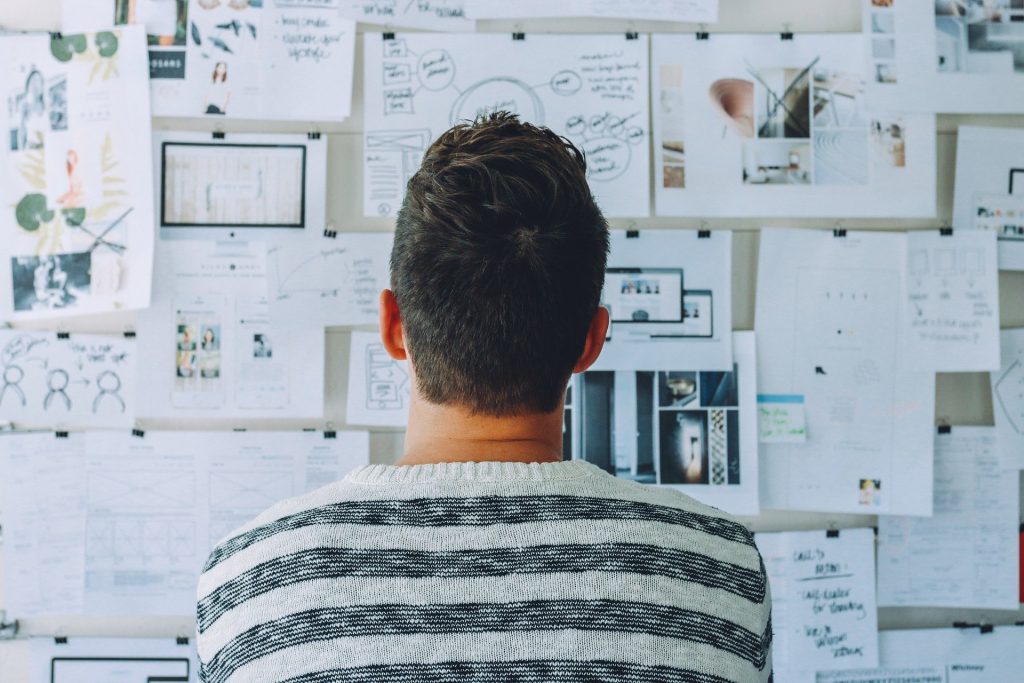 The first step in any marketing campaign is to strategize and finalize a plan for your mailing. Who is your audience? What do you want them to do (your Call to Action or CTA)? How will you convey your message? What images and words are necessary to execute your vision? How will you maintain consistent branding? Also, what is your budget for this project? Ultimately, the type and quantity of postcards you can send are determined by how much you re willing to spend to feel comfortable with your ROI. For a more detailed look at the planning process, dive even deeper into our helpful guide on How to Create Your First Postcard Marketing Campaign.
Step 2: Choose a Postcard
After you ve made your plan and are ready to consider how to send a postcard, the first step, believe it or not, is to choose one. Traditional wish you were here postcards for personal correspondence can be found in gift shops, post offices, supermarkets, and stationery stores. These come pre-printed with images and space for you to write your message to the recipient.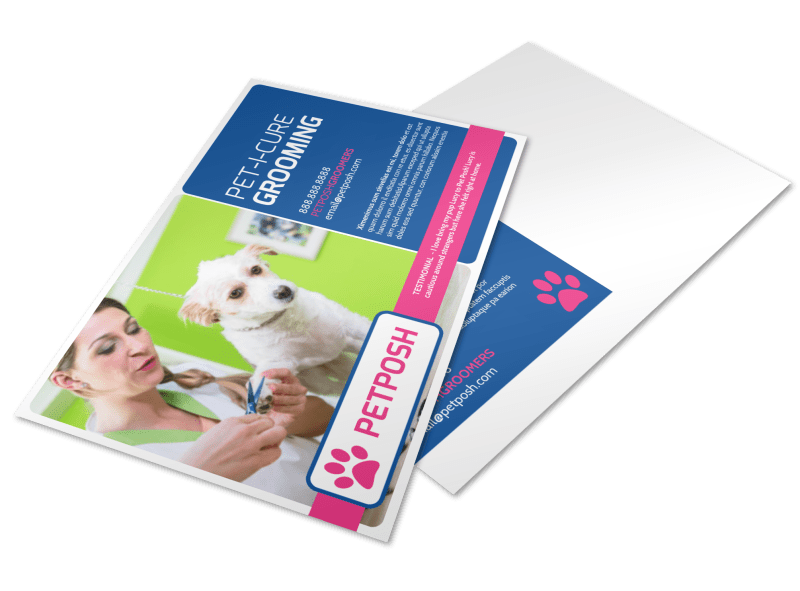 Design via MyCreativeShop Pet Grooming Postcard Template
However, when a business wants to launch a postcard marketing campaign, a custom postcard design is far more efficient and effective. To create your own unique postcard, you can either start from scratch or save yourself a whole lot of time by customizing a postcard template from MyCreativeShop. Unsure of the process? Check out our comprehensive guide!
Step 3: Customize Your Postcard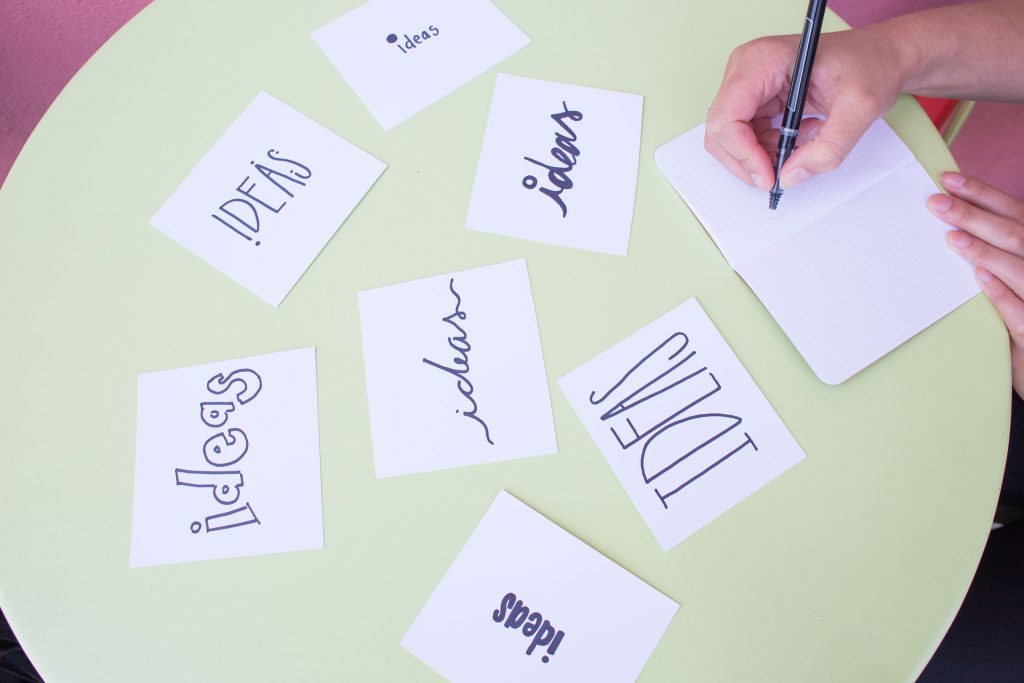 Image by Andrew Lloyd Gordon from Pixabay
As you consider how to do a postcard well, brainstorm creative ways to support your message. Keeping your postcard s purpose at the forefront, carefully consider your layout, original content, and overall design. Here are just a few practical inputs to consider when beginning to customize your postcard:
Size: The most common standard postcard size is 4.25 by 6. Its dimensions allow it to qualify for the lower USPS First-Class postcard rate along with the even less expensive USPS Marketing Mail rate. For more on size restrictions and pricing options, check out the USPS Postal Explorer Business Mail 101 page. Size is also an important consideration if you re planning to do an EDDM mailing, so make sure to do your homework.
Paper Weight: Another seemingly insignificant and yet important aspect of postcard customization and printing is the weight of the paper your design is printed on. To ensure your postcard arrives at its destination in the best possible condition, we recommend using a durable, sturdy paper. Cardstock or something of similar weight would be ideal. Again, pay attention to thickness requirements for mailing.
Content: Postcards allow businesses to engage with potential customers in a unique and personal way by reaching them in their homes. The sky's the limit when it comes to content, but there are still good practices to abide by. Things like crafting a compelling headline, using high-quality images, and proper use of white space are all ways to make your postcard stand out.
Call to action: Create an attention-grabbing call to action to get your customers responding to your offers. Include your contact information or another specific way for the reader to act. QR codes can be very useful here.
Company branding: Add your company logo and colors to impress your business brand into prospective customers or clients.
MyCreativeShop s online postcard maker allows you to complete the customization process quickly and efficiently.
Step 4: Create a Mailing List (If You Don t Have One)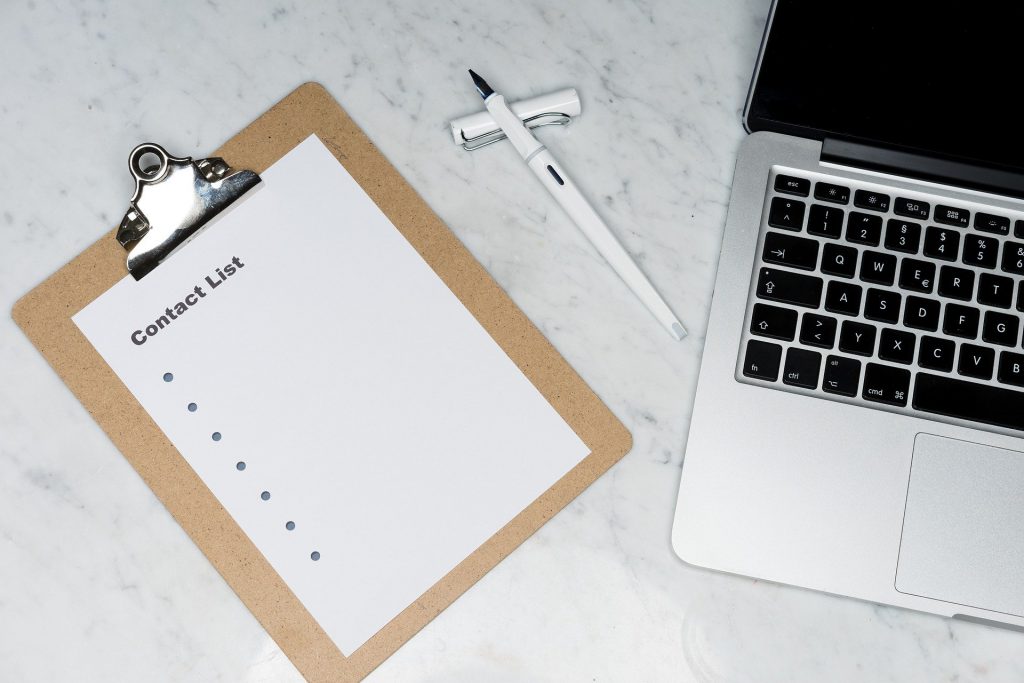 Image by Markus Winkler from Pixabay
Once you re happy with your postcard design, you ll need a mailing list of prospective customers to send it to. This list could be your current list of customers you ve already served. It could also be a list of prospective customers you re hoping to serve.
To get a list of prospective customers, you can tap into the resources of a marketing company that produces mailing lists. Alternatively, you can take advantage of EDDM mailing, allowing you to distribute your postcard to a targeted customer base.
Step 5: Print Your Postcards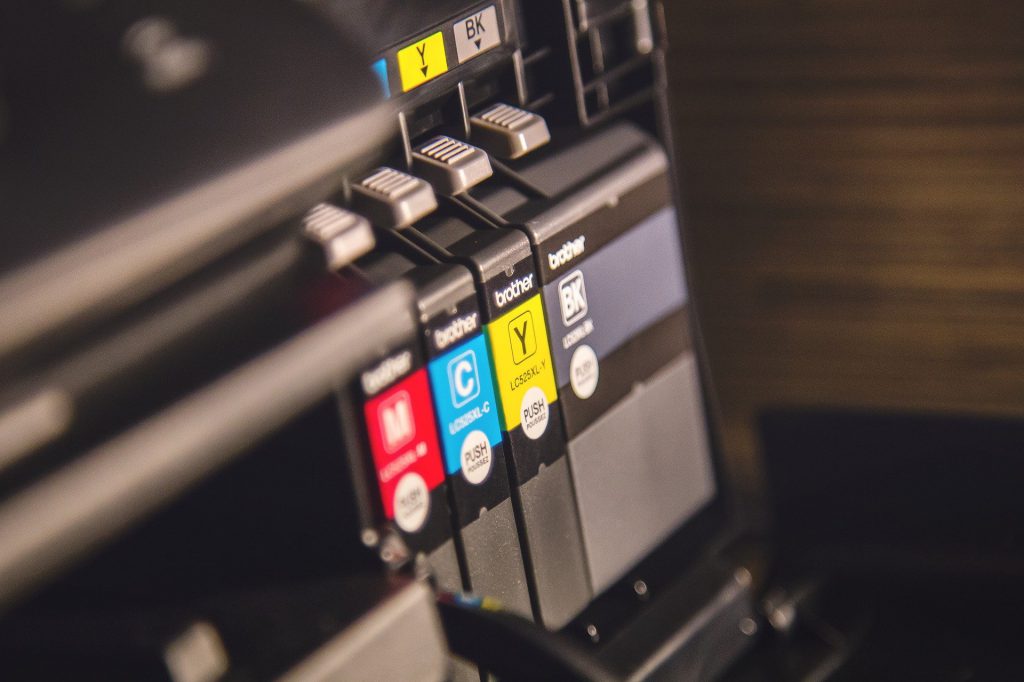 Image by tookapic from Pixabay
Now that you ve finished your design and solidified your mailing list, it s time to print. Calculate the quantity you ll need (using your prospective customer list as your guide) and place a print order with MyCreativeShop or your local printer.
Step 6: Address Your Postcards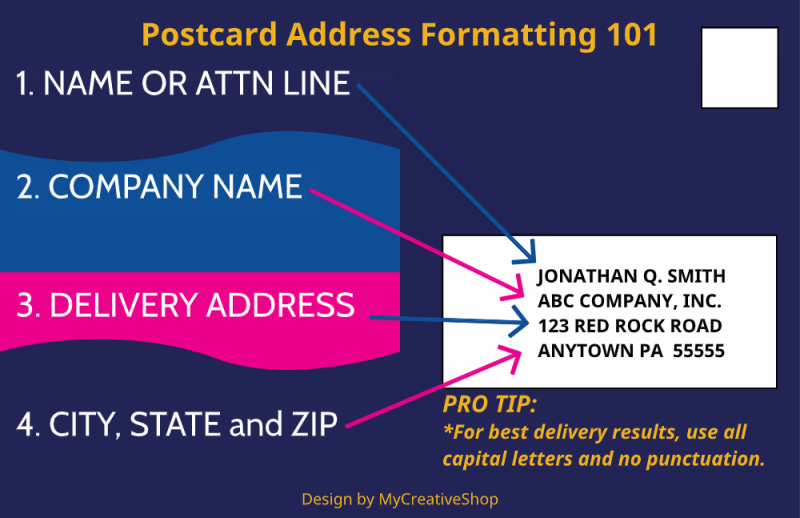 Design via MyCreativeShop
Each print label on your postcards needs to have the following address information of the recipient:
Full name/ATTN
Company name
Address
City, state, and zip code
Each of the above items should be on their own separate line. When printing the labels, capitalize all text and verify that all information prints within the bounds of the label itself. Test-printing your labels on plain paper can help to give you confidence in the finished product. Make sure the label is straight and not crooked when affixing it to the postcard. We always recommend reading through the USPS best practices for postcard addressing to ensure that your mailings have the best chance of reaching their destination in a timely fashion.
Step 7: Add Postage to Your Postcard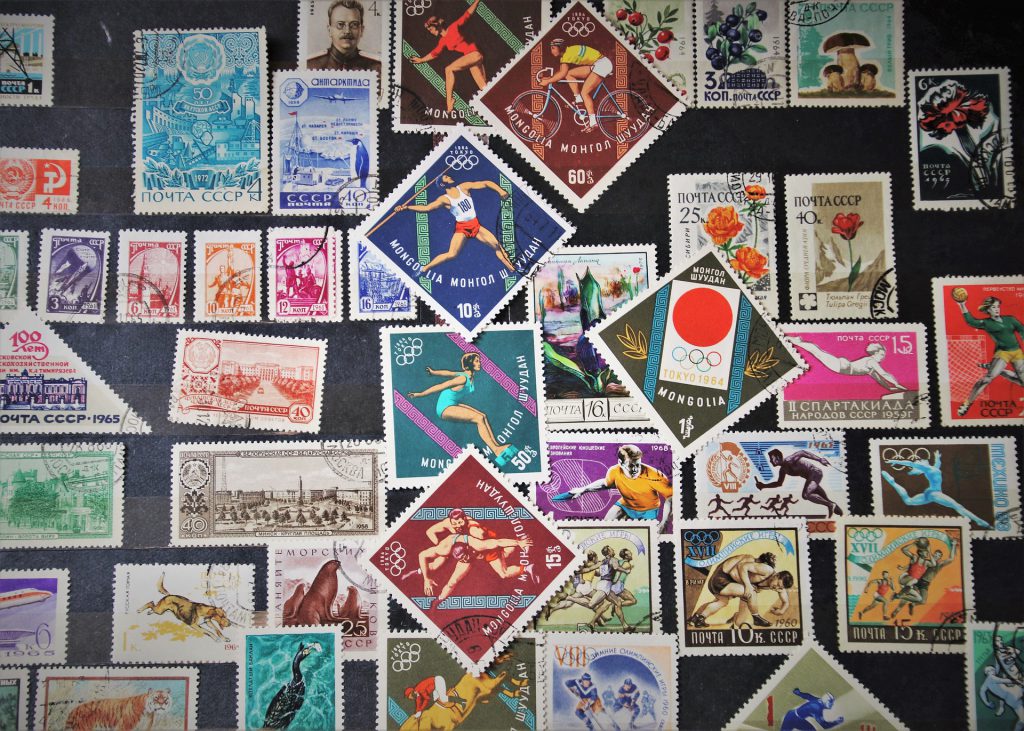 Image by pasja1000 from Pixabay
Before sending off your postcard, you ll need to affix postage. One of the most common questions asked is: where do you put a stamp on a postcard? Where to put the stamp on a postcard will depend on the type of postcard, but if you re sending at the First-Class Postcard rate, you ll place your stamp or metered postage at the top right corner of the postcard. This method will serve you well if sending just a single postcard to your friends from camp or a handful of thank you postcards to your best customers.
If sending as USPS Marketing Mail, there are a few different postage options available to you, including precanceled stamps, postage meter/PC postage indicia stamps, and permit imprint. All three of these bulk mail options require you to also obtain a mailing permit and pay an annual mailing fee for each postal facility you plan to mail from. These options can save you both time and money and should be carefully considered.
Step 8: Send Your Postcard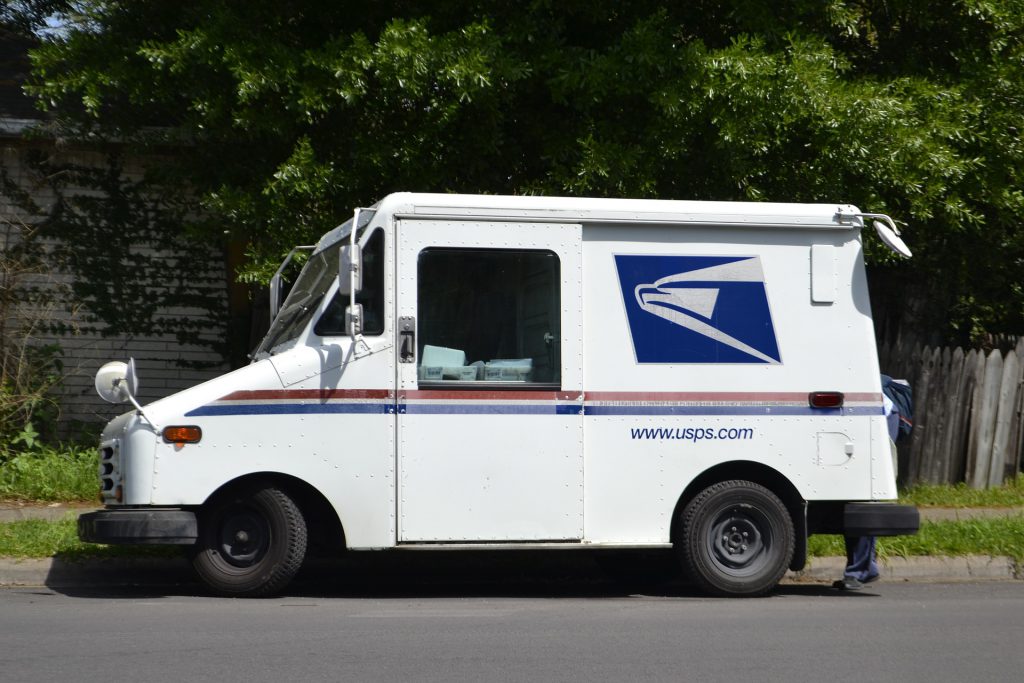 Image by F. Muhammad from Pixabay
The final step is to actually send it off. You can drop off your postcards at the closest post office or any drop-off location. USPS Marketing Mail will need to be consistently posted at the post office location you ve been permitted for. If utilizing EDDM, there are very specific guidelines for drop off that you ll need to follow, so read through our EDDM guide and the USPS EDDM requirements carefully.
For businesses wondering how to send a postcard internationally, the steps are a little more involved. You ll need to check things like shipping restrictions and fill out any necessary customs forms and labels. International shipping prices will also generally be higher than domestic mail.
*******************************************************
Start Now with MyCreativeShop
Learning how to send a postcard is easy with these eight steps. If you re looking to design an attention-grabbing postcard, browse our beautiful postcard templates suitable for a variety of business uses. All our templates allow you to fully customize your postcard design. If you re looking to reach a more targeted audience, we offer customizable EDDM postcard templates as well.
Get started on creating your postcard today!