Learn how to avoid common mistakes and maximize the effectiveness of your Every Door Direct Mail campaign.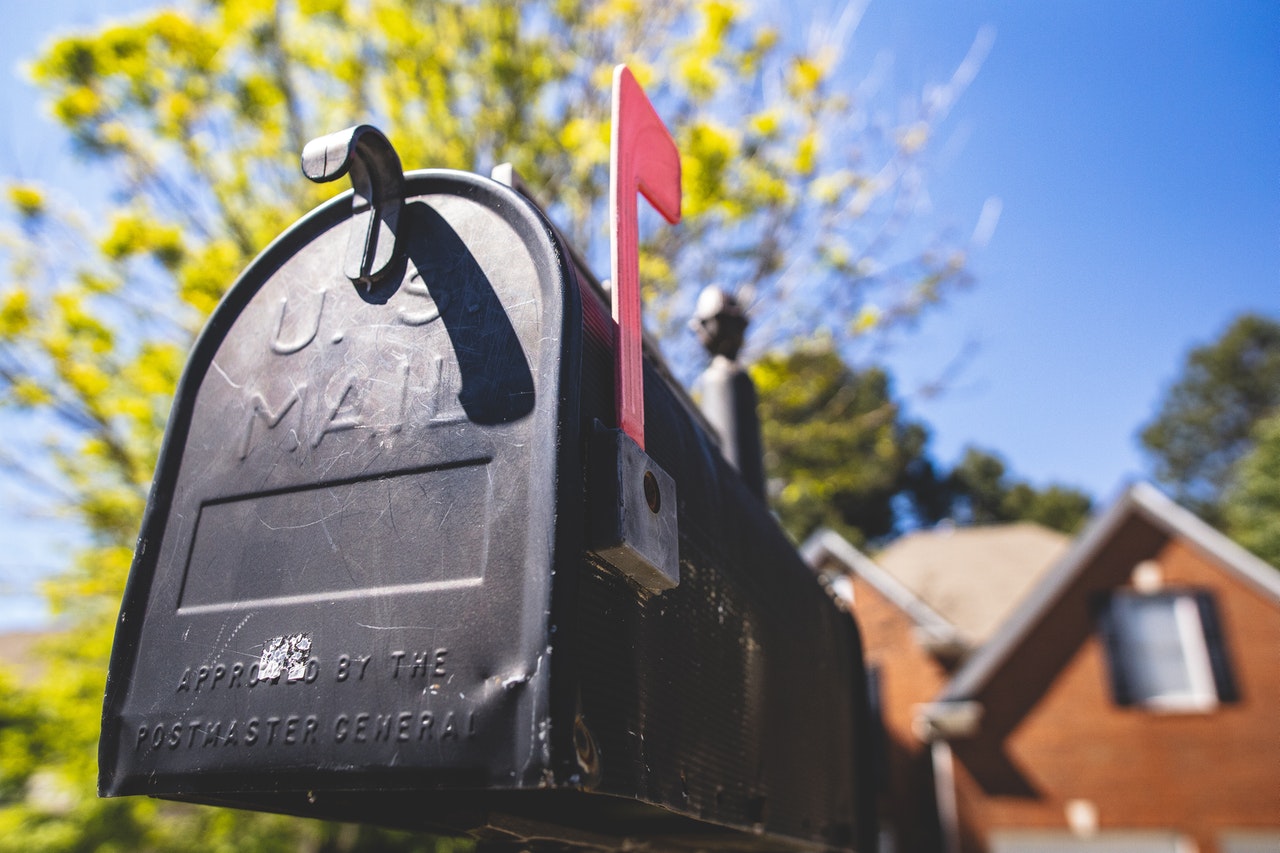 Thinking about an Every Door Direct Mail (EDDM) campaign? Offered by USPS, this service is one of the most cost-effective ways to get your marketing message on the doorstep of any home or business in the United States but it s only cost-effective when done correctly!
Make sure you re getting the most from your direct mail campaign by avoiding these five common mistakes.
If you re new to EDDM, learn more in our ultimate guide to EDDM or check out our simple direct mail checklist.
Mistake #1: Noncompliant Sizing
Postcards come in all shapes and sizes, and if you re mailing them by hand, you can make almost any size or shape work. You simply have to include enough postage to cover the mailing.
To qualify for EDDM service, however, you ll need to adhere to very specific size and weight requirements set by USPS. At this time, these requirements are as follows:
More than 11.5 long, or more than 6.125 inches high, or more than .25 inch thick
Less than 5 long, or more than 3.5 high, or less than .25 thick
Square or rectangular shape with finished corner radius no greater than .125
Per-piece weight of 3.3 ounces or less
These requirements can be a lot to take in (...what s a corner radius again?), but if you design with MyCreativeShop, you won t have to worry about staying size-compliant. All of our EDDM postcard templates meet USPS standards in size, shape, and weight. And there are thousands to choose from!
Mistake #2: Incorrect Indicia
Size and weight are not the only requirements for direct mail, either. Another critical piece of a successful EDDM postcard design is USPS-approved indicia.
What s indicia, you might be wondering? It s the white labeling at the top of any automated mail out. It ensures that your EDDM postcards can be properly sorted and mailed by the post office's staff and machinery.
USPS provides a quick reference guide for indicia, which outlines its requirements for:
Location of labels
Size of labels
Font size and capitalization
Coding requirements (typically ECRWSS)
If you create your EDDM postcard with MyCreativeShop, the indicia are already included and placed in the USPS-approved size, position, and font. See an example just below look at the top of the postcard template!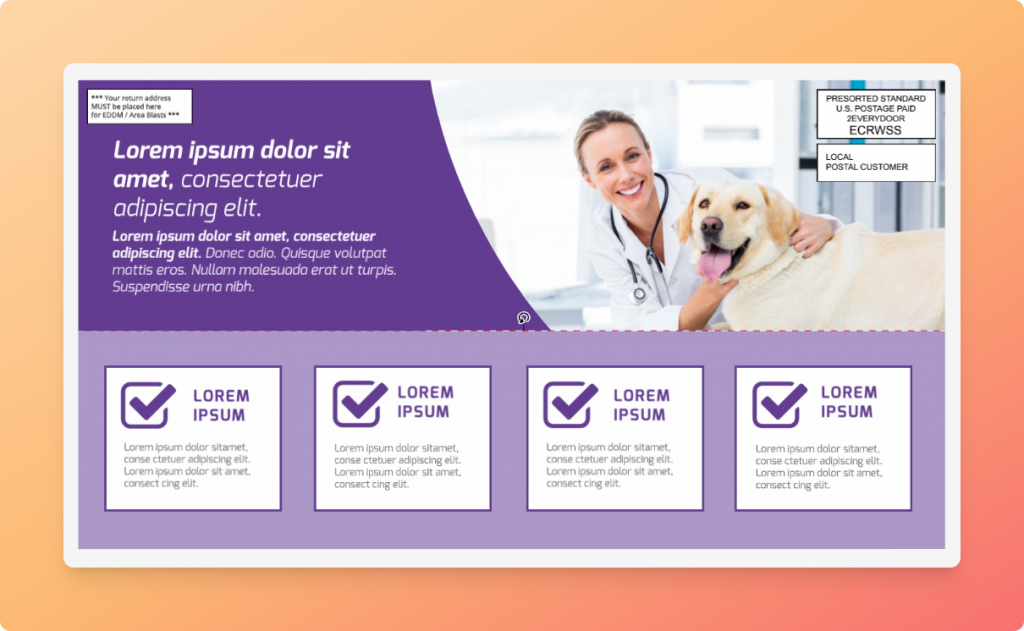 Before you send out your campaign, you ll also get final verification that your indicia is compliant through the following confirmation message: Your file passed our design checklist.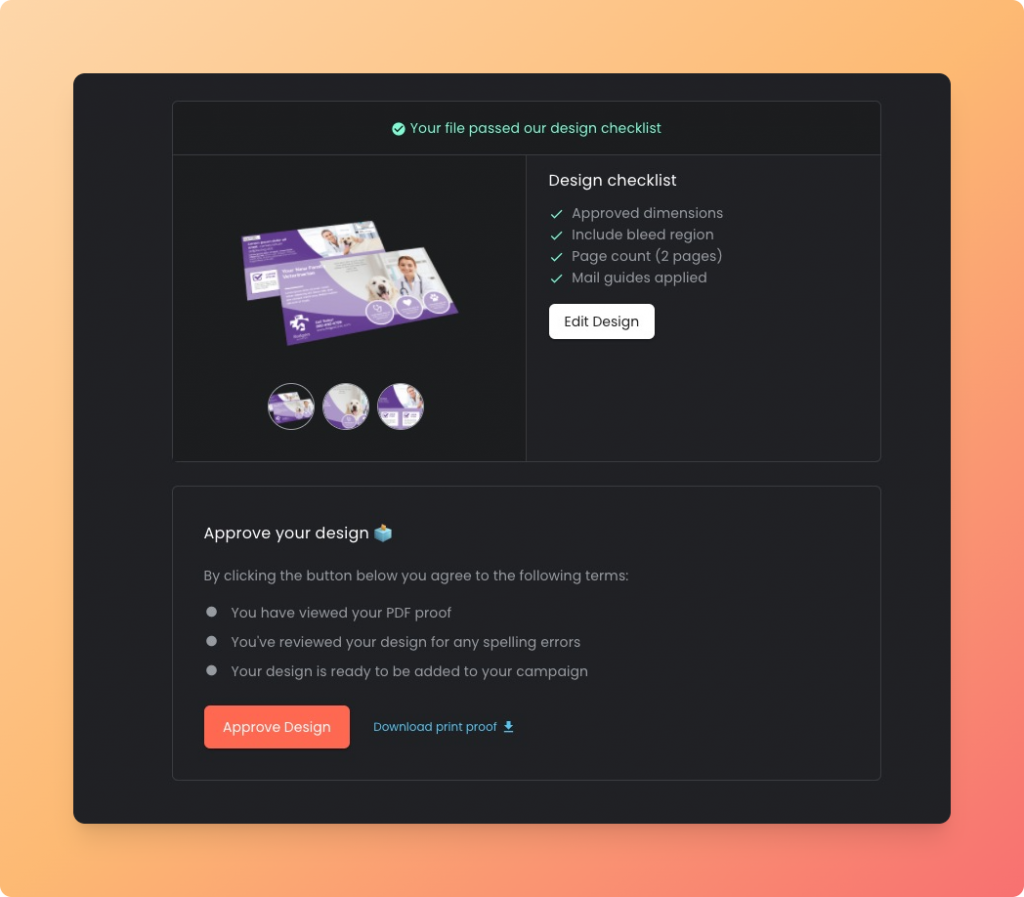 Mistake #3: Lukewarm Call to Action
An effective direct mail campaign all comes down to the call to action, or CTA. This is what you re driving people to do; it s the action that will ultimately grow your revenue and provide ROI for your direct mail campaign.
There are two levels at which you can evaluate any postcard s CTA:
First, is it good? By good, we mean compelling, attractive, and unique. If every other business in town is offering 10% off, for example, could you offer something better or more memorable? What would compel a new customer to take the first step with you?
Second, is it clear? You want your call to action to be as clear as possible. Within seconds, the person reading the postcard should know exactly how to claim the offer: call, text, email, visit your website, bring in the coupon, share on social media, etc.
Here s an example of a clear and attractive call to action: $20 off a first cleaning, which you can claim by calling the provided phone number.
Mistake #4: Poorly Thought-Out Targeting
One of the biggest benefits to direct mail is the fact that you get to choose exactly who receives your postcards. This is a huge advantage! It gives you a balance of wide reach and precise targeting that s nearly impossible to match with other kinds of print marketing.
When planning your direct mail campaign, ask yourself these questions:
Where does my target audience live?
Can I tailor my offer to different neighborhoods or parts of town?
Which demographics do I serve best? Who needs my services the most?
Do I want to deliver my postcards to homes only? Or do I also offer commercial solutions?
Based on your answers, you could decide to blanket the entire city for brand awareness...or to finely target only zip codes of a certain income level. Both strategies can be valid for different campaigns. The only real mistake is to not think about who you're targeting at all.
When creating your direct mail campaign, you ll get detailed information to guide your recipient selection. In the bottom right corner of the map interface, you ll see the average age, household size, and income for any selectable area on the map, as well as the total number of businesses and households. As you add more areas to your mailing, the totals will update in the upper right.
With the data front and center, it's easy to target your mailing in any way.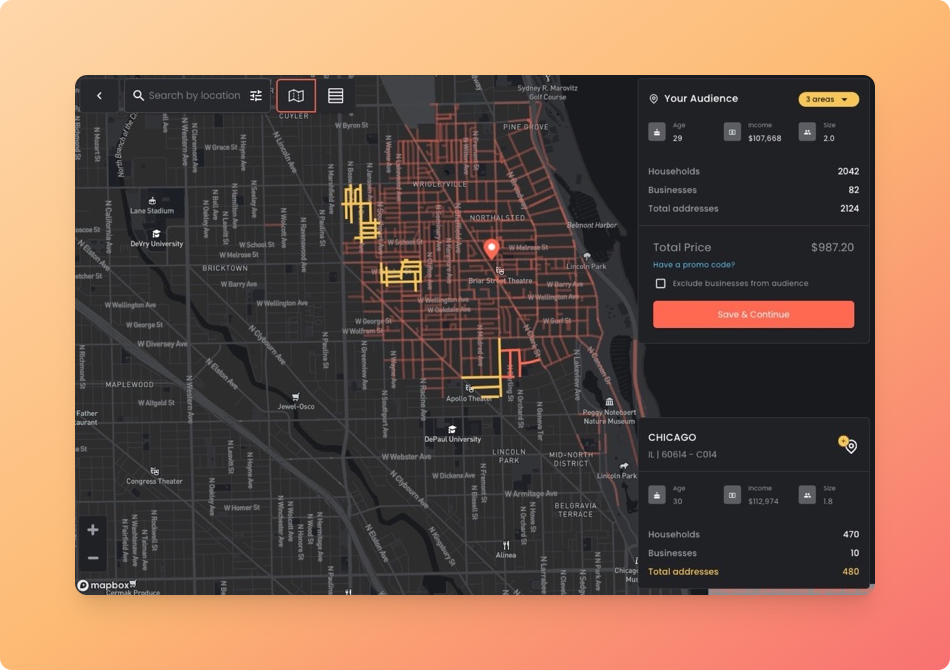 Mistake #5: Mailing the Postcards Yourself
As long as you meet the requirements for EDDM, you can technically take your postcards to your local post office and arrange for direct mailing yourself. Of course, this requires a trip to the post office (not easy for busy business owners and marketers) plus some additional time bundling your postcards into batches of 50 and creating the proper cover slip.
To get a better ROI for your EDDM campaign, consider cutting down on the time investment. By mailing with SnailBlast, you can design, schedule, and pay for your direct mail campaign with just a few clicks. No need to mail anything yourself!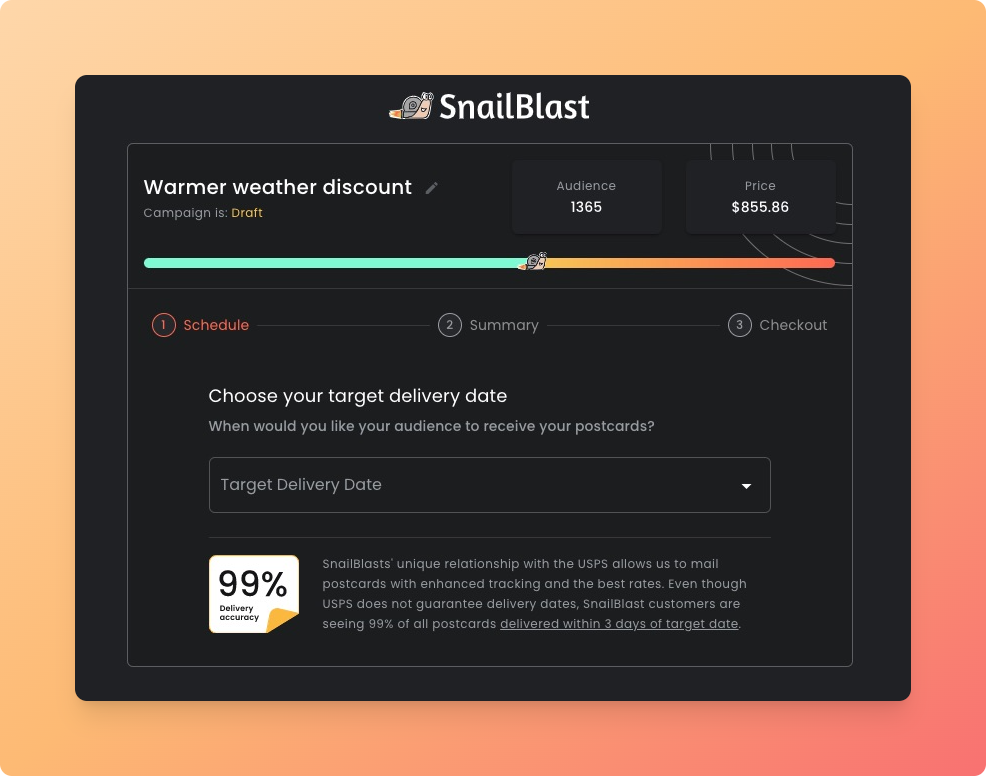 Get Your EDDM Postcards Printed and Mailed in No Time
Direct mail really is one of the best ways to expand your audience reach without a massive investment of time, money, or energy. Start with an EDDM postcard template, and you could have your offer on thousands of doorsteps in days. Just be sure to avoid the mistakes above!