How to Create Your First Postcard Marketing Campaign
A traditional postcard marketing campaign is as relevant now as it has ever been. Small business owners can use postcards to easily reach existing customers and target new leads, all while spending less money and potentially earning a greater return compared to other marketing channels.
In fact, according to the 2019 State of Direct Mail report, 60 percent of companies say direct mail is their highest ROI marketing channel and more than 50 percent of companies are seeing response rates of five percent or higher. Also, the USPS is always encouraging small businesses to expand their direct mail efforts with annual promotions that help you save money and reach more people.
Before you start putting postcards in the mail, however, you need to understand what goes into a successful postcard marketing campaign strategy. Follow these seven steps to get the most from your direct mail budget.
Related article: 8 Direct Mail Marketing Strategy Tips from the Experts
1. Identify Your Audience and Goals
Before you send anything, you have to identify the audience that you want to target for your campaign along with the goals you hope to achieve. Start with your goals, which will determine audience factors, like demographic information (age, gender, income), messaging style, and even design.
When you segment your audience and narrow your goals, you can develop personalized messaging and offers, both of which increase your chances of making a sale.
Did you know? 70% of people believe direct mail is more personal than email. Find more direct mail statistics.  
2. Target the Right Neighborhoods
It's easy to know where your existing customers live, especially if you're collecting data about them as they make purchases and interact with your business. However, you also need to target the future customers who fit into your newly defined audience.
To do so, you can use Every Door Direct Mail (EDDM) from the U.S. Postal Service to find the neighborhoods that will allow you to reach these customers. This service uses Census Bureau data to pinpoint the exact address of your ideal customers by filtering for specific demographic information like age and family size.
Check out our Complete Guide to Understanding EDDM to learn more about how the service works and how you can make the most of it.
3. Get the Timing Right
Timing is everything for a successful postcard marketing campaign. You want to make sure you send your mail so that it is received a few days before your event or sale begins, but you don't want to send it so early that people forget.
Make sure to time your mailing based on when people are most likely to see it. This means avoiding school or summer holiday weeks when people are more likely to be traveling and not gathering their mail in real time.
You might also be wary about sending your postcards too close to the popular winter holidays. The USPS was expected to deliver up to 15 billion pieces of mail during the holiday rush in 2018. Customers are more likely to tune out your postcards if they are looking through more mail.
This is why planning ahead is so important. Take a few moments to check out our blog post about how to create a print marketing calendar. When you plan ahead, you can time your sends most effectively.
4. Create a Design That Works FOR You
You don't have a lot of time to catch a potential customers' attention, so you need to make your design pop. However, you don't only need to use bright colors or large fonts to stand out. There are a variety of design features that can be used to turn heads.
The above postcards rely on simple design elements that also communicate a cohesive message to the reader. The landscaping postcard utilizes a natural color scheme and an attractive photo of a landscaper hard at work, while the dog walking postcard includes a coordinating color scheme, bold lettering, and a picture that showcases their love for pups.
As you likewise seek to grab attention without going overboard, consider focusing on these postcard design aspects:
Color scheme: Select colors that align with your brand standards or use color psychology to influence purchase decisions
Relevant images: Select photos that are professional quality and depict your business, product or customers
Clear messaging: Include a clear header, body copy, and call to action (CTA) that is easy to read and comprehend
Business details: Make sure to include your business name, website, phone number, address, and logo
Read our postcard design guide for business owners to learn more about how to create a postcard for your brand.
Related templates: Check out our EDDM postcard design templates and standard postcard design templates.
5. Include an Offer They Can't Refuse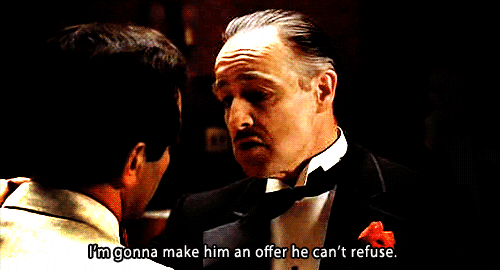 Adding a coupon, discount code, or special offer to your postcard can be enough to encourage your customers to spend money with your business. Kelton Global and SheerID discovered that 37 percent of shoppers admit a coupon makes them more likely to make a purchase they normally wouldn't.
While offers help encourage engagement, it's worth noting that your postcard CTA doesn't have to involve a coupon or push to make a purchase. You can also ask your customers to visit your website, call for a consultation, or sign up for a mailing list.
Each postcard marketing campaign can be unique to your business goals at the time. One might be focused on branding while another is targeted to drive sales. As long as you can get potential customers in the funnel, you can start connecting with them.
6. Get Creative with Coupons
Your customers probably receive a handful of coupon offers each day, whether through the mail, email, or social media. Make yours stand out by using creativity and adding interactive elements.
For example, a simple scratch-off coupon brings a level of excitement and surprise and gives them a reason to physically interact with the mail, keeping them engaged. You can also go digital and use QR codes.
Nearly 10 million households scanned a QR code in 2018, so chances are your customers were one of them. All they need is their smartphone camera and a simple free app, and you can use this to drive them to your website, social media sites or a seasonal landing page.
Related article: 9 Fresh Ideas for Real Estate Postcard Marketing
7. Track Your Results
If you can't determine how many sales resulted from your postcard marketing campaign, then you can't measure its success. Use the following strategies to track purchases made as a result of your postcards:
QR codes
Custom URL specific for your postcard
Custom phone number for your postcard
Custom discount code found only on your postcard
Tear off coupon to be used in-store.
You can also customize these methods for specific neighborhoods or locations to determine the geographic areas where your postcard marketing campaign was most successful.
Get it Right With Your Next Postcard Marketing Campaign
As with any marketing strategy, a postcard campaign can be successful if you carefully plan and execute each element. Once you identify your audience and determine your goals, you can create postcards to target that audience and deliver relevant and personalized offers. Track the results and find the process that works best so you can see greater ROI with each new campaign.
************************************************************************
Ready to launch? Take a look at our campaign-ready postcard templates: