As a business owner, one of the biggest challenges you face is connecting with your community, whether that s friends and neighbors in a mid-sized metro or a certain segment of consumers spread all across the country. And in an increasingly digital world, it might surprise you to learn that one of the best ways to reach your target audience is actually an old-school, tried-and-true method of physical direct mail! We re talking about
. [caption id="attachment_3390" align="alignnone" width="700"]
Postcard Examples[/caption] Whether you re a high-growth startup in travel and tourism or a long-established local fitness center, postcards can be a highly effective means of sharing information, raising brand awareness, and gaining new leads. If you re planning to incorporate postcards into your business marketing strategy, this comprehensive guide is here to help. We ll guide you through the entire postcard creation process, from initial brainstorming to design and execution, with detailed recommendations on:
Are postcards effective?
As Google AdWords, email marketing, and social media gain more and more prominence, you may be wondering whether postcards are even worth the effort. And when done well, the answer is yes! [caption id="attachment_3419" align="alignnone" width="700"]

geralt
/ Pixabay[/caption] Here s why:
74% of all US households read or at least scan physical advertising mail, according to research by the United States Postal Service [PDF Download]. Unlike email, which often goes completely unopened and is never even seen, postcards are almost certain to be viewed. This gives you a coveted opportunity to grab your recipients attention as they decide which mail to keep and which to toss.
Compared to other forms of direct mail like letters, postcards are even more likely to be seen because they do not have to be opened. By removing the barrier of having to tear open an envelope, postcards increase the chances that your message will be read and received.
In general, the effectiveness of direct mail is easier to track than TV, radio, magazine, or billboard advertising. You can and should! measure the number of postcards you send compared to the response rate you receive, whether that s in the form coupon redemption, social media follows, or website sign-ups. (Don t worry; we ll give you some examples of exactly how to do this in the following section.)
Although direct mail has a reputation for being more costly, the total costs are in line with most other forms of marketing, according to the United States Direct Marketing Association. Direct mail s cost-per-acquisition averages out to $19, compared to $16-18 for mobile and social media, $21-30 for paid search, $41-50 for internet display, and $11-15 for email. Plus, because they re small and relatively simple to print, postcards tend to have a lower cost than other forms of direct mail.
[caption id="attachment_3392" align="alignnone" width="700"]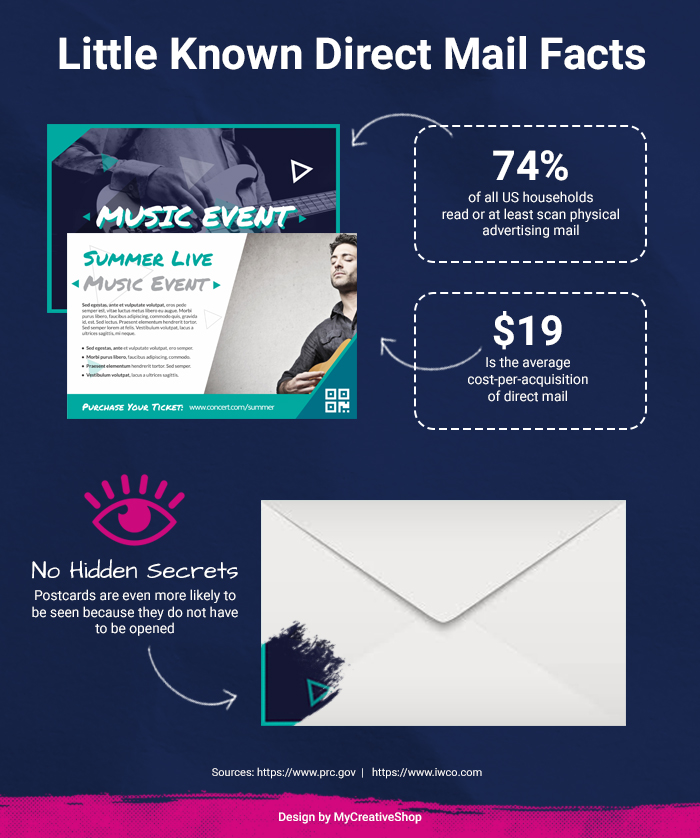 Direct mail facts[/caption] As these statistics show, postcards can certainly be part of an effective marketing strategy
but only when they re done well!
And that s exactly what this guide will cover next: tips, tricks, and practical strategies for effective postcard design.
---
Content & Design
When it comes right down to it, all successful marketing materials whether on the web or in physical printed form share two key elements:
Effective content
Effective design
Without
both
of these elements, your postcard will likely go straight from the mailbox... and into the trash bin. (Along with all that money you invested!) In order to get the highest ROI on your postcard campaign, follow the guidelines below to create content and design that truly stand out.
Effective Content: Choosing Your Message
Although the content and design of your postcard certainly need to work together, we always recommend
starting with the content
. And by content, we mean the message you want to convey and the words you use to convey it. [caption id="attachment_3396" align="alignnone" width="700"]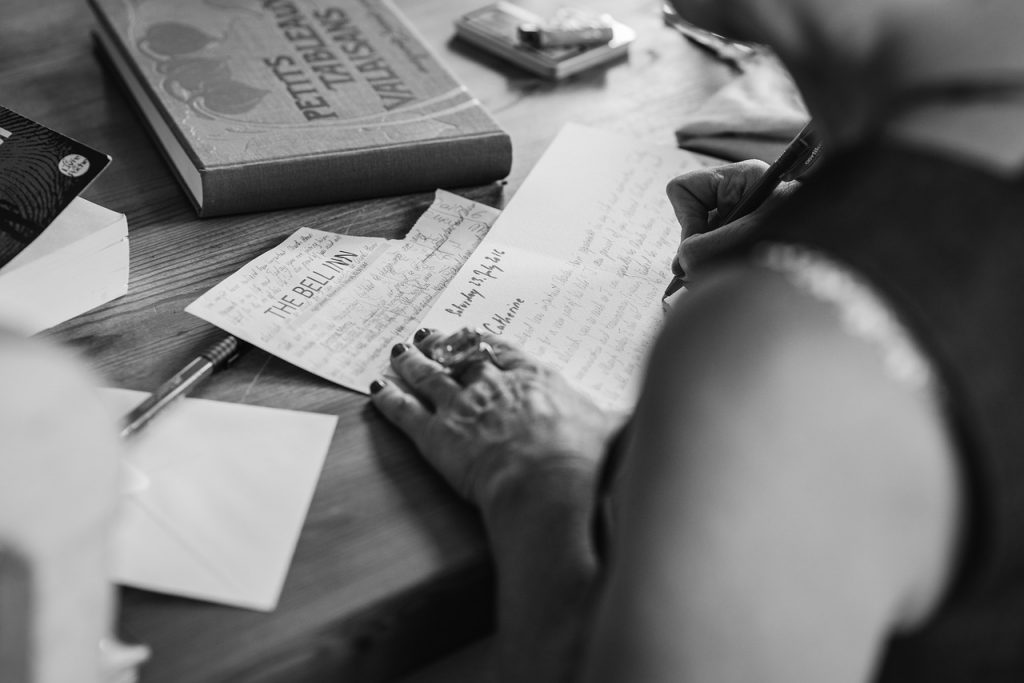 stempow
/ Pixabay[/caption] Even though the visual design may seem more exciting (who doesn t love a gorgeous photo or snazzy font?!), it s ultimately the content that drives everything else. As you brainstorm, draft, and refine your postcard s content, consider the following questions:
1. What is the goal of your postcard?
In other words, what primary message do you want to express? Remember that postcards are small and scannable, so it s best to stick to just one big idea. You don t want to crowd your postcard with tons of competing messages or leave your recipients confused about what exactly you re trying to tell them. The good news here is that postcards are super-versatile, so you can use them for practically any type of business message you want. Here are just a few common uses of postcards:
Business Opening: Build awareness about your new business with a postcard mailer explaining who you are, where you re located, and what you offer.
New Location: Moving to a new location across town? Make sure your customers aren t surprised by letting them know in advance.
Sale Announcements: Announce random sales, seasonal discounts, or special offers to certain customers (such as senior citizens or first responders).
Redeemable Coupons: Provide a coupon code to be used online or a physical coupon to be cut out and redeemed in store.
Invitations: Invite customers to an exclusive open house, product demonstration, or other in-person event.
Thank You Notes: Continue a relationship with your customers after they ve made a purchase by sending your thanks. You could also include a referral special or discount on future purchases.
[caption id="attachment_3528" align="alignnone" width="700"]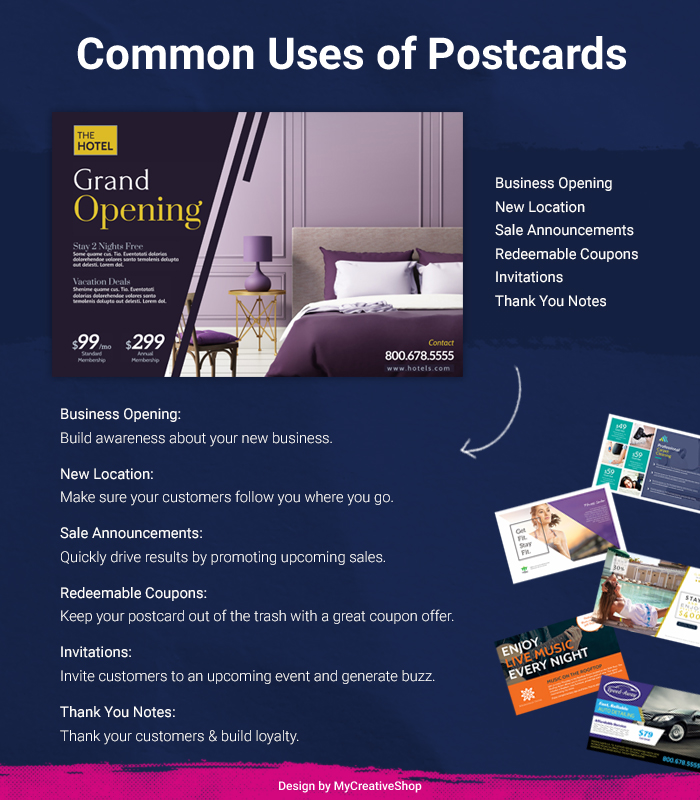 common uses for postcards[/caption] Whatever your postcard s one big idea happens to be, you ll take this information and use it to
write your header
the most prominent phrase on your entire postcard. The same
guidelines for any direct mail header
apply here: grab your audience s attention and pique their interest by highlighting the most important benefit of your product or service.
2. Who is your target audience?
Besides your primary message, your target audience may be the single most important factor to consider for an effective postcard design. Think about the following aspects of your postcard recipients:
Demographics: Demographics include age, gender, marital status, family size, household income, location, and so on.
Psychographics: Psychographics refer to your customers psychological attributes: their beliefs, aspirations, and attitudes about the world.
Relationship to You: In addition to your recipients personal characteristics, think about how they exist in relation to you. Are you sending your postcards to die-hard fans, lukewarm leads, or people who have never even heard of you?
[caption id="attachment_3405" align="alignnone" width="700"]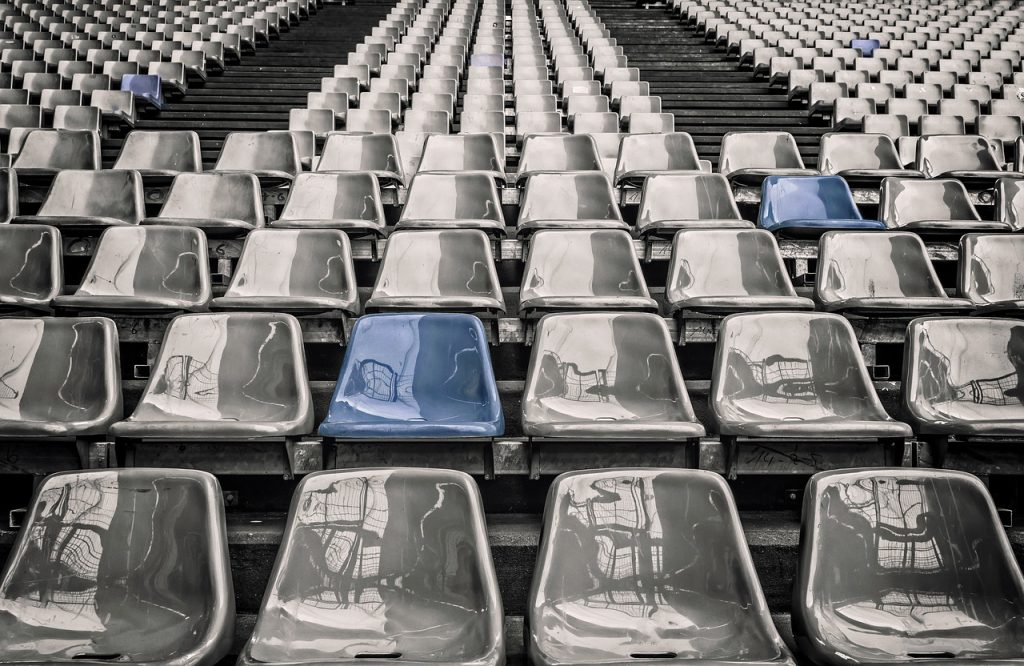 Tama66
/ Pixabay[/caption] Understanding who your recipients are will help you choose postcard language and imagery that actually connects. After all, a middle-aged mother of five in the suburbs will likely respond to a different message than a college student or young adult in an up-and-coming urban neighborhood.
3. What is your postcard s call-to-action?
The best postcard mailers will have a single call-to-action. Not two or three or four, but one. After reading or even scanning your postcard, the recipient should know exactly what you want them to do and how to do it! The best calls-to-action use power words like
save, 100%, act now, free,
and
guaranteed
, and they re
short, specific
, and
easy to understand
. If possible, you can also add a sense of urgency by including an expiration date or time-sensitive offer. Moreover, in order to track the effectiveness of your postcard campaign, you should make your call-to-action as measurable as possible. For example, here are a few calls-to-action and how you might measure them: [table id=1 /] It may be tempting to squeeze several different calls-to-action onto your postcard, but
more isn t always better
! Research shows that excessive choice can confuse consumers, lead to decision paralysis, and result in decreased satisfaction overall. So keep things simple with one clear action for your recipients to take. [caption id="attachment_3403" align="alignnone" width="700"]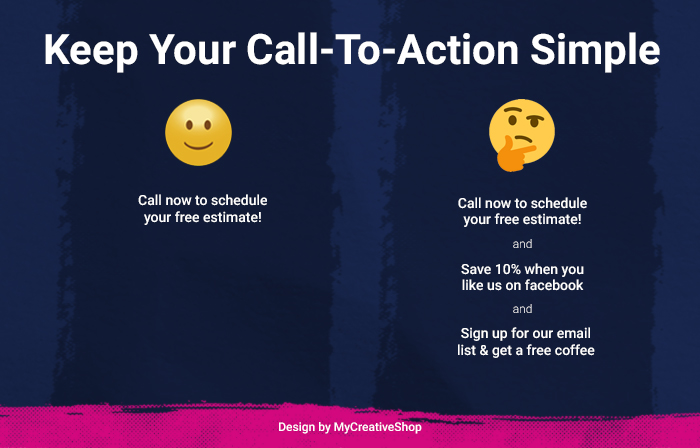 keep your call-to-action simple[/caption]
One important caveat:
Because postcards are two-sided, you can include your call-to-action on both sides. Feel free to change up the specific wording, but make sure the primary goal or action is the same.
4. How does the postcard fit into your overall marketing strategy?
Last but not least, as you write the content, you should consider how this specific postcard will tie into your greater marketing efforts. You not only need to make sure that your branding and message are consistent, but also that you re
sending your postcards to the right people
. In fact, one of direct marketing s most famous mantras
the 40/40/20 rule
says that 40% of the success of any direct mail campaign depends on the target audience selected. (The other 40% depends on the attractiveness of the offer, and the last 20% to everything else: presentation, wording, imagery, print quality, etc.). [caption id="attachment_3423" align="alignnone" width="700"]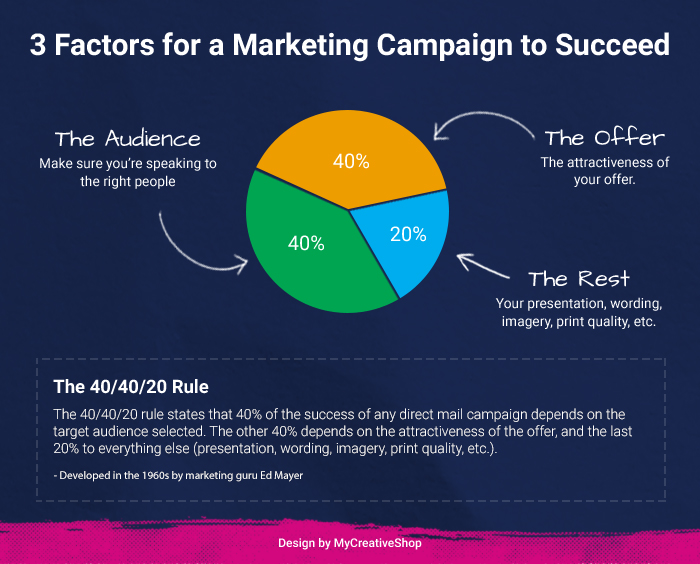 3 Factors for a marketing campaign to succeed[/caption] So before you even
think
about moving on to your postcard design, be sure that you have:
Clearly mapped out your postcard s message, offer, and call-to-action
Carefully considered how your postcard fits into your overall business marketing strategy
Thoughtfully chosen the right target audience
Once you ve checked these items off the list, it s time to move onto design!
Effective Design: Crafting a Memorable Postcard
Once you ve outlined the content strategy for your postcard, you ve done the vast majority of the work. Now all you have to do is translate each element of that content into a visually pleasing, clearly laid-out design! Here are six tips for designing a memorable postcard, even if you aren t a graphic designer:
1. Check out other postcard designs.
Without a design background, the thought of making your own postcard can be overwhelming especially when you ve got tons of other business responsibilities to tackle. Fortunately, though, you don t have to start from scratch! There are thousands of postcard designs already out there that you can use for inspiration. [caption id="attachment_3409" align="alignnone" width="700"]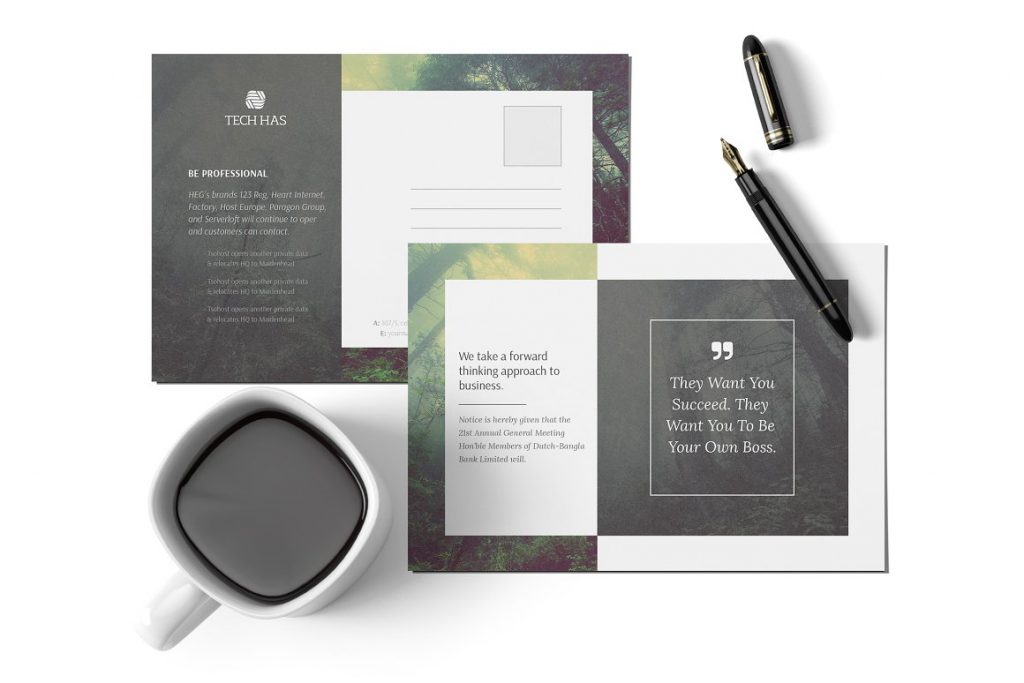 by
ZAAS
| Creative Market[/caption] Start the design process with a quick google search; try keywords like postcard design templates or direct mail postcards or perhaps something more specific to your industry, whether that s real estate, hospitality, or restaurants. As you research, take screenshots of the most eye-catching postcard designs, along with quick notes on what you like about them and what you don t. For a more personalized process, you can also
try creating your own postcard
using our online editor. Build your own design from scratch or customize existing templates and make them your own.
2. Pick a size.
A standard postcard is 6 inches wide and 4.25 inches tall, but you don t necessarily have to stick to these dimensions. Depending on the content you have to share and the design you prefer, a larger size might be more suitable. [caption id="attachment_3410" align="alignnone" width="700"]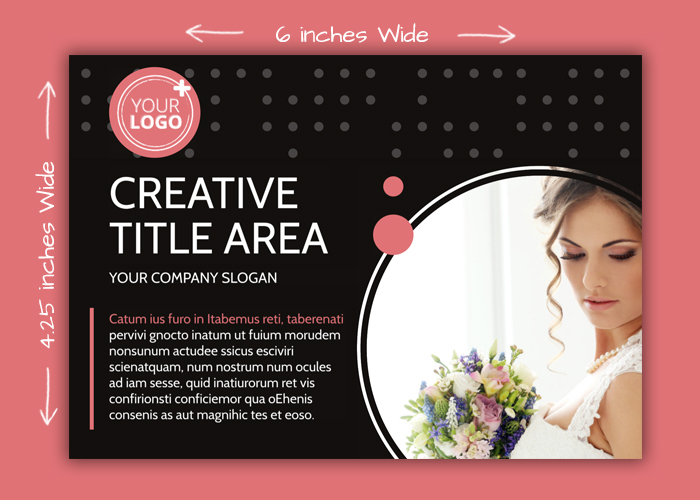 Standard Postcard Size[/caption] When choosing your postcard size, consider not only the look and feel but also the cost of mailing. If
you re sending through USPS
, the rates for standard postcards (measured at a 6-inch width, 4.25-inch height, and 0.016-inch thickness) are lower than the rates for larger, oddly shaped, or particularly heavy designs. Think about the purpose of your postcard campaign to help determine whether you d like a
standard size
which may blend in with other pieces of mail but is often more affordable or a
custom size
which may stand out but can be more expensive and potentially burdensome for recipients to handle.
3. Choose your color scheme.
To grab your customers attention within just a few seconds, choose a pleasing color scheme that complements your postcard s primary message. Keep things simple and stick to two or three colors at most. [caption id="attachment_3413" align="alignnone" width="700"]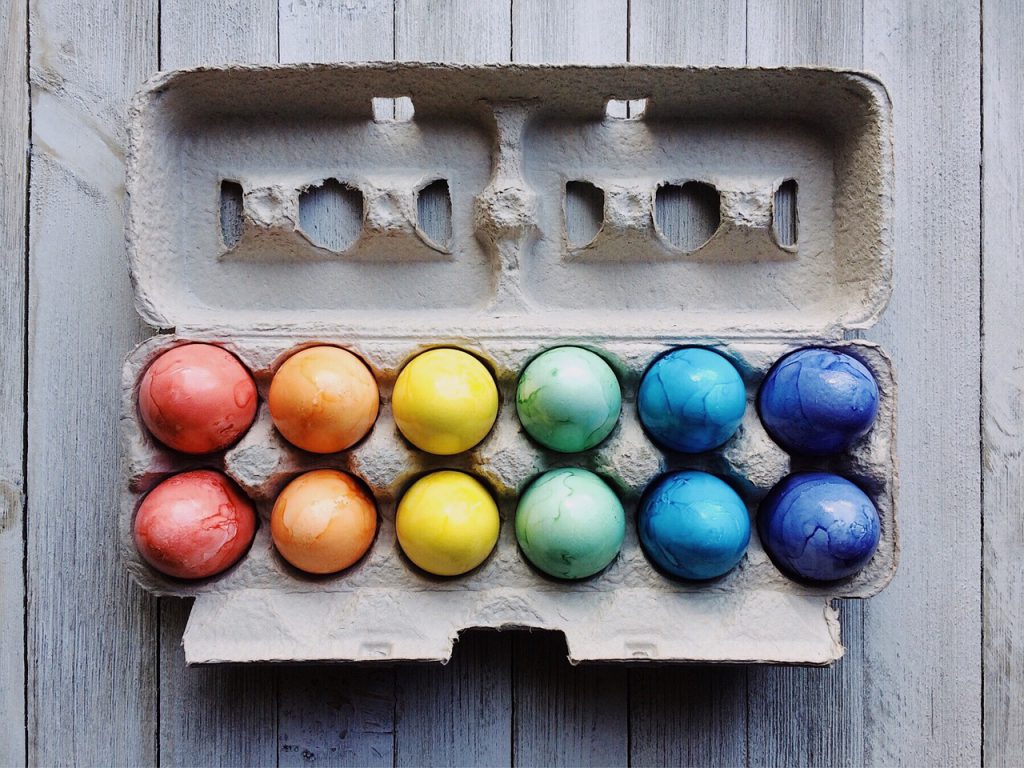 Wokandapix
/ Pixabay[/caption] If you need help selecting the right colors for your postcard, there are several different ways you could go about it:
Based on your corporate branding: Choose the same colors used in your logo, wordmark, and other company branding. This method works well if you ve built up brand recognition among your target audience.
Based on your primary message: Take advantage of color psychology to evoke a certain emotion and response from your postcard recipients. For instance, if you re offering a discount on a weekend yoga retreat, you might choose green or blue, which are evocative of health, peace, and serenity.
Based on attention: Make your postcard stand out with high-contrast colors that attract attention, such as black on yellow or red on white. If you choose this approach, however, be aware that your postcard may raise alarm or attract attention in a negative way which isn t necessarily bad; it just depends on your primary message.
4. Select relevant imagery.
Nothing screams unprofessional like pixelated images or cheesy stock photos, so be sure that any images you select are 1) of professional quality and 2) relevant to your postcard s primary message. You should also make sure not to use any copyrighted image unless you ve been granted rights to it. [caption id="attachment_3414" align="alignnone" width="700"]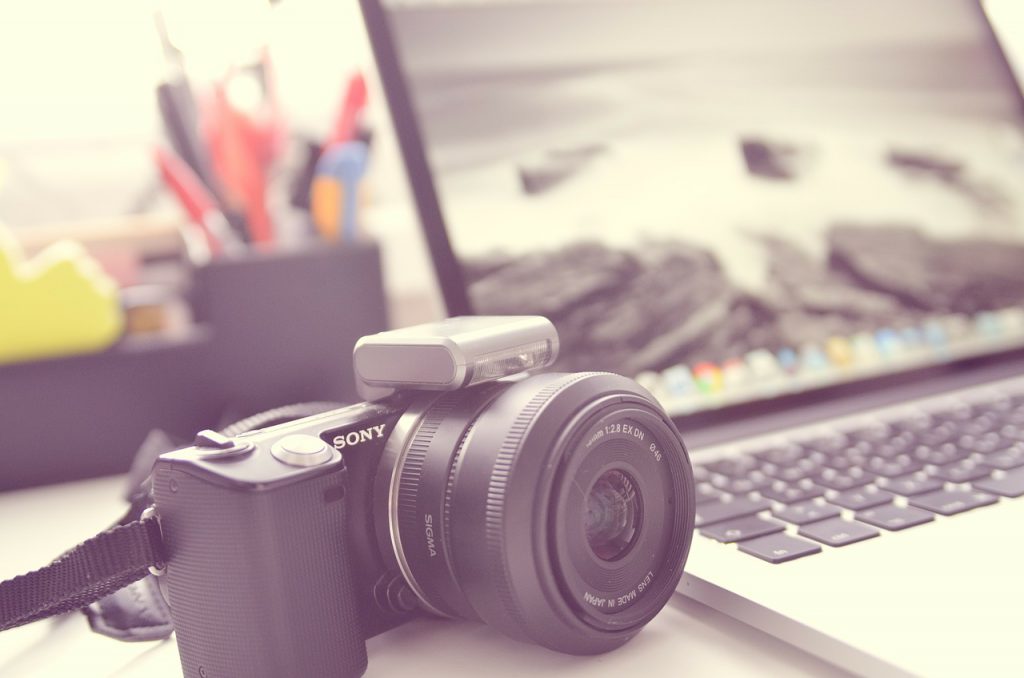 TheAngryTeddy
/ Pixabay[/caption] Depending on your company branding and postcard message, you could use the following types of imagery:
Stock photos
Photos of your business/service/product
Photos of real customers (with their approval, of course)
Cartoons
Simple icons
Hand-drawn illustrations
As much as possible, avoid vague imagery that looks nice but does not reflect your specific offer. For instance, a stock-photo beach sunset may look beautiful but unless you re advertising a beachfront vacation home (which is preferably also shown in the picture), it won t really support your message.
Pro tip: Stock photo websites have changed a lot over the years. In addition to the pay-per-download websites like Shutterstock, there are also some great free alternatives, like Unsplash and Pixabay.
5. Make sure your messaging hierarchy is clear.
In this step, you ll be taking all of your previously written postcard content and translating it into a visual hierarchy that reflects each element s level of importance. In other words, it s time to make sure that your messaging hierarchy is clear:
Header: Your header should be visually set apart from the rest of your postcard. Make use of color, font size, and negative space so that your header is the very first thing the eye notices. Even at a two-second glance, the headline should be immediately recognizable!
Call-to-action: In a similar way, your call-to-action should be prominently displayed on your postcard. In addition to tinkering with the font color and size, consider using a textbox, hand-drawn arrows, or other attention-grabbing visual elements.
Other info: The header and call-to-action are likely the most important pieces of text on your postcard. However, you should also include your company contact information and other essential details in a clear, legible font.
[caption id="attachment_3415" align="alignnone" width="700"]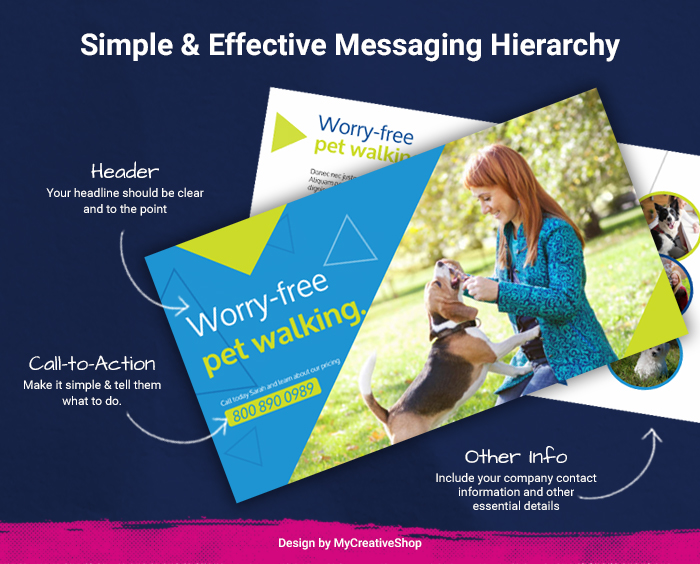 Postcard Messaging[/caption]
6. Keep it simple!
By now, you ve probably noticed a theme with all of our postcard design recommendations:
simpler is better
. As you finalize your postcard s design elements, make it easy for your customers to stay laser-focused on your one big idea by:
Ensuring that you have just one headline and one call-to-action
Leaving enough negative space around text
Using a clean, clutter-free composition
Choosing imagery that very clearly reflects and complements your offer
Deleting all unnecessary text, leaving only the most essential information
The Details Matter: End strong!
Now that you ve written your content and selected all your favorite design features, it s time to put everything together! At this final step, you ll evaluate how your postcard actually looks and performs.
1. Proofread, proofread, proofread!
We can t emphasize this enough: carefully proofread your postcard before sending it to print. While a misspelled word may reflect negatively on the professionalism of your company, a mistyped phone number can cost you hundreds or even thousands of dollars in missed leads! Proof the postcard yourself, have your colleagues proof it, and maybe even hire a professional proofreader for the final verification. [caption id="attachment_3416" align="alignnone" width="700"]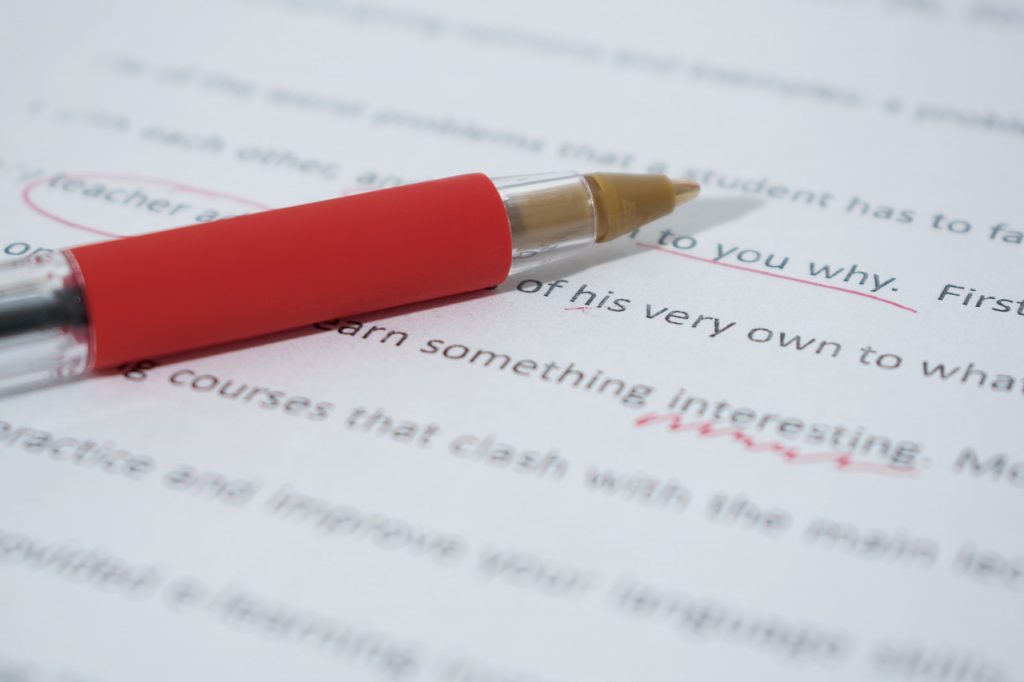 3844328
/ Pixabay[/caption]
 Pro tip: There are many products out there that can help you check and correct grammar mistakes. Our favorite one is Grammarly. In addition to having a free Chrome extension, they also have this free grammar checker tool you can paste your text into.
2. Test your postcard.
Have friends, family members, or colleagues take a look at your postcard. Give them just three seconds per side, and then ask them to tell you what the main point is. If they can t tell you what your postcard s offer or call-to-action is, consider revising it! If it s in your budget, you can also try
A/B testing
two different postcards. To do this, you simply create two postcard designs, mail them out to different audiences (or even the same audience over time), and then compare which version drives a higher response. Once the data is back, analyze the imagery, language, and layout of the winning postcard to get valuable insight into your marketing strategy.
3. Choose high-quality printing.
Unlike online marketing, your postcard is a physical item that recipients will hold and feel, so you need to make sure that the tactile and visual quality is high. Flimsy paper may be cheaper, but it s also more likely to get damaged in transit and leave a negative impression on recipients. The last thing you want is for your postcard to make potential clients think you re cheap! Fortunately, postcards are a relatively low-cost form of direct mail, and even more premium papers are fairly affordable. When choosing your printing specifications, consider these factors:
Paper weight: Postcards should be made with a thick cardstock that s durable enough to resist damage, especially since it won t be protected by an envelope.
Gloss vs. matte finish: Keep in mind that high-gloss finishes tend to look very professional, but they cannot be written on.
Specialty options: Depending on your postcard design, you could opt for extra touches like foil stamping, 100% recycled stock, and interesting die-cut shapes or edges.
Each of these choices will affect your printing costs as well as your recipients impression of your brand. The right printing choices will tie your whole postcard together and bring the content and design together seamlessly.
---
Next Steps: Print Your Postcard and Get Your Message Out There!
As we mentioned way back at the beginning of this guide, direct mail is far from dead. Even in a world where every five-year-old seems to have a smartphone, physical mail remains one of the best ways to cut through the noise and actually connect with your target audience. So why wait? The sooner you start brainstorming your postcard content and pulling ideas for your postcard design, the sooner you ll be able to reach your community with the message you need to convey. [caption id="attachment_3417" align="alignnone" width="700"]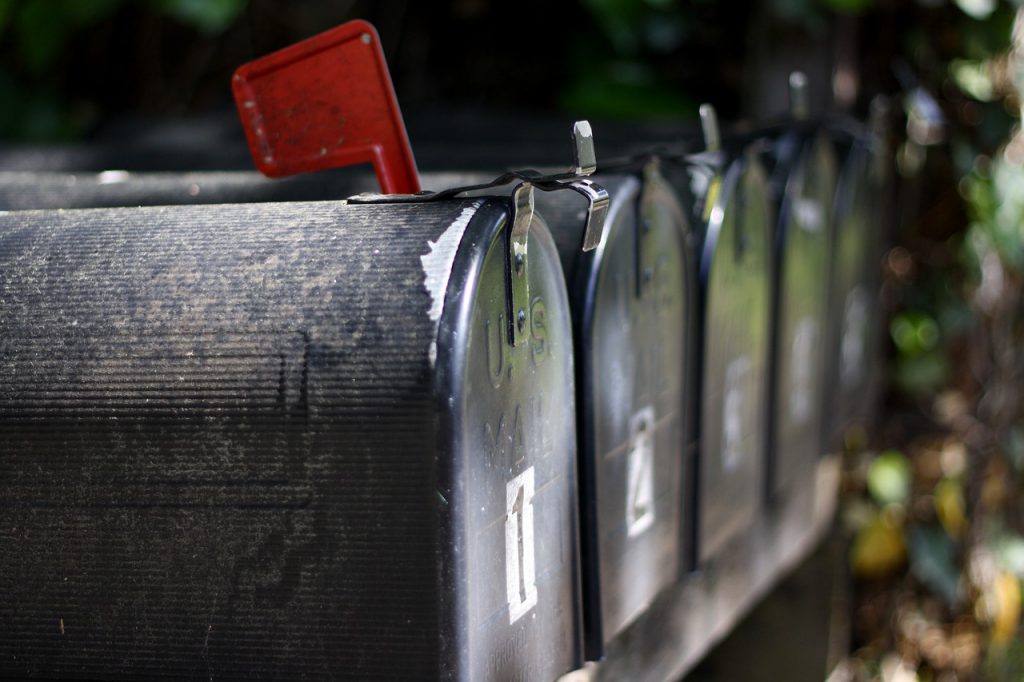 Anne-Onyme
/ Pixabay[/caption] And as one final note, we d like to encourage you to go ahead and begin even if you re still feeling a little intimidated by it all. Every postcard you make will not only give you hands-on practice but will also provide valuable insight into your target audience.
If you need a little inspiration getting started
, check out our
postcards
! We ve helped thousands of business owners translate their ideas into clear, eye-catching, and memorable postcards. Browse now for professional design ideas and ready-made, easy-to-customize postcard templates.