Discover hidden secrets to improve your door hanger marketing efforts.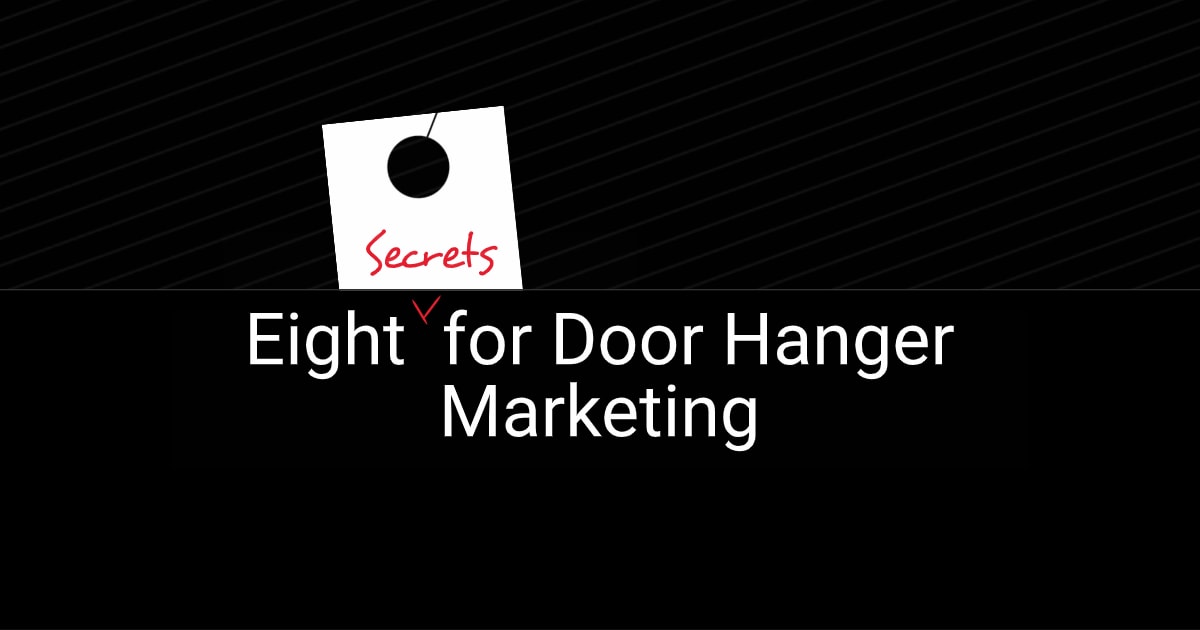 Door hanger marketing is the missing piece in your print strategy. Although this medium may seem archaic, when used correctly, it can actually work better for attracting new customers than more commonly used outlets, like direct mail marketing. According to a case study by David Chism, door hangers brought in more leads and sales for a local painting contractor compared to traditional mailers.

There are many best practices for door hangers that you should follow if you want to be successful like choosing a specific goal and getting the timing right. But if you really want to take your door hanger marketing to the next level, these eight secrets can t be ignored.

Design with MyCreativeShop using our door hanger templates.

1. Customize Your Message For the Neighborhood

Shoppers like when marketing materials feel customized to them. In fact, 80 percent of consumers say they re more likely to make a purchase when brands offer a personalized experience.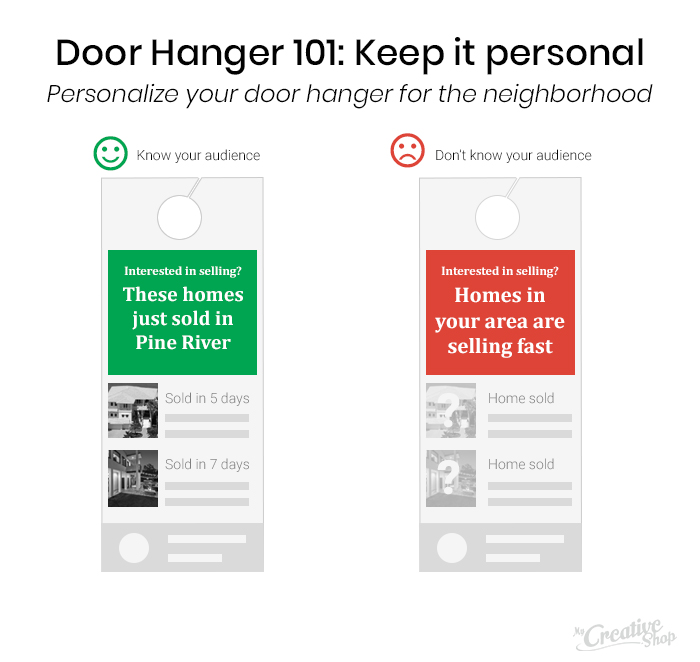 You can add a personal touch to your door hangers by customizing the messaging based on details like prior buying habits or well-known anecdotes about the neighborhood. Adding that small personal detail helps make your messages seem less generic. Plus, it shows you re doing more than simply marketing you re taking the time to get to know them and the place they call home.

2. Prepare Your Elevator Pitch

When distributing your door hangers, you may run into a resident who asks about your product or brand. Make a great first impression by having your 30-second elevator pitch ready to go. If you re nervous about this potential run-in, or don t have one yet, Mindtools offers this helpful advice: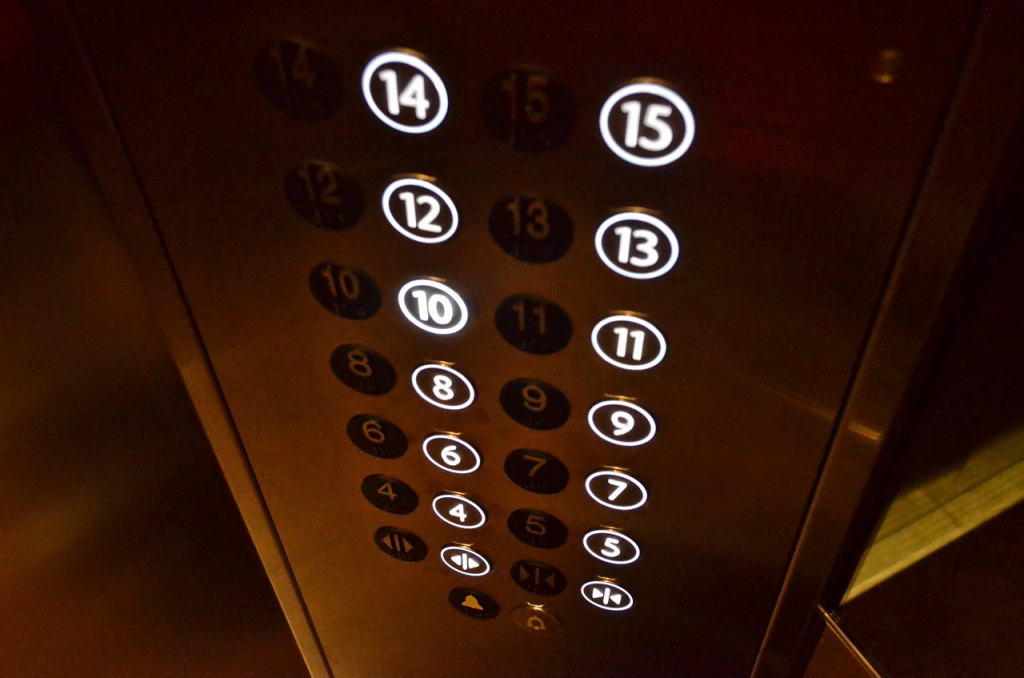 Keep in mind that your pitch should excite you first; after all, if you don't get excited about what you're saying, neither will your audience. In other words, don t worry about crafting a boring pitch. Focus on the areas you re passionate about to ensure they feel the enthusiasm too.

3. Dress the Part

Dress professionally when distributing your door hangers. Potential customers are more likely to have a favorable opinion of your brand if the person representing it is wearing appropriate attire. Keep in mind that you should also dress in a way that makes sense for your business. A casual polo with your logo and a pair of work slacks may be the best attire for the owner of a handyman business, rather than a freshly pressed suit. Your outfit should match the brand.

4. Include Promotional Tear-off Coupons

Customers are more likely to make a purchase if they can get a good deal. Among millennial buyers, 67 percent say they ve made a purchase solely because they had a coupon or promotional deal. What s more, 4 in 5 customers make a first-time purchase if they have an offer.

Take advantage of this opportunity by adding a promotional tear-off to the bottom of your door hanger. This may be your secret to converting door hangers into sales every time.

5. Leverage FOMO in Your Messaging

Play on the fear of missing out (FOMO) to encourage passive customers to make a purchase. Evoke a sense of urgency, and leverage loss aversion with your offer or deal. To be most effective, Smart Insights suggests using the following words:

Don t delay
Don t miss out
Offer expires
Ends soon
Hurry
Save today
Buy now
One day only
Last chance
6. Add an Interactive Element

Your customers receive a lot of static marketing materials in the mail already. Give your door hangers a pop by incorporating interactive elements. GoGulf s State of Interactive Content Marketing found that 88 percent of marketers said interactive content differentiated them from competitors and 81 percent agree that it grabs more attention than static content.

Translate this to your door hangers by adding a QR code or scratch off element. To get started, check out some of these interactive print marketing ideas that integrate with customer cell phones.

7. Always Be Testing

As with any marketing campaign, A/B testing is critical for dialing in on what works and what doesn t. Keep these best practices in mind for testing your door hangers:

Only test one variable at a time, so you can isolate what caused any potential changes.
Test a large group if possible, so your sample size is significant enough to be statistically relevant.
Consider other factors that might impact the results, like weather or holidays.
One simple way to test your door hangers is to use one version on one side of the neighborhood and another version on the other side and see which group performs better.

8. Mix and Match Your Marketing Tactics

Door hangers can be a valuable addition to your marketing strategy, but don t abandon other marketing options. In a 2017 study of 46,000 customers, Medallia found that the customer breakdown to be: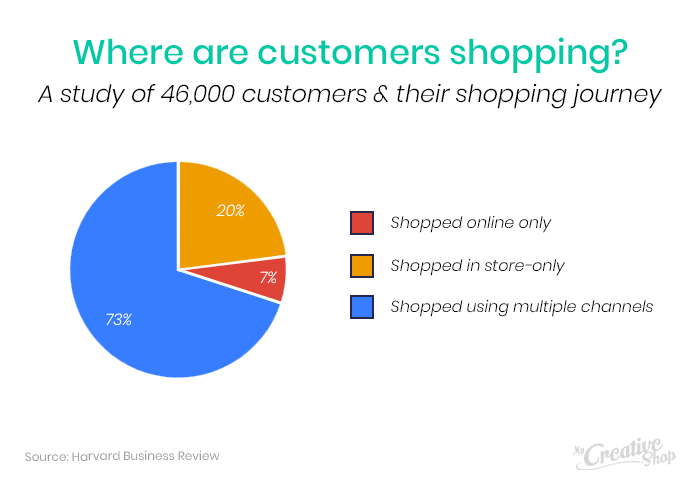 While this data reflects the habits of customers from a national retail brand, use it as a reminder to spread your marketing budget wisely. To make door hanger marketing work, focus on driving online sales and leads (if applicable), in addition to, those that happen offline or in-store.

For example, you might promote an online deal with door hanger marketing, using a QR code for the customer to easily access the website.

Opportunity is Knocking With Door Hanger Marketing

Door hangers are a valuable asset for your local print marketing strategy. Use these secrets to get the most from every house you visit. Drive sales, make great first impressions, and create a local brand that your future customers will remember.