Design captivating brochures to convert more travelers.
From blog posts to email, travel agency marketing now takes many forms. However, travelers are increasingly booking their trips the old fashioned way.
According to a recent report by TrekkSoft, the percentage of bookings on websites decreased from 2017 to 2018 while bookings using agents and tourist offices increased during the same period.
This makes printed materials more important than ever for converting wanderlust dreamers into world travelers and one of the most commonly used print materials for travel agencies is the brochure.
It can fit a significant amount of text, while being easy to carry and hang on the fridge. However, tired marketing materials, with faded colors and cluttered pages, won t get customers to convert. Instead, use these tips to jump-start your travel agency marketing with brochures.
Jump in: Find a travel brochure to customize MyCreativeShop

Cater to Your Audience
Your brochure needs to be relevant, speaking directly to your audience and their needs. The best way to accomplish this is to understand who your audience is and what they re looking for when booking a trip.
For example, if you target families and parents, your brochure should showcase family-friendly activities and ideas for kids. Tauck Bridges took it a step further and created a digital kids brochure to get them excited about the vacation options. What better way to reach parents than through their children whatever makes their kids happy makes them happy.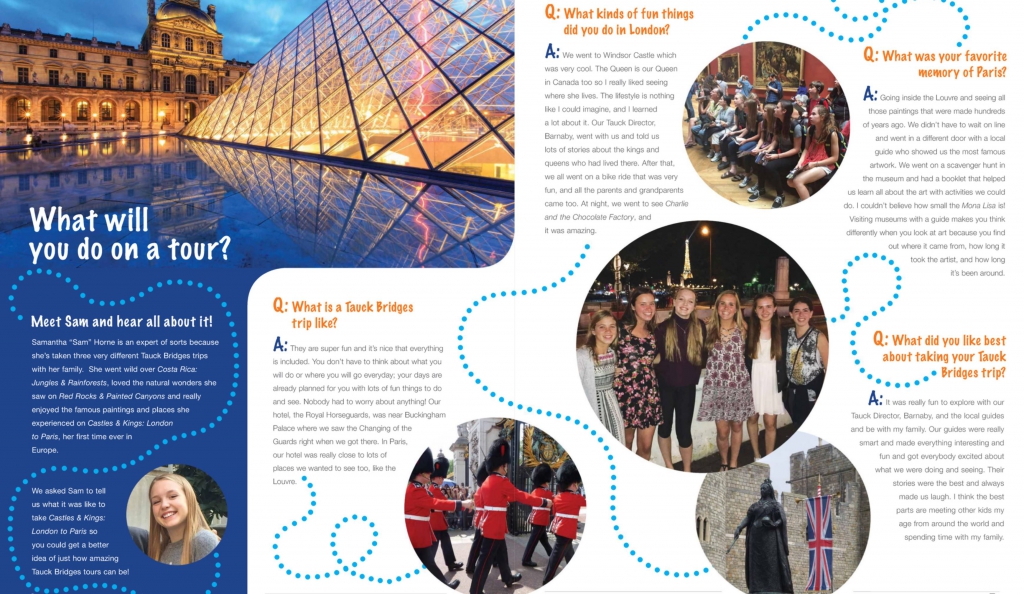 If your travel agency focuses on several different audiences, design brochures that speak to each group individually. Research from Skift finds that high-income travelers make up just 20 percent of the U.S. population, but account for 51 percent of all travel expenses.
Even if high-income travelers are your target audience, specific brochures that highlight high-end vacation options may help you bring in more clients of that nature.
Weave Reviews Into Your Brochure Design
Consumers trust reviews. According to BrightLocal:
86 percent of consumers read reviews for local businesses.
57 percent of people will only choose a business that has four stars or more.
91 percent of 18 to 34 year olds trust reviews as much as recommendations from friends.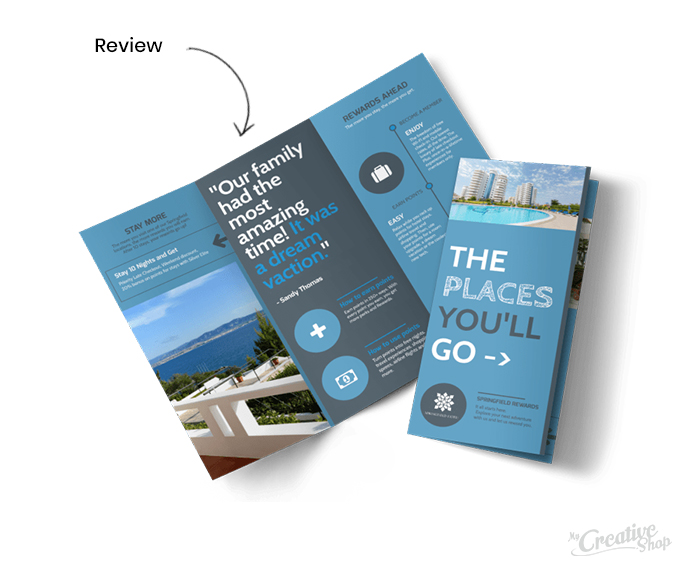 While travelers sitting in your office have likely already read reviews, brochures are a chance to reinforce the positive feedback you ve received from past clients. What s more, it s easy to add short, but impactful testimonials to your brochure design. Check out a few MyCreativeShop templates below that you can adapt for your needs.
Travel Brochure Template Design
Awesome Travel Agents Brochure Template
Relax & Stay Brochure Template
Create Image-Forward Brochures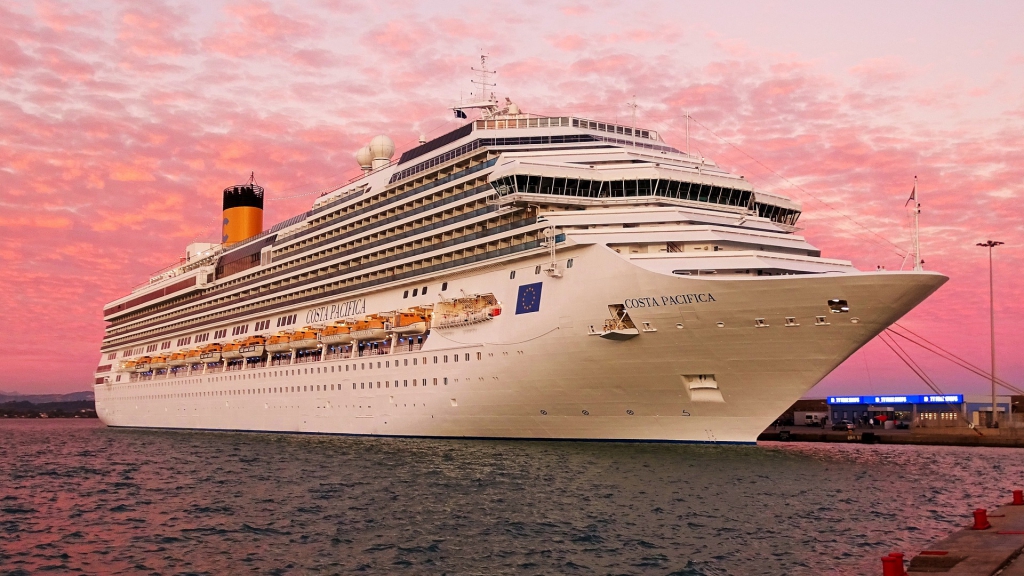 People are 80 percent more likely to pay attention to a piece of content if it contains colorful visuals, including images. However, not every image is going to be impactful. Make the most of the pictures in your travel agency brochure by following a few best practices:
Choose an image that s relevant and specific to your audience: If your business promotes cruises, show people enjoying time on deck or on a beach where the ship is visible in the background. A picture of a couple enjoying a fine dinner might be relevant but could happen on any vacation.
Use visuals to wow readers: Think about your main image the same way you approach your Instagram feed. Post the best images front and center to peak the interest of travelers.
Convey the correct emotion: If you re using images with people, make sure their emotions match the messaging. For example, people on a beach should be happy, while people in a ghost tour should be frightened.
Create interest with gaze: Readers follow the gaze of the person in the picture. Make sure the people in your photos are looking toward important text to take advantage of this small detail.
Check out a few examples of great image use below.
Travel Egypt Brochure Template
Mexico Travel Brochure Template
Japan Travel Brochure Template
Master the Layout and Copy
Your audience is likely going to skim your brochure at least at first glance. This means you need to create the right blend of images and text to keep them interested and engaged. However, this is easier said than done, so that's why we created thousands of brochure templates that are laid out to assist you with crafting the perfect story.
When you pair these templates with our online editor the process for creating your own travel brochure is super simple!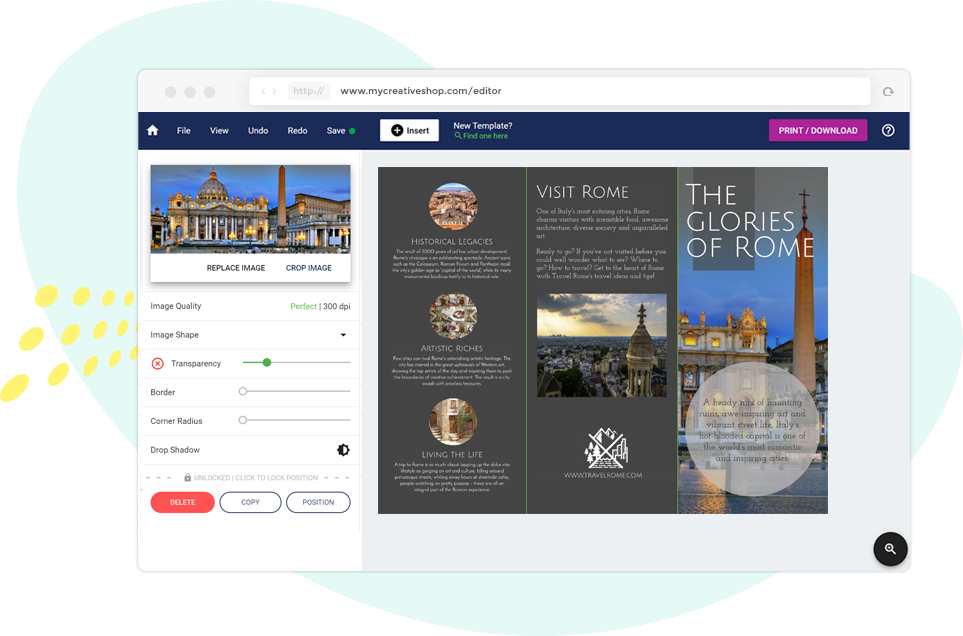 In addition, several eye-tracking studies have uncovered a few key details about how people consume content:
Most people read left to right, like they re reading a book
Eyes are generally drawn to headlines, pictures, and call-outs
People notice price quotes more than the content immediately around them
Here are a few layout examples to inspire your designs.
Travel Paris Brochure Template
Hotel Rewards Program Brochure Template
Use Brochures to Master Travel Agency Marketing
If you invest time and money in creating a quality brochure, you ll give potential customers exactly what they want. Master your design and keep them engaged with these tips with the right brochures, you ll be converting more travelers in no time.