Discover the benefits of incorporating print marketing into your restaurant's marketing plan.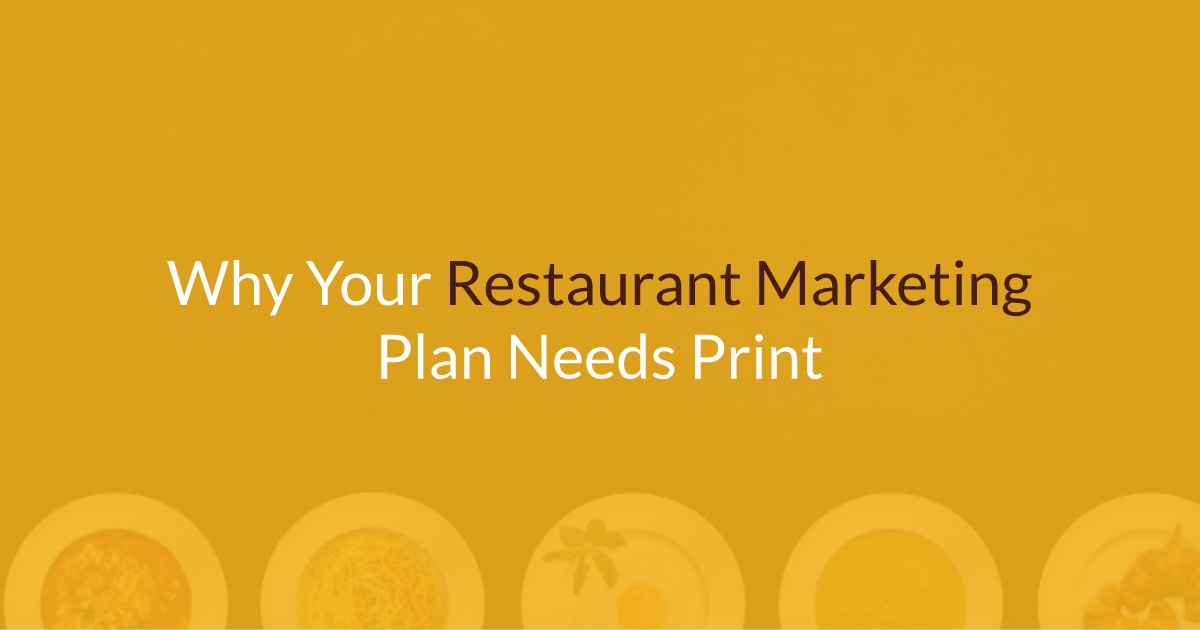 Your restaurant marketing plan needs to employ a multi-channel approach if you want to remain competitive and drive customers. With a shift to digital, it s easy to focus solely on social media marketing or email marketing. However, Optimove found that multi-channel campaigns saw a 14 percent response rate, as opposed to single-channel campaigns, at just 10.2 percent.
These results spell a 37 percent increase in response when using a multi-channel campaign compared to a single-channel campaign, says Optimove. That s where print comes into the picture.
What can print do that digital can t? Consider the many reasons why your restaurant marketing plan needs print and how to be successful with this traditional, yet effective, medium.
Why Print is Critical for Hyper Local Marketing
Reach New Customers Where Your Competitors Aren t
The best way to grow your restaurant s business is to get more people in the door, but this can be challenging to execute. According to a survey by Toast, 27 percent of successful restaurants and 40 percent of no-growth restaurants name attracting and retaining customers as their greatest challenge.
On the flip side, only 20 percent of restaurants are using direct mail marketing as part of their paid marketing plans. This presents you with an opportunity to reach new customers where your competitors aren t at their home, with printed materials like mailers and postcards.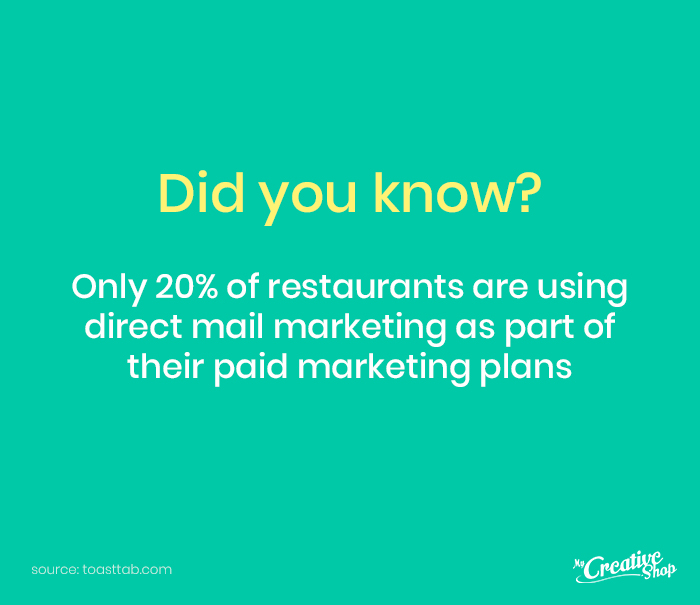 To get new customers from surrounding neighborhoods through your door, make sure they know who you are, where you re located and what you have to offer. Ensure every mailer includes:
Mission statement/branded messaging
Business hours
Address
Phone number
Website
Social media accounts
Don t forget to offer promotional discounts for new diners. A 2016 survey by Statista discovered that 26 percent of people often paid for their meals with coupons. Deals like free appetizers, BOGO entrees, or a free dessert can encourage new customers to try your restaurant.
Modern Direct Mail Marketing Ideas for Small Business Owners
Upsell Featured Products
Once in the restaurant, your social media marketing won t provide much value. Instead, this is when your most important marketing material, your menu, goes to work. Bonus: your competitors can t compete with you here!
Now is the time to upsell your guests on high-price point menu items. Jesse Noyes, Senior Director of Marketing at Upserve, offers these tips for using your menu as a marketing tool to increase sales:
Use buzzwords like local , fresh , and sustainable. He says these convey current restaurant trends that are likely to attract customers.
List your most expensive items first so everything else seems reasonably priced by comparison.
Put featured items or dishes in boxes to draw attention to them.
Avoid using dollar signs or dots leading to the price to take the emphasis off the amount of money customers are spending.
To see how simple it can be to create a restaurant menu that drives sales, check out our menu templates. 
Maintain Brand Awareness and Drive Word of Mouth Marketing
Print marketing can help raise brand awareness for your restaurant long after guests leave your establishment. Labels or stickers on doggie bags and take-home containers remind customers of your brand and experience.
Mexican fast-food chain Chipotle is known for its well-branded print marketing. For years, the chain used clever illustrations and sayings that were unique to its brand and identifiable to its audience. In 2014, Chipotle took this initial idea to another level when it partnered with well-known authors to publish short stories on its disposable cups.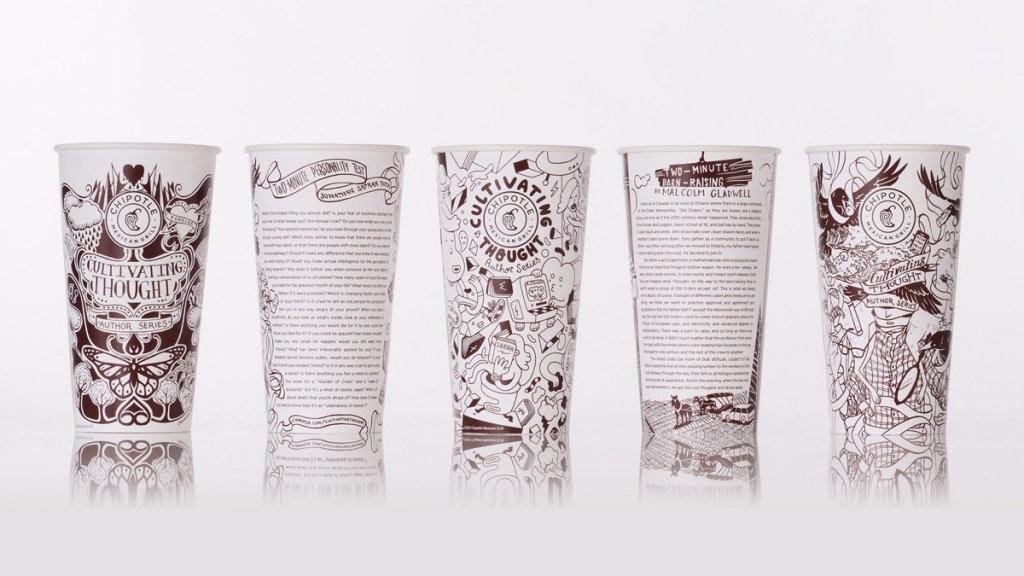 Not only did this tactic play into their brand image, but it also helped provide free publicity and advertising through media coverage and social shares. Crossing from print to digital in this way allows you to get in front of potential customers no matter where they are.
Consider the ways you can use your branding to develop unique take-home materials that encourage customers to share with their friends and followers.
Encourage Repeat Business
Make sure your customers feel special with loyalty cards, a simple yet impactful marketing tool. The National Restaurant Association found that half of consumers say they would select one restaurant over another because of a loyalty program.
While some programs are extensive and complicated, you can keep it simple with printed loyalty cards. Not only is it easy to track purchases by using stamps or hole-punch cards, but it s also inexpensive.
Once designed and printed, you can distribute the cards in a number of ways:
Keep a visible stack near the front door
Include one in the receipt book for every customer
Pass them out when customers are being seated
Design your first set with our loyalty card templates and start driving repeat business.
Your Print Marketing Plan Can Be a Recipe for Success
While digital marketing plays a major role in attracting and retaining customers, it s not the only factor in determining your success. Bring in print for a multi-channel approach. You'll reach customers where your competitors don t, drive higher bills in-restaurant, and encourage your guests to come back time and time again.