Creating a visual branding strategy involves extensive planning, research and resources to develop and execute successfully. Yet it can t be ignored.
Duct Tape Marketing
refers to this as your visual identity and explains why having a visual strategy is critical for all businesses:
Brands who are consistent with their visual identity resonate more effectively with their audience than those who are not. Your visual identity is an exact reflection of your company, so you need to put in the time and research to make sure it s represented accurately and positively, and that it is in line with your spoken and written messaging.
Taking it a step further,
Wibbitz
found that 84 percent of businesses believe visual content has impacted brand awareness. This means you can t ignore your visual branding strategy, whether you re a small business or a global enterprise.
MyCreativeShop is a tool you can use to make the process of developing and maintaining your visual strategy easier and more streamlined. Check out this review from one of our customers.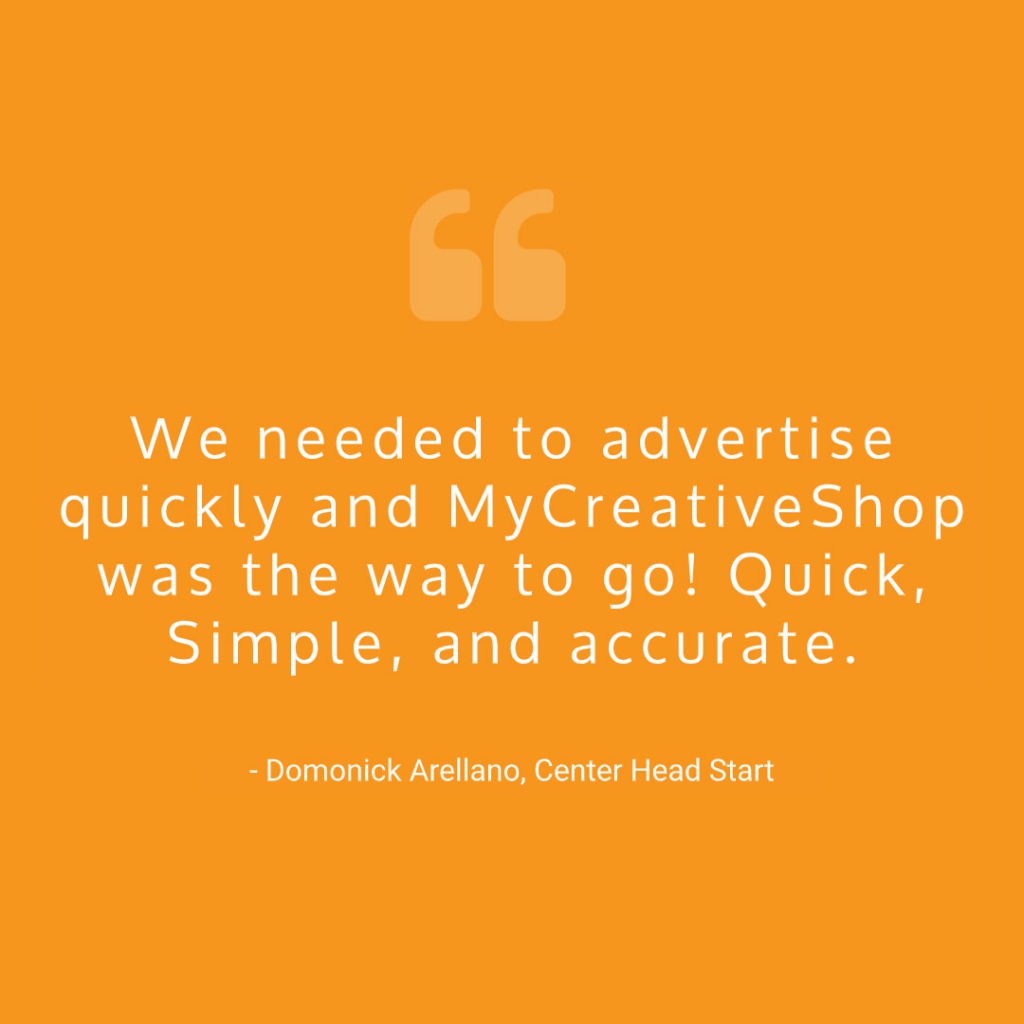 But don t take it from Domonick. Whether you re choosing colors and fonts or need to share important assets with your team, take a look at why MyCreativeShop s online editor is critical for your small business.
If you re focused on social media marketing, check out our blog post, 

How to Master Your Visual Social Media Branding

.
What is MyCreativeShop
MyCreativeShop is an online design editor that allows anyone to create awesome designs that can be printed and shared anywhere. Our online editor provides pre-built templates and designs that make it easier to customize or create your own assets, including flyers, brochures, social media posts, business cards and much more.
What s more, MyCreativeShop can be used to develop your visual branding strategy, from choosing the best brand colors to creating marketing assets that represent your business and brand. Let s dive into how you can get the most out of this tool.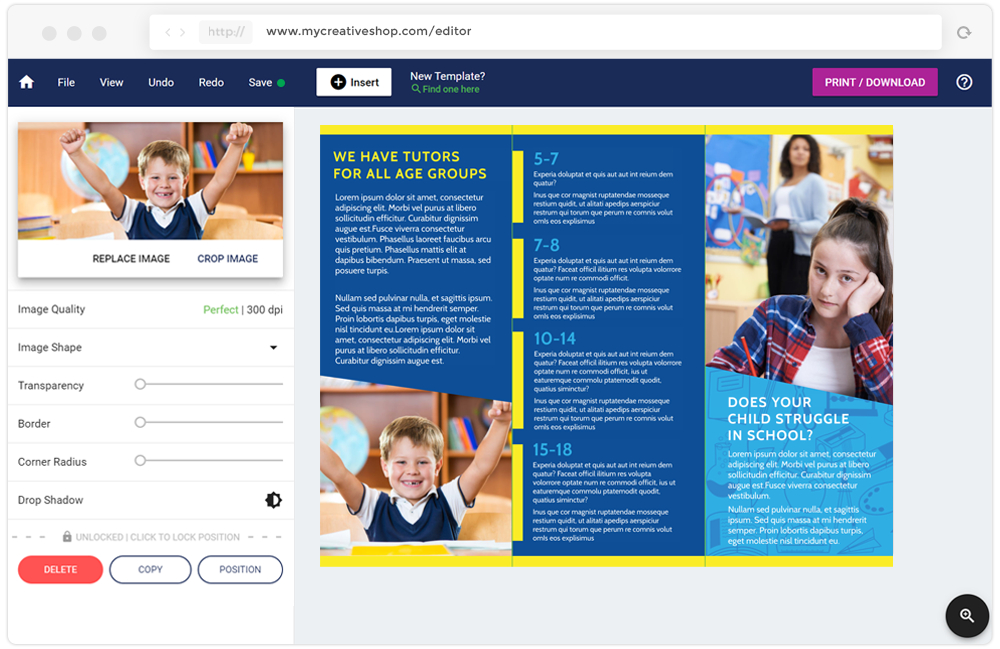 Color Management for Consistent Brand Visuals
The colors you select for your brand encourage people to engage with your business and pay attention to your marketing assets. According to
Xerox
, color increases attention span and recall by 82 percent and it makes impressions almost 40 percent more memorable.
MyCreativeShop makes it easy to showcase your brand colors. After selecting your template, you can easily add your brand s custom CMYK colors to the color editor. If you re still choosing your brand colors, you can use the color picker to choose your favorite shades and hues. Once chosen, you can favorite those colors so they re always available. Simply drag the color to the star in the top right corner and it will always be easily accessible.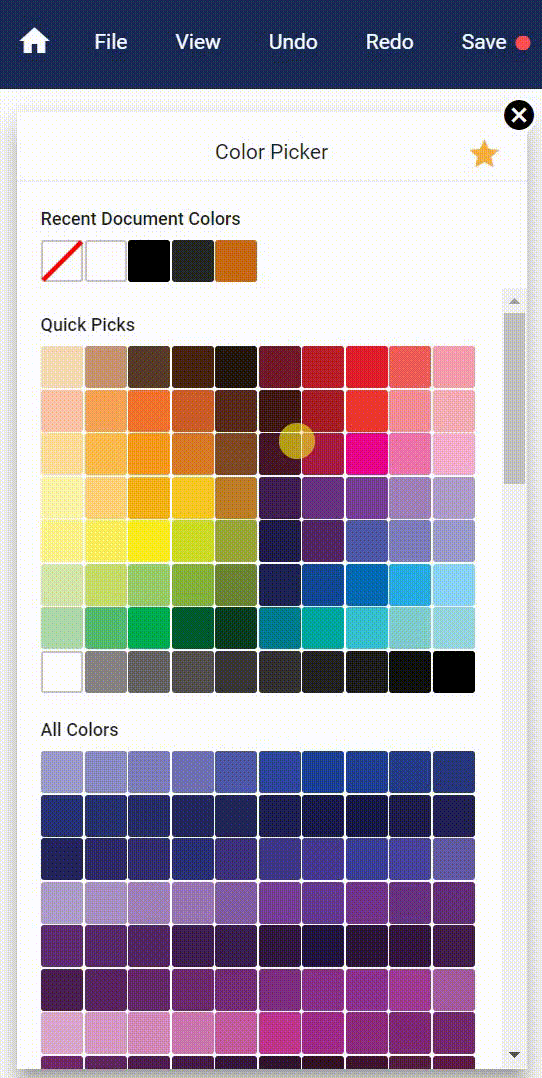 When you open a new project, you ll see Recent Document Colors at the top of the color picker widget as well. This makes it easy to stay consistent with all colors, not just your brand colors. These features of the online editor helps you build your designs faster and keep colors organized across all printed materials.
In addition, when designing print materials, you won t have to worry about colors changing when moving from your computer screen to the printer. Unlike most design programs, our color picker displays colors the way they ll print, so you re always getting an accurate representation of how the finished product will appear.
If you haven t chosen your brand colors yet, check out our blog post: 

Color Psychology for Print Marketing

.
Image Management for Better Visual Storytelling
Colors are important for aligning your printed materials with your brand, while images help you tell a story that engages the reader. MyCreativeShop makes it easy to use images that attract attention and illustrate your message on printed materials.
Our dashboard allows you to upload files directly into the editor, so you can insert your logo or branded images if needed. Once uploaded, adjust the shape, size, transparency, cropping, and other features, so it appears exactly as you wish. Plus, once your images are inserted, the raw files will stay in your gallery so you can quickly pull them in again for other projects.
If you don t have an image in mind, you can also select from one of the thousands in our image library. Simply search for what you want and browse until you find the perfect image.
Using images is especially easy when you start with one of our pre-made templates. For example, if you ve chosen a flyer with a dark image but want the asset to appear brighter, search for the image you want and swap it out. You don t have to figure out where to put the image or how big to make it. Instead, you can focus on maintaining your branded look and feel.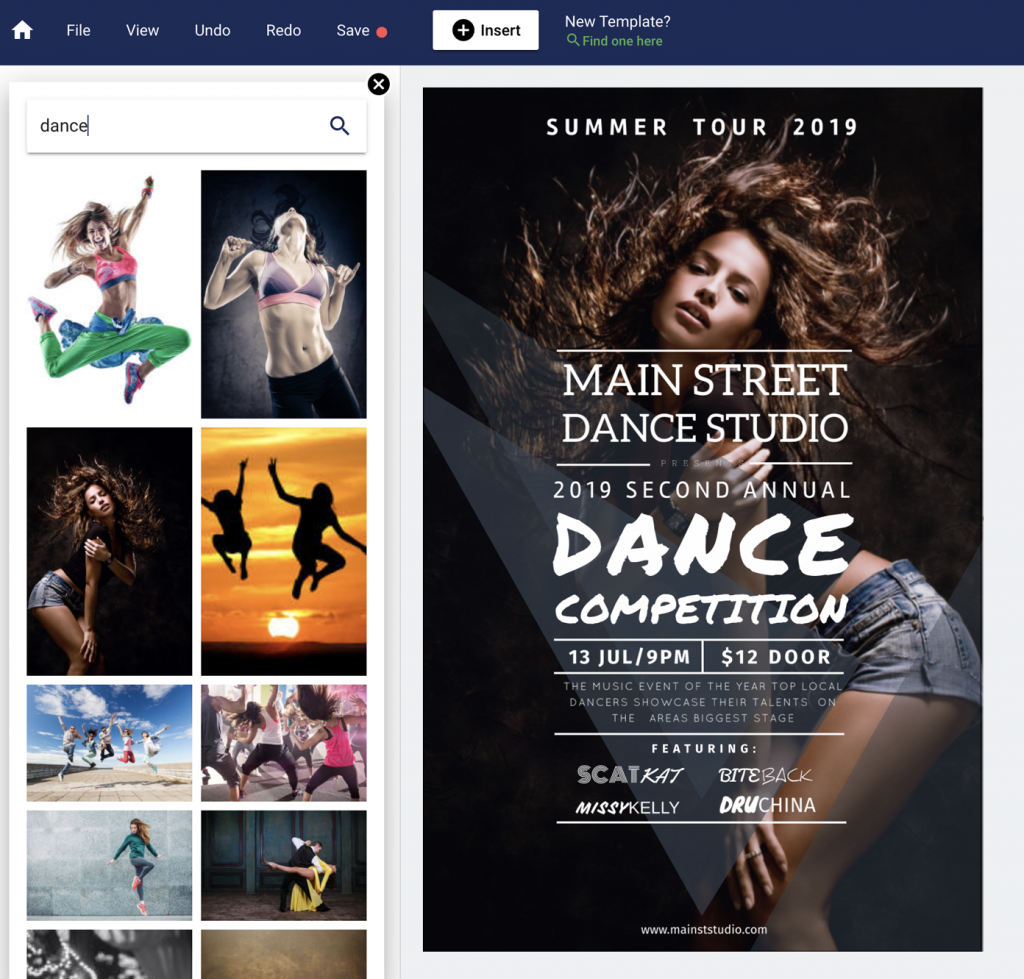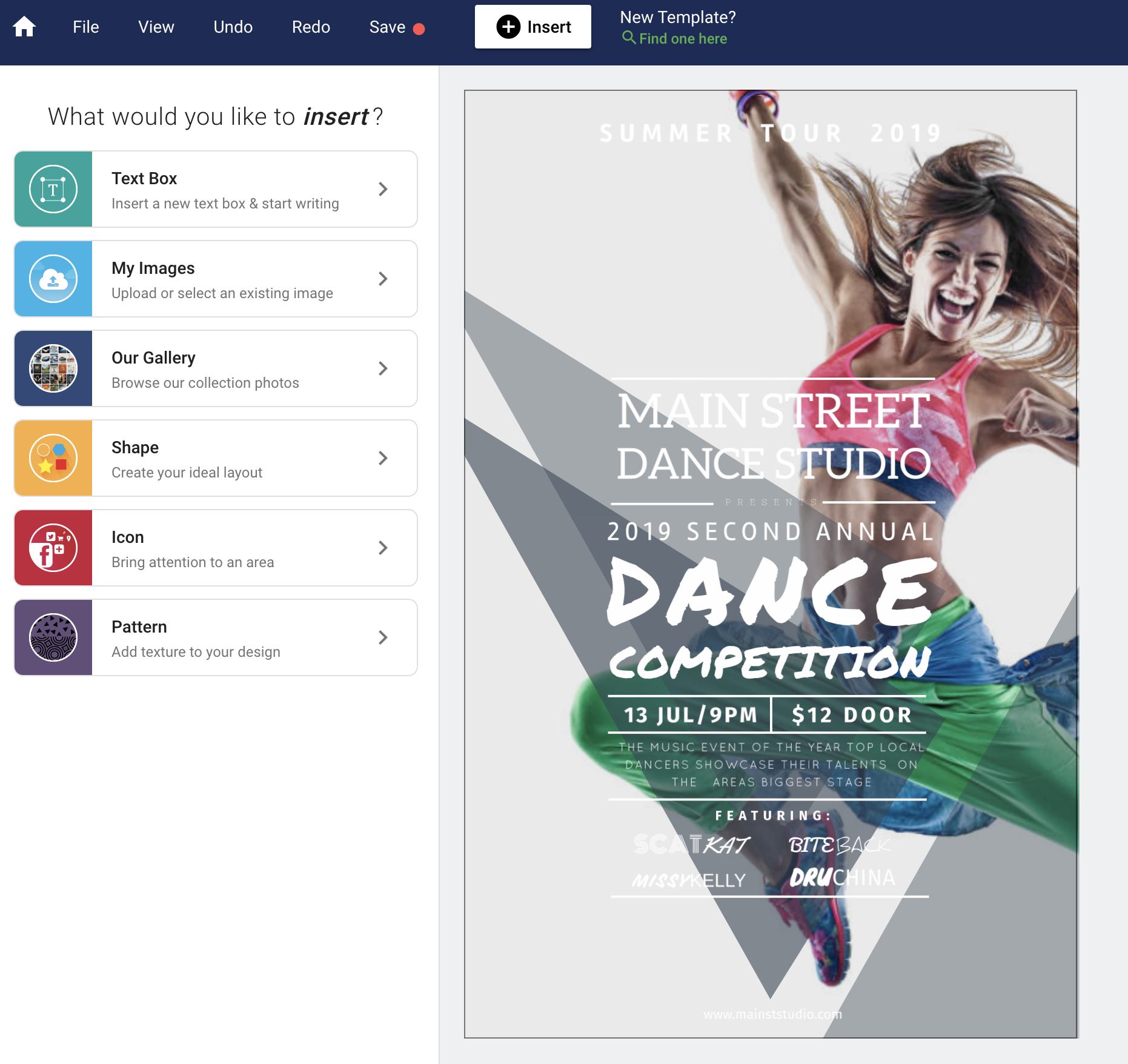 Need help selecting the perfect image for your printed project? 

How to Choose the Best Images for Your Flyer Design

.
Font Management for Clarity and Consistency
An important visual aspect of your brand strategy is the font you ll use. It may be appropriate to use different fonts and sizes for various visual assets, but Adobe suggests sticking with just
two main font families
when creating your visual branding strategy. This allows for consistency that drives recognition no matter where customers come into contact with your brand.
With MyCreativeShop, you have more than 150 different fonts from which to choose as you develop your visual branding strategy. What s more, our fonts are categorized in a way that makes it easy to find what you re looking for.
Instead of putting fonts into categories like serif, we ve created categories that include, handwritten or decorative. This makes it easy to find what you need without having extensive font or design knowledge.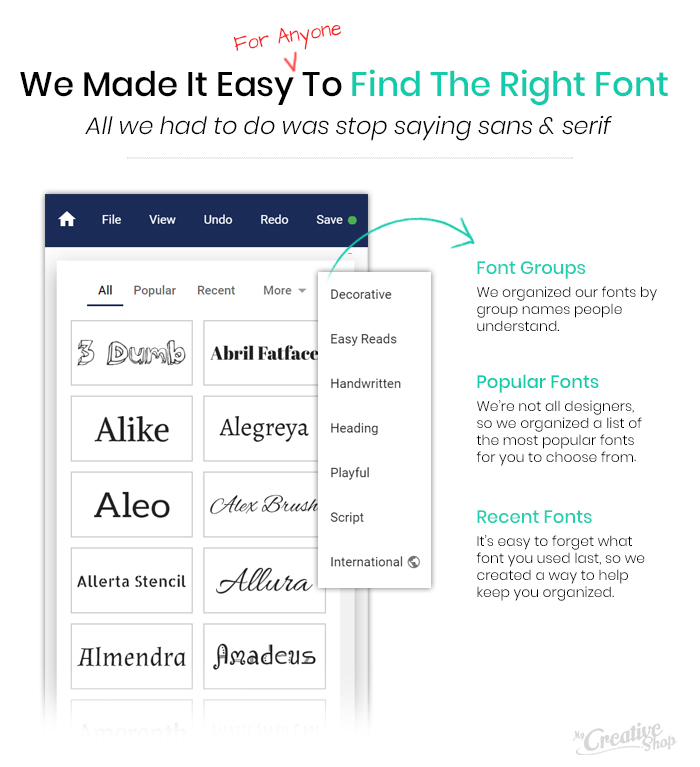 Once you start using a specific font, the editor will store it for you under Recent, so you can easily implement your brand fonts across all projects.
Design Management For Brand Consistency
While 35 percent of small businesses plan to invest in digital marketing, another 31 percent will be investing in traditional marketing and 23 percent will invest equally in both, according to
The Manifest
. MyCreativeShop allows you to easily implement your brand design across multiple mediums, both online and offline.
If you re struggling to drive brand awareness and visual consistency with social media, for example, check out our
social media templates
. You ll find pre-made options for nearly every platform, from Instagram to Facebook. What s more, we offer
blog image templates
, ensuring that, once on your site, customers are still feeling the impact of your visual branding strategy.
[caption id="attachment_5091" align="alignnone" width="1133"]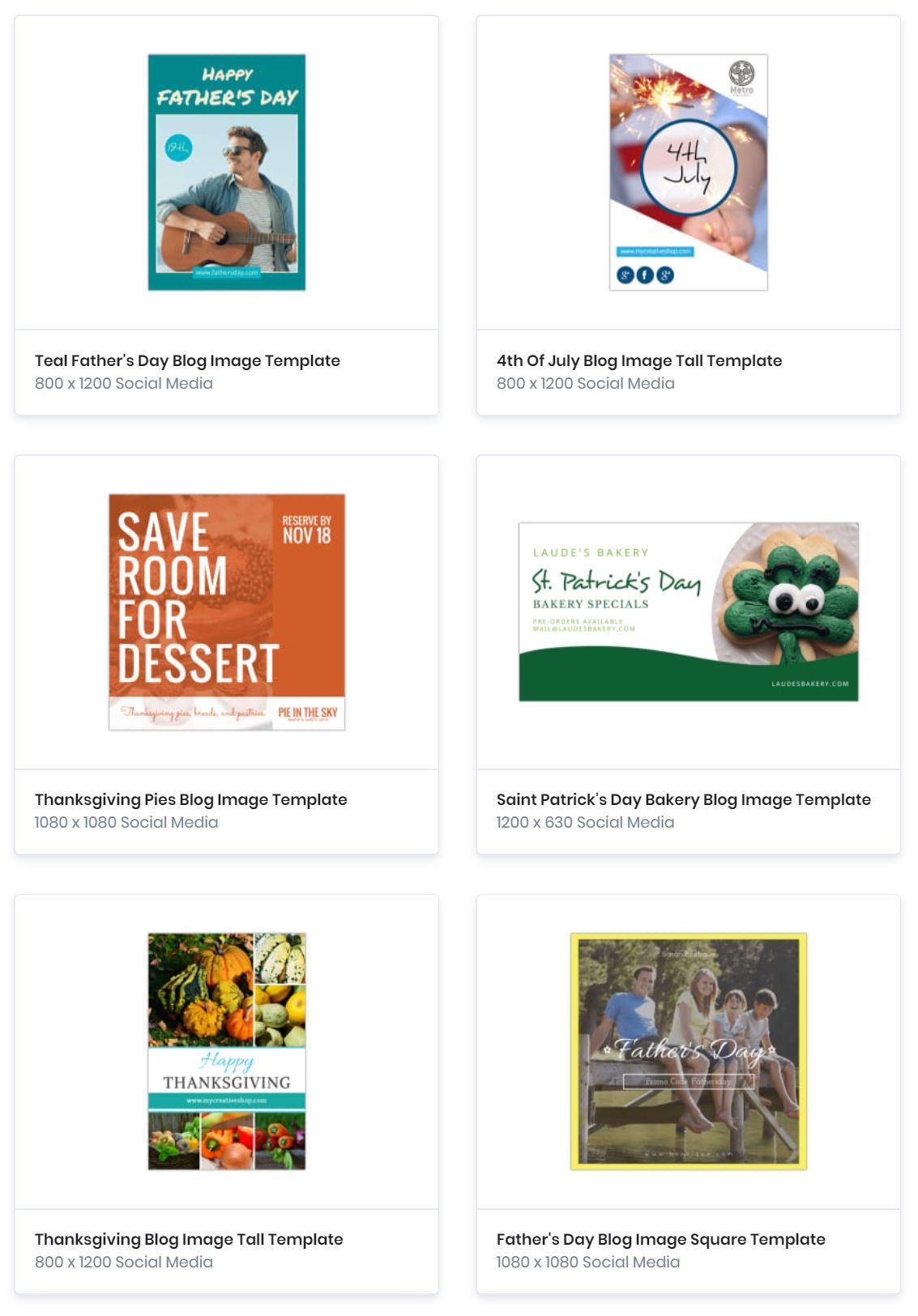 View our
design templates
[/caption]
As your visual brand strategy develops, you ll be able to quickly and easily create new imagery that follows the guidelines you ve created, whether you re designing a brochure or a Twitter post.
Asset Management Streamlined Across Campaigns and Teams
Managing all of your assets can be challenging if you don t have a centralized system to do so. This makes it even harder to maintain your visual branding strategy if you can t find the last flyer you made for your current campaign, how can you ensure the next one is unique while still on-brand?
MyCreativeShop also provides a helpful paid feature that allows you to tag designs and assets based on campaigns. With just a few clicks, you can filter by all of your Black Friday marketing materials and see them in one place.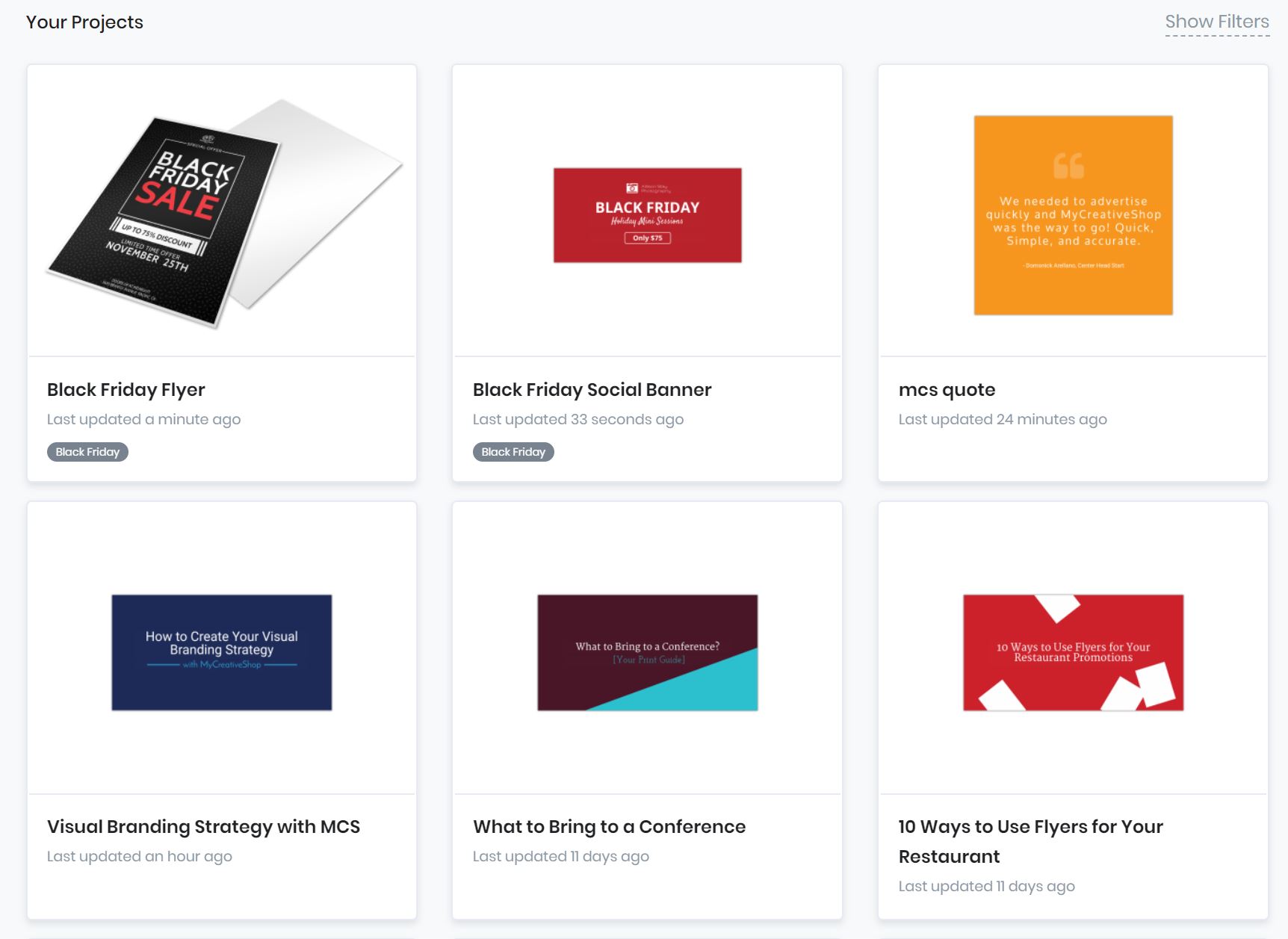 Once projects are completed, you can streamline the approval process. Use a
shared page
to submit designs for internal reviews and edits before printing or downloading. Once everyone has signed off, you and your team can easily download a PDF to print anywhere or you can
print every asset
through us so you don t waste time dealing with another printer.
Creating Your Visual Branding Strategy is Easy with MyCreativeShop
If you don t have a quality editor to execute the image design, it doesn t matter how well you plan your visual branding strategy. As a small business, without the budget for a design team, MyCreativeShop gives you all the controls you need to plan your visual branding strategy while customizing your marketing collateral for every channel no design experience (and minimal budget) necessary.