Master the design to print process and create professional-grade, attention-grabbing print materials for your small business.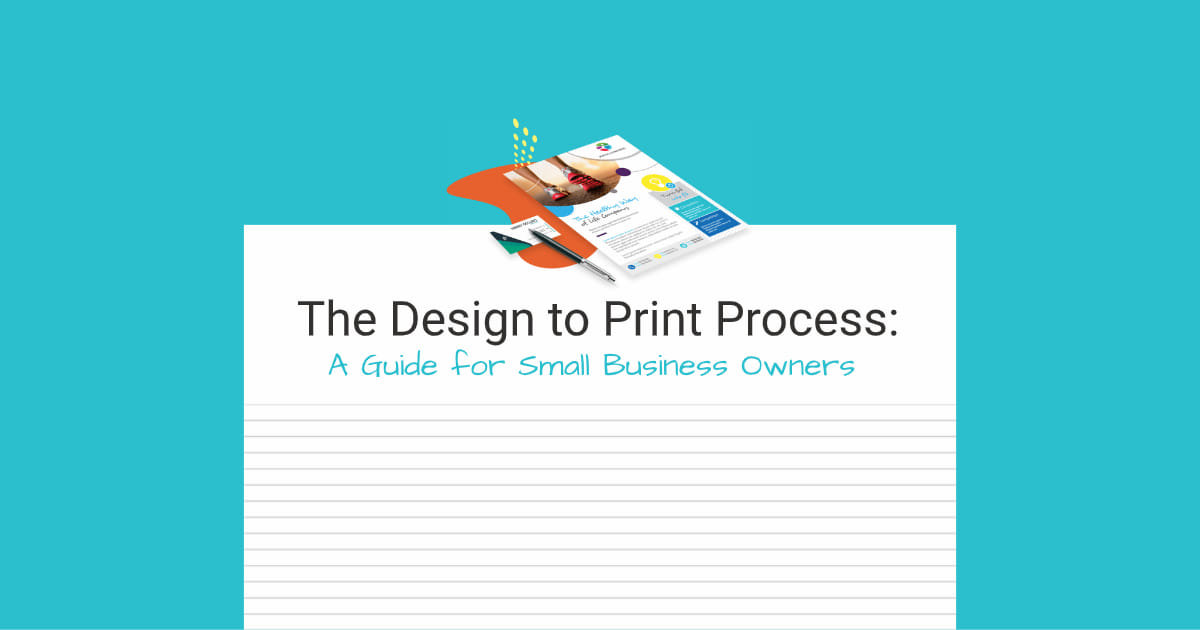 The design to print process isn t complicated, but it needs to be done correctly. Your small business relies on well-designed and printed materials to draw the attention of your potential customers, 85 percent of whom are more inclined to support a business that markets itself with professional-grade print materials.
Simply throwing together a flyer and printing it at home may not be enough to attract the attention of potential customers. When your print materials are poorly designed, and printed with low-quality materials, you run the risk of blending in, reducing the effectiveness of your efforts.

In every step, from the initial conception to the finished result, you want to keep excellence at the forefront. Here are six tactics to help you actualize that goal as you go through the design to print process.

#1: Know All Your Print Marketing Options

While the most familiar print materials tend to be brochures, business cards and flyers, there are many other formats you can use to market your small business. When thinking about your options that fall outside the obvious choices, keep the following in mind:

Door Hangers
Table Tents
Coasters
Loyalty Cards
Consider that items like table tents and coasters are perfect for a restaurant, while letterhead stationary and door hangers might be ideal for a real estate agent. When choosing, ask yourself: What best supports my business's needs?

It s also important to remember that some print materials will only be needed for conferences or one-time events, while others will be used year-round. Take this into consideration as you develop your print marketing calendar.

Browse our full list of print templates to get more ideas. 

#2: Plan Ahead With a Marketing Calendar

Offline campaigns should be timed with holidays and events that generate commercial hype and drive customers to your business. To prepare the right print materials for these occasions, create your print marketing calendar. This document or spreadsheet makes it easy to identify and track the most important times of year for marketing.

More importantly, it allows you to plan ahead for the design to print process, which typically takes 4 to 5-weeks, depending on the holiday. Dustin Hodgson, co-owner of MyCreativeShop, says: the bigger the holiday, the longer time you need. With a calendar, you can add in dates for each step of the process so you re never running behind.

When creating your calendar, anticipate your print needs for:

Industry functions and conferences
Community events
Holiday promotions (e.g. Christmas, Valentine s Day)
Seasonal consumer trends
Major marketing campaigns (e.g. Black Friday, Cyber Monday)
New product announcements
Don t forget to take into account any updates needed with current designs. For example, you may need to refresh your brochures for an upcoming conference, as opposed to designing something new. This should still be on your calendar.

How to Create a Marketing Calendar for Print Advertising

#3: Create Your Print Distribution Strategy

Your last step before designing is figuring out how you ll use your marketing materials most effectively. This needs to come before design, because details like who you re targeting and what time of year you plan to distribute, for example, will all affect the design and messaging.

Your print distribution strategy can be as simple or detailed as you want. Regardless, as you develop it, there are a few details to figure out for each campaign or print marketing need before designing:

When will this be distributed?
Who is the intended audience?
What is the goal?
How large will the campaign be? (I.E. postcards to 100 houses versus 1,000)
How will we track performance metrics?
#4: Choose Your Design Method

With your print needs identified, it s time to move into the design phase. This is where you may get nervous, especially if you have little to no design experience. Luckily, there are many ways to design professional, high-quality print materials with minimal graphic design knowledge. Here are a few options to consider:

Work with a freelance designer: This is the best option if you want to be totally hands-off with the design process. Simply tell the designer what you see for the project and let them work their magic. You can find freelance designers on sites like UpWork or by asking fellow business owners who they ve worked with.

Work with a print shop: This may seem like an unusual place to go for graphic design help, but some print shops offer design services. If you choose to work with them, you ll get the benefit of not only knowing that your print design will be formatted properly for print, but they may also suggest some creative print ideas (I.E. spot uv coating, foil stamp) that could help your design stand out in a crowd.

Design your own with MyCreativeShop: Browse our selection of print marketing templates, which includes everything from posters and banners to postcards and swag. Choose the one you need and then customize. You can pick your font and colors and change the text and images. This gives you flexibility, while taking most of the work and pressure! off your plate.

#5: Design with Branding Elements in Mind

While it s fun to play with design that s unique and eye-catching, don t forget about your branding. Using a consistent color palette, font set and overall look and feel, is critical. This makes it easier for potential customers to connect the content with your business.

For example, if someone walks by your new clearance flyer, you want them to recognize your store (thanks to the logo, colors, and images) when they walk by it later that day or week.

What s more, the design needs to create a visually memorable experience for the audience. That s where elements like color and image choice come into play as well. To ensure your branding is on-point and the design pops, use the following resources:

Don t forget that certain design elements, like QR codes, help you track success! Check our full guide on tracking print marketing efforts to learn more.

#6: Vet Your Printing Options

You can create the most well-designed print material, but if the printer quality is sub-optimal, your potential customers will not be impressed. Compare the various options that fit your budget and needs by getting answers to the following questions:

What is their turnaround time?
If doing direct mail - Can they take a mailing list?
Do they guarantee the quality?
Will they provide a proof?
Do they have a sample pack to review paper material options?
Check out the printing services offered through MyCreativeShop. If you design using our templates, the process to print is quick and easy.

Get to Know the Design to Print Process

While not complicated, it s important to get each step in the design to print process right, from choosing colors and images to finding the best printer. Use this guide if you re new to developing offline promotional materials and let us help you through the process.