Print marketing methods to boost your cleaning service business.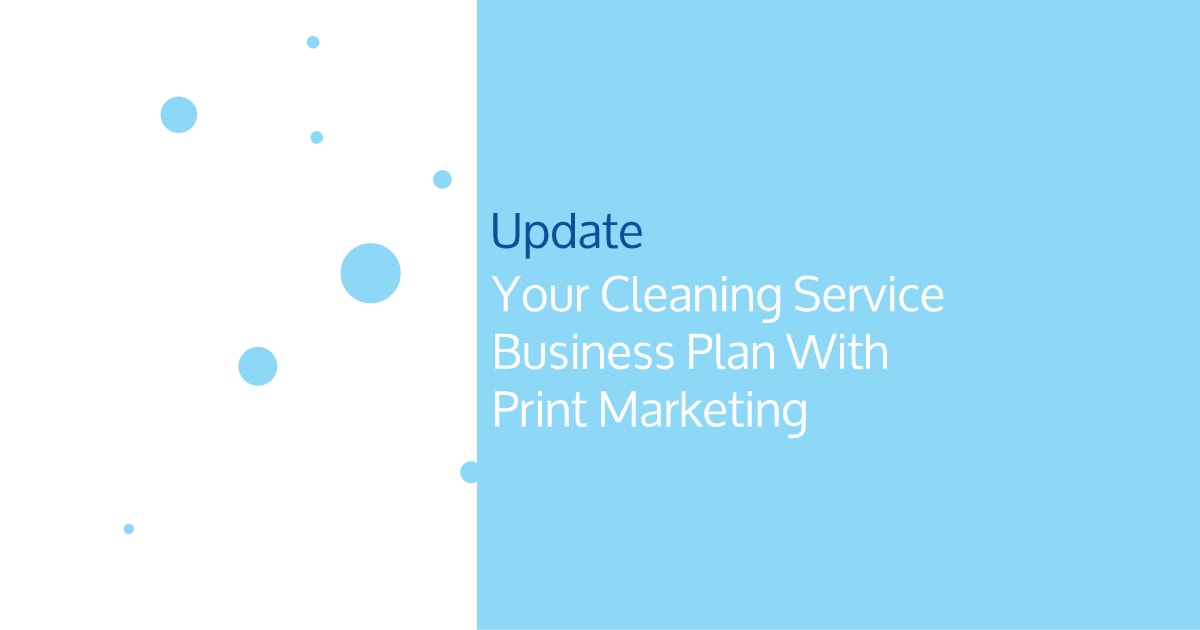 Whether you re new to the business or own a 20-year cleaning service, you need a business plan that projects what s ahead. Your business plan likely includes financial projections, target customer data, and a digital marketing strategy. However, as a local business that relies on customers from the community, not forecasting and budgeting for print marketing can be a mistake.
Print marketing allows you to target customers in your community, reaching them at home with a more personalized marketing experience. As you update your cleaning service business plan, consider how you can integrate print and digital and repurpose the messaging used for online marketing to do less work and reach more community members.
Don t ignore this traditional marketing any longer. Instead, dive in and start driving new leads, with these print marketing methods.
1. Mailers
[caption id="" align="alignnone" width="800"]
Clean Home EDDM Postcard
- Customize It[/caption]
Direct mail is one of the most common methods for small businesses to reach customers, and it s one of the most successful. According to the 2018 DMA Response Rate Report, 5 percent of prospects will respond to direct mail. Existing customers will respond at almost a 10 percent rate. Both of those figures are nearly double the rates from 2017.
Send postcards to your prospects including your business name, phone number, and email address, along with a special introductory deal and customer testimonials. To make it even more effective, customize your message for the area or specific time of year.
For example, an American Cleaning Institute survey found that 76 percent of people participate in Spring Cleaning, so that would be a prime time to promote your business.
It s also important to make sure you send your postcards to specific neighborhoods and communities where your target customers are likely to live. To do so, use the USPS Every Door Direct Mail service, which allows you to map ZIP Codes and neighborhoods and filter by age, income, household size, and other demographics from U.S. Census data.
2. Door Hangers
[caption id="" align="alignnone" width="800"]
Modern House Cleaning Door Hanger
- Customize It[/caption]
Door hangers can be just as effective as direct mail postcards for attracting new customers, especially if you use both printed pieces at the same time. A few days after mailing postcards to a target neighborhood, put door hangers on each home.
Nearly 75 percent of customers use multiple channels during their shopping journey, so customers who noticed your mailer are more likely to respond to your door hanger than those who are just seeing it for the first time.
Improve your door hangers by following some of our door hanger design best practices:
Customize design and messaging for the neighborhood

Include a promotion or coupon to entice the potential customer

Include interactive features, like a QR code

Take advantage of fear of missing out in your messaging, I.E. time-sensitive offers
If you run an eco-friendly cleaning business, highlight the products or methods used by your service. This might help differentiate your business and encourage customers to purchase. According to Nielsen Global Business Partner Sarah Peters:
As more shoppers lean green, [businesses] that balance environmental benefits with strong performance results and cost effectiveness will be positioned well for success.
Related Articles - What is a Print Marketing Collateral Strategy and Why You Need One
3. Flyers
[caption id="" align="alignnone" width="800"]
Pro Cleaning Maid Service Flyer
- Customize It[/caption]
When well-designed, flyers can be a critical piece of your house cleaning business plan. While flyers seem old-fashioned, a modern design is crucial to getting the most from this marketing asset. Prospective customers will make a first impression of your business simply by the appearance of your marketing materials. Nearly 90 percent of customers believe that the quality of printed materials is a direct reflection of the quality of service.
You can create a professional look by using carefully selected images, clear text, and leaving white space so the design flows, all of which you can do with MyCreativeShop s online editor. Just choose your cleaning business flyer and customize with your own logo and images.
It s also wise to print with high-quality paper or stock. Better yet, print with MyCreativeShop as well so you can be sure the final product is better than you expected.
Once designed and printed, you need to hang your flyers where your target audience will see them. Perhaps your customers are mainly working moms. A few good locations include:
Coffee shops

Daycares

Schools

Gyms

Grocery stores

Local retailers
Just make sure you get permission from the business owner before hanging your flyers. In some cases, local companies are happy to help other small businesses.
Related Articles - 15 

Small Business Flyer Ideas [Plus Templates] 
4. Referral Cards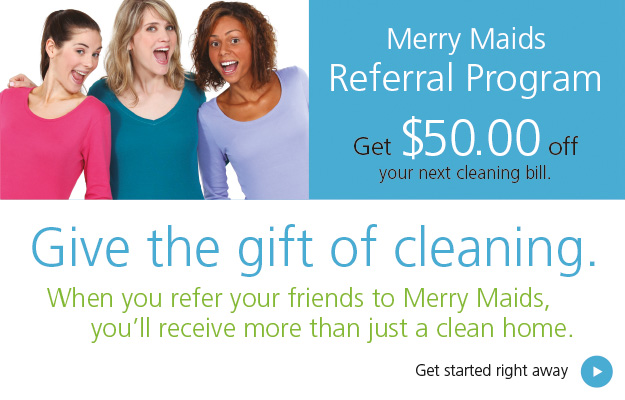 If people are happy with your service, chances are they ll tell others about it. More importantly, people want referrals from people they know and they ll believe them. According to Hubspot research, 90 percent of consumers will believe reviews and recommendations from friends and family.
You can capitalize on this phenomenon by leaving customers with referral cards that they can give to anyone who needs cleaning services. Include your name, phone number, website, and a promotional code they can redeem on their first appointment.
Don t forget to entice current customers to refer you. You can do so by offering a discount on their next service for each new client who signs up and mentions their name as the referrer.
5. Car Wrap
[caption id="attachment_5140" align="alignnone" width="1280"]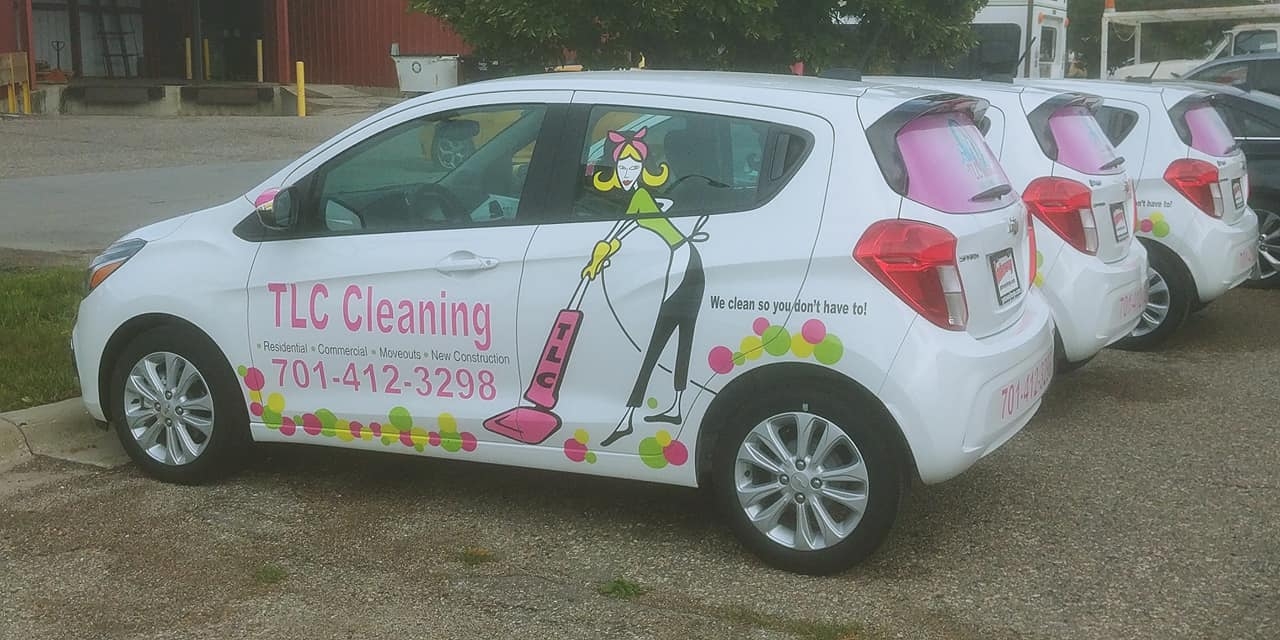 TLC Cleaning
[/caption]
Sometimes you need to think outside of the box or car for your print marketing strategy. Car wraps, decals, and magnets are a great way to give your business visibility, especially if you re driving in highly populated areas. Research finds that mobile vehicle advertising can generate more than 100 impressions for each mile driven, or anywhere from 30,000 to 70,000 impressions in a day.
Even if you have a small business with only a few employees, there are companies out there that will connect drivers with businesses looking to advertise on vehicles. More drivers with your brand on their cars means more potential customers learning about your business.
Update Your Cleaning Service s Business Plan
Your house cleaning service relies on local customers to grow. Both social media and digital advertising are important mediums for attracting a large audience to your business, but print allows you to target customers right within your community. The print marketing ideas above allow you to hone in on specific areas with your strategy and reach the people you want to target. If your cleaning service business plan doesn t include print, update it today to get more targeted with your marketing.