Discover eye-catching back-to-school flyer templates to grab attention and keep parents informed.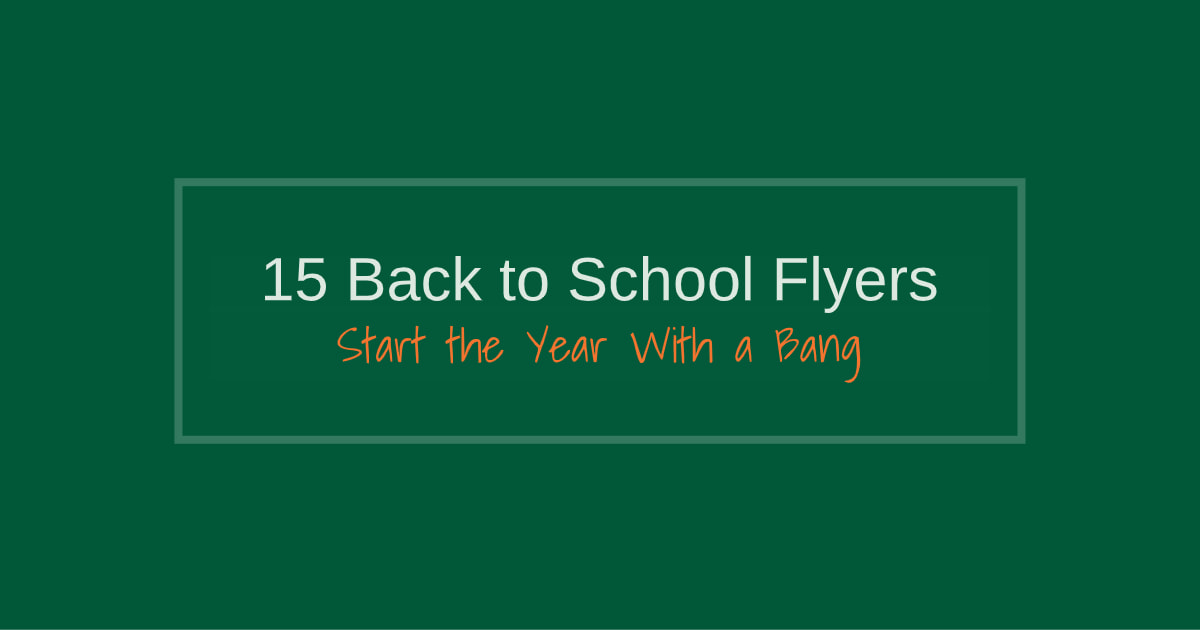 Back to school is as chaotic for schools as it is for parents. Not only are you finalizing lesson plans with teachers, completing renovation projects, and talking with parents, but you may also be promoting school events or working to fill empty student spots.
To make your life easier, and get everything done before the first bell rings, use these back to school flyer templates to spread the word.
1. Use Classic Aesthetics

Nothing says back to school like school bus yellow, which makes this flyer eye-catching matching your colors with the colors of the season is crucial to being noticed. The use of primary colors yellow and red also immediately evokes classic imagery. This will be sure to catch the eye of busy parents.

Box: Learn more about color psychology for your marketing flyers

2. Create a Newsletter-Style Flyer

Fill parents in on everything they need to know with this template. Not only is it bright and clean, thanks to icons and simple imagery, but there s plenty of space to share updates, information and details on your school s offerings and upcoming events. Plus, this is more likely to be hung on the fridge than a printed word document.

3. Try a Trendy Design to Match Your Audience

Targeting high school or college students is as important as reaching the parents in the case of an in-school event. Use this trendy flyer template to appeal to incoming students who are dreading the start of school.

4. Get Parents to Your Back-to-School Events

Use this template to highlight the timeframe of your event, making it easy for parents to plan ahead and take advantage of the event you ve put together. Highlight that with related text and imagery, like the background image used here, to make sure parents can make the connection quickly and easily.

5. Balance Heavy Copy with a Strong Headline

While this template is for a poster, it can easily be adapted to an 8.5 x 11 flyer. Notice how the top half uses a simple image and strong headline to balances the copy-heavy footer. If your flyer requires a significant amount of text or explanation, use this trick to make sure it still catches the eye of interested parents.

6. Be Subtle With Visuals

For a subtle look, use this flyer template for important announcements. The top third leaves room for a back to school image but the rest of the design allows for plenty of space for copy, CTAs, or announcements. Plus, with room for a URL, you can direct parents to more information or a sign-up page.
Why Print is Critical for Hyper Local Marketing

7. Go Icon Chic

Adapt this clean banner design to your flyer for a unique and simple look that still speaks to the back-to-school season. The clipart-style elements placed on one neutral color creates a pattern that automatically transports you to the classroom. With simple text and your school logo, you ll get parents even more excited to get their little ones back to school.
8. Keep Event Announcements Simple

This time of year is stressful for parents and remembering the events that come in the first few weeks can be a challenge. Use a simple flyer, tucked into students backpacks, to remind them of an event like picture day quickly and easily.

9. Get Contemporary and Colorful

This flyer is perfect for any back to school announcement. Customize the main image using a photo from students at the school or perhaps an updated area of the building. Use the middle banner area to bring their attention to any important dates. Send this template around to teachers who may want to tell parents about upcoming classroom events.

10. Use Double-Sided Flyers

Use this flyer template to catch the attention of parents with a big image first. Include all the necessary information on the back, where it s uncluttered and easy to read. Use this format for any upcoming events or programs; simply update it with new imagery and text as needed.

Incorporate Back to School Elements in Your Retail Flyers

Market yourself this back to school season with fun and festive flyers that catch the eye of shoppers everywhere Choose the best flyer for your needs and adapt it your business look to create a revenue-driving look and feel.