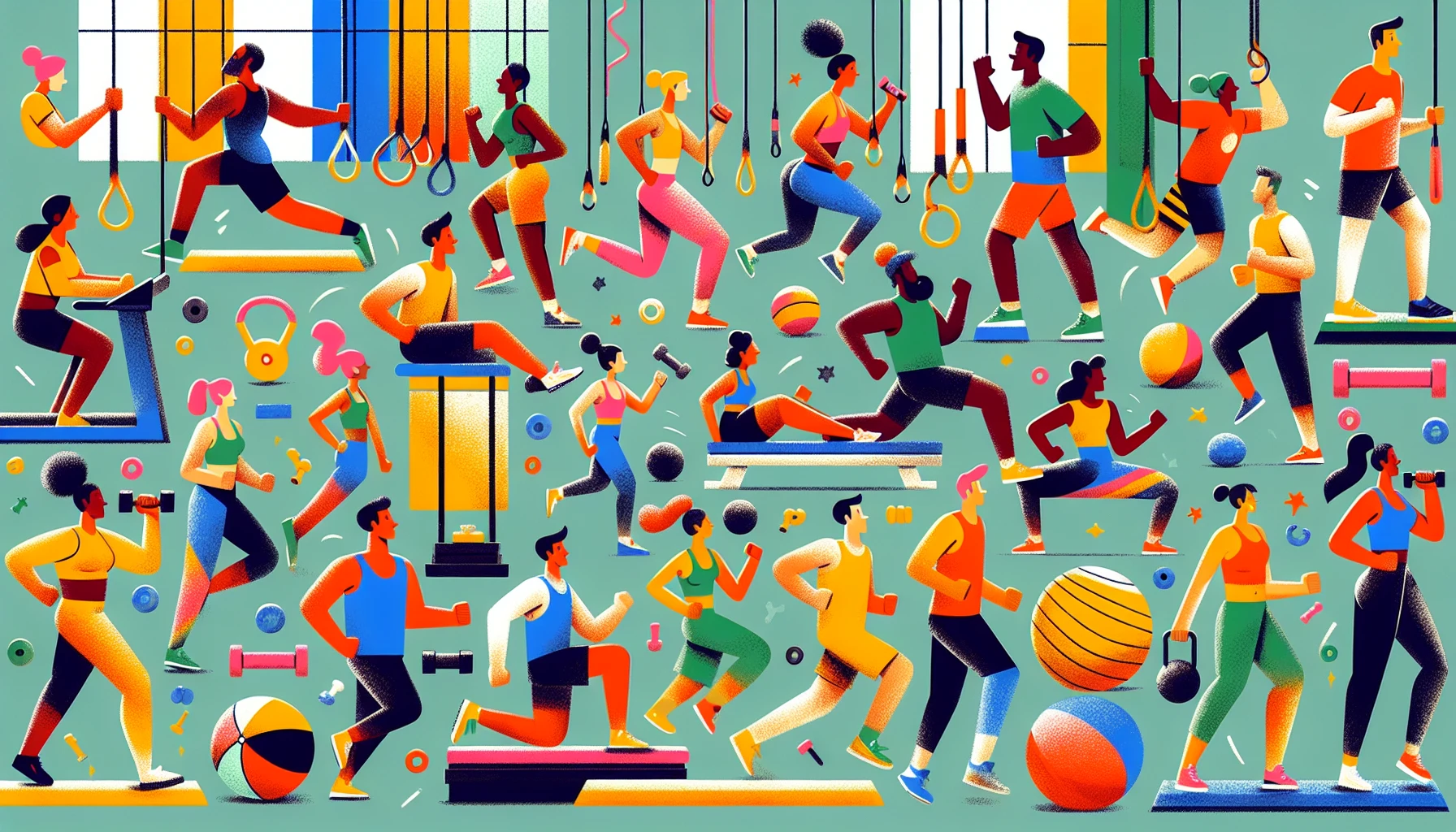 Are you tired of the same old gym flyers that blend in with the crowd? Looking for unique ideas to help you stand out and achieve your fitness goals? Well, look no further! In this blog post, we will explore 12 creative and innovative gym flyer ideas that are sure to catch the attention of your target audience and leave a lasting impression.
Whether you're a fitness professional, gym owner, or someone looking to promote their fitness challenges or special offers, these flyer ideas will help you get fit and stand out from the crowd in style. Let's walk through them!
Flyer Idea 1: Special Offers
Who can resist a good deal? One way to attract potential customers and keep your existing members engaged is by using gym flyers to promote special offers. Whether it's a discounted membership, a free trial period, or a bundle package, make sure your flyer clearly highlights the value and benefits customers will receive by taking advantage of these limited-time offers. Remember, the key is to create a sense of urgency and exclusivity to motivate action.
Flyer Idea 2: Referral Program
Word-of-mouth is a powerful marketing tool, and a well-designed gym flyer can help you leverage it to your advantage. Introduce a referral program where your current members can earn rewards or discounts by referring their friends and family to join your gym. Make it easy for them to spread the word by providing them with personalized referral cards or codes that they can share with others. You can even add a touch of creativity by incorporating gamification elements, such as a leaderboard, to encourage friendly competition among participants.
Flyer Idea 3: Personal Training
Take your fitness journey to the next level with personalized training sessions. Use your gym flyers to showcase the expertise and qualifications of your trainers, along with the benefits of one-on-one coaching. Highlight specific goals that can be achieved through personal training, such as weight loss, muscle gain, or improved athletic performance. Don't forget to include compelling testimonials from satisfied clients who have achieved remarkable results with the help of your trainers.
Flyer Idea 4: Fitness Challenges
Everyone loves a good challenge! Capture the attention of fitness enthusiasts by promoting exciting fitness challenges through your gym flyers. Whether it's a weight loss challenge, a 30-day fitness boot camp, or a step counting competition, make sure your flyer effectively communicates the rules, timeline, and rewards associated with the challenge. Use catchy phrases and vibrant visuals to create a sense of excitement and camaraderie. And don't forget to include a call-to-action that drives people to sign up and take part in the challenge.
Flyer Idea 5: Social Media Awareness
In today's digital age, social media is a powerful tool for marketing and brand awareness. Use your gym flyers to promote your social media accounts and encourage people to follow, like, and share your content. This will not only help you build a strong online community but also increase the reach and visibility of your gym. Consider offering exclusive discounts or special promotions to those who engage with your posts or tag your gym in their social media updates. Incentivize social media interactions and watch your online presence soar.
Flyer Idea 6: Community Event
Build a sense of belonging and community by organizing a gym-sponsored event. Whether it's a charity run, a health and wellness fair, or a fitness seminar, use your gym flyers to spread the word and invite people to join the fun. Highlight the date, time, venue, and any special guests or activities that will be part of the event. Consider partnering with local businesses or wellness experts to add value and create a memorable experience for attendees. This is a great opportunity to showcase your gym's commitment to giving back and fostering a healthy lifestyle beyond the typical workout routines.
Flyer Idea 7: Membership Promotion
If you're looking to increase your gym's membership base, a well-crafted flyer can do wonders. Clearly communicate the benefits of joining your gym, such as state-of-the-art equipment, group fitness classes, or access to highly trained professionals. Highlight any unique features or services that set your gym apart from the competition. Offer incentives, such as a discounted enrollment fee or a complimentary personal training session, to motivate potential members to take action. And remember, a visually appealing flyer can make all the difference in grabbing attention and driving conversions.
Flyer Idea 8: Success Stories
People love success stories, especially when it comes to fitness. Showcasing real-life transformations and testimonials through your gym flyers can be incredibly inspiring and motivating for your target audience. Include before and after photos, along with compelling stories of individuals who have achieved their fitness goals at your gym. This not only demonstrates the effectiveness of your programs but also builds trust and credibility among potential customers. Make sure to obtain consent from the individuals featured and highlight their achievements with pride.
Awesome Fitness Gym Flyer Template
8.5" x 11" Flyer
Flexible Gym Flyer Template
8.5" x 11" Flyer
Triangle Gym Flyer Template
8.5" x 5.5" Flyer
Be Fit Gym Flyer Template
8.5" x 5.5" Flyer
Wavy Gym Flyer Template
4" x 9" Flyer
Beautiful Gym Flyer Template
8.5" x 11" Flyer
Flyer Idea 9: Limited Edition Merchandise
Add a touch of exclusivity to your gym by offering limited edition merchandise. Create gym flyers that showcase unique apparel, accessories, or equipment that are only available for a limited time. This not only creates a sense of scarcity and desirability but also allows your members to proudly represent your brand in and out of the gym. Consider partnering with local artists or designers to create custom designs that resonate with your target audience.
Flyer Idea 10: Bring a Friend
Harness the power of social connections by launching a "Bring a Friend" campaign. Create gym flyers that incentivize your existing members to bring a friend along for a workout session. Offer a two-for-one deal or a discounted group rate to encourage participation. Not only does this help you attract new potential members, but it also strengthens the sense of community within your gym. Make it a win-win situation by rewarding both the member and their friend for participating in the promotion.
Flyer Idea 11: Expert Workshops
Position your gym as a hub of knowledge and expertise by hosting expert workshops and seminars. Use your gym flyers to promote these educational events, featuring industry professionals and experts who can provide valuable insights and guidance on various fitness-related topics. Whether it's nutrition, injury prevention, or the latest workout trends, make sure your flyer clearly communicates the date, time, and registration process. This not only adds value to your existing members but also attracts newcomers who are seeking reliable information and resources.
Flyer Idea 12: Interactive QR Codes
Add a modern twist to your gym flyers by incorporating interactive elements such as QR codes. Direct potential customers to your website, social media profiles, or exclusive online offers by scanning these codes using their smartphones. This allows you to provide additional information in a dynamic and engaging way while reducing the amount of text clutter on your flyers. Experiment with QR code designs and placements to create an aesthetically pleasing and user-friendly experience.
Final Thoughts
There you have it, 12 unique gym flyer ideas to help you get fit and stand out from the crowd. Whether you choose to implement one or all of these ideas, remember that creativity, visual appeal, and a clear call-to-action are key to creating effective gym flyers.
Understand your target audience, communicate the value and benefits they'll receive, and most importantly, have fun with the design process. By using these innovative flyer ideas, you'll be on your way to attracting new members, engaging existing ones, and ultimately achieving your fitness goals in style.