Discover 10 unique and eye-catching designs for your cleaning business cards.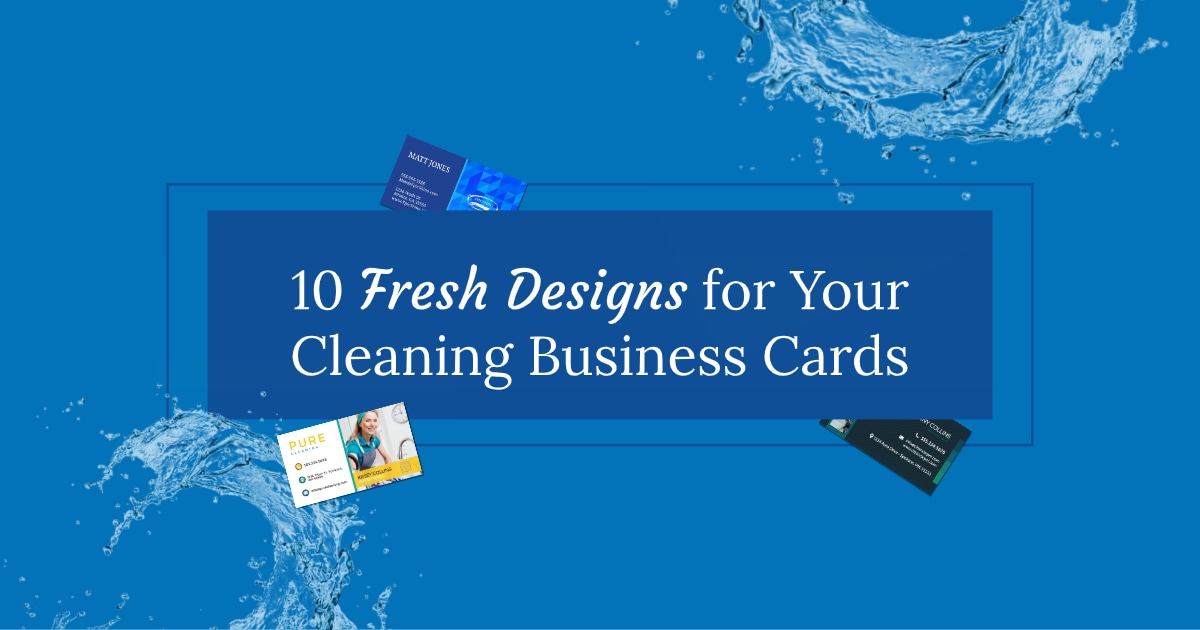 According to Global Opportunity Analysis and Industry Forecasts, from 2014-2022, the cleaning industry is growing steadily, at a rate of 6.2 percent. That's great news for your cleaning business, but it also means there will be plenty of competition you'll need to compete with.

There are many ways to stand out from the competition in a crowded market, from paid advertising to word of mouth marketing. One of the most important tools for being remembered and getting new clients is a well-designed business card.
While connecting with potential customers on social media is still valuable, it s easy to lose the connection. With a business card, you can share all of your contact information, plus your website and name, so you don t get lost in a sea of connections or followers.

If you need a new business card, or you re ready to modernize your current one, check out these 10 fresh design ideas. Remember that all of these cards can be customized with new fonts, text and colors using our online editor. Choose the format that you love and then make it yours.

1. Use Cleaning Imagery

People are visual beings. If you have an image of you cleaning, the service that you offer is obvious. While this can seem too on-the-nose, when someone is searching through a pile of business cards in need of a cleaning service, it will make yours immediately recognizable, which means you re one step closer to a new customer.
2. Feature a Series of Images

If you offer a range of cleaning services, use a design that allows multiple images, but isn t too busy. This sleek card will make it clear that you leave customers satisfied with the many service options you offer.
3. Stick with Your Brand Colors

If you already have a logo and brand guide, stick with what works. Sometimes keeping it simple with an on-brand business card that matches the rest of your marketing collateral is the best way to be consistent. For example, if someone knows you from social media, they ll be more likely to recognize your business card.
4. Leverage Visual Associations

When you think of cleaning, you think of water and soap the original cleaning supplies. Which means a water-inspired design just might fit the bill for your new business card. This water droplet backdrop works well with a simple logo and clean text.
5. Show Who You Are

Sometimes, a face sells better than a simple design. Use this business card to show potential customers who you are, which drives trust: Psychologists have long been interested in understanding what leads people to trust others, and the face has long been at the center of this research. Some people just look trustworthy, explains Scientific American.

6. Showcase Your Sustainability Brand Values

Recent studies have shown that 81 percent of global consumers want to buy from or work with companies that help improve the environment. If you re an eco-friendly or organic cleaning service, market your sustainability to customers with a go-green design.
7. Play With Color Blocking

Color blocking is a minimalist design trend that allows you to juxtapose contrasting colors in a way that makes your design stand out. This layout lets you separate information and calls attention to the important copy (I.E. phone number and website) with starkly different color choices.
8. Personalize with a Headshot

This is another smart option for showing a trustworthy face on your business card. If you re the face of your business, use this design to create brand awareness and drive trust with facial recognition.
9. Incorporate Related Visual Elements

This streamlined design uses a flowing water pattern down the middle, which is easily associated with cleaning. This eye-catching element is interesting, but subtle enough that it doesn t draw attention away from your logo or copy.
10. Go Bold and Geometric

If you've always had a subdued business card that blends in, now s the time to try a more striking design. Geometric visuals offer a strong focal point, while allowing your copy and logo to stand out. We can promise you this business card won t get lost in the shuffle.
Spruce Up Your Business Card

A business card says a lot about your business and the services you offer, while ensuring potential customers have the information they need to get in touch. A dynamic design will showcase your brand long after you ve handed it out, so set yourself apart from the competition with a business card design that represents your unique business.